Apple set a high bar when it made privacy a core feature across its products a few years ago. Whether it's hardware like the iPhone or software like iOS, Apple has been developing new features that can protect user privacy and security. In turn, this put massive pressure on competitors to match its features or at least pretend they cared about privacy. Google is one of them, and the Search giant has ramped up privacy features in its own products in recent years. One of the newest privacy-enhancing features was announced at I/O 2021 and comes to iPhone first. You can delete the last 15 minutes of your Google Search history on iOS devices right away.
Google penned a couple of blog posts earlier this week, recapping the recent privacy-focused features the company unveiled recently. Google's renewed interest in privacy is welcome. But that doesn't make Google's privacy-infringing issues of the past forgotten. Nor does it change the fact that some of Google's privacy features continue to be controversial. And Google is yet to really match what Apple is doing on iOS with its anti-tracking features that became Facebook's biggest nightmare.
Why the last 15 minutes of your Google Search history is important
Google Search is Google's most important product and one people use across devices. The queries that people feed into it help Google's tracking algorithms learn what you want from the internet. The more you use Google Search, the more data points you give Google.
Google announced at I/O that it would let users delete the last 15 minutes of their Google Search history. The feature is supposed to provide users more granular control over their data. You can already choose to have your data auto-deleted at set intervals from three through 36 months. But that might not be good enough for most people. That "old" data might not even be that relevant to Google, so deleting it doesn't seem like it's doing too much to protect the user.
But having the last 15 minutes of Google Search history deleted seems a lot better. You could get used to deleting everything you search online with the Google Search app now that the feature is in place. That way, you'd clear your Search history more often and dissociate some of the things you look for on the internet from your profile. It could become an alternative to searching incognito or logging out from your Google accounts.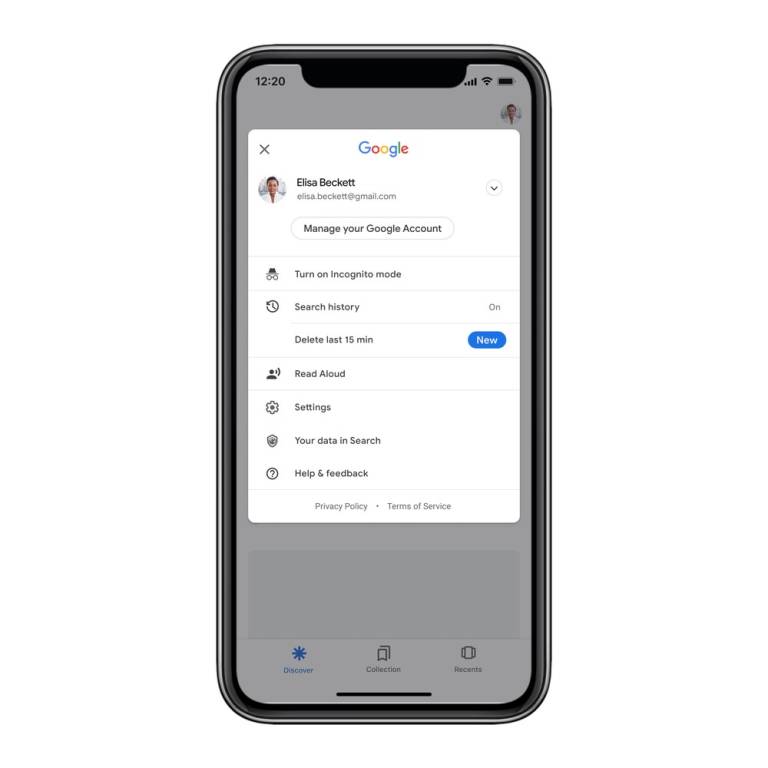 How to use the new Google privacy feature on iPhone
To delete your last 15 minutes of Google Search history on iPhone, you'll need to be a Google app user. If you don't have the app installed on iOS, you might search for stuff online using a different browser. And maybe you're not even relying on Google Search.
If you have the Google app installed, then you can tap your profile picture in the top right corner and look for the Delete last 15 min menu option as seen above.
Android to follow
While you're there, you might want to give your entire Google Account a privacy checkup. You might want to turn off search history and do the same thing with location data. Google explains all the new privacy features at this link, including a recap of the Privacy Checkup and Security Checkup, features that can further improve your privacy and security.
Also, check out this Google blog that recaps all of Google's recent privacy-related features.
It's certainly strange that Google allows iPhone users to delete 15-minute their Google Search history before Android. But the feature will roll out to Google's own operating system "later this year."