The iPhone's Control Center is a handy feature that offers quick access to phone settings you might need regularly. You can access Focus modes, enable Airplane mode, control smart home devices, enable Low Power Mode, manage music playback, and set the phone's brightness, to name just a few. You can also use Control Center to toggle the iPhone's Wi-Fi and Bluetooth. But that's the wrong way to do it.
That's because those Control Center shortcuts will not actually turn off Wi-Fi or Bluetooth. The wireless connections will remain active. What you're doing is severing any current connections to Wi-Fi networks and Bluetooth accessories. That means malicious individuals might still target those active connections in certain situations.
Thankfully, there's a quick and easy fix: Disable Wi-Fi and Bluetooth from the Settings app.
Before we start, I'll remind you to disable Control Center on the iPhone's Lock Screen so you need to unlock your phone in order to access it. It's a precautionary measure for those unfortunate instances when you lose your iPhone, or someone steals it. It's imperative that others can't enable Airplane mode, so you can continue tracking the handset.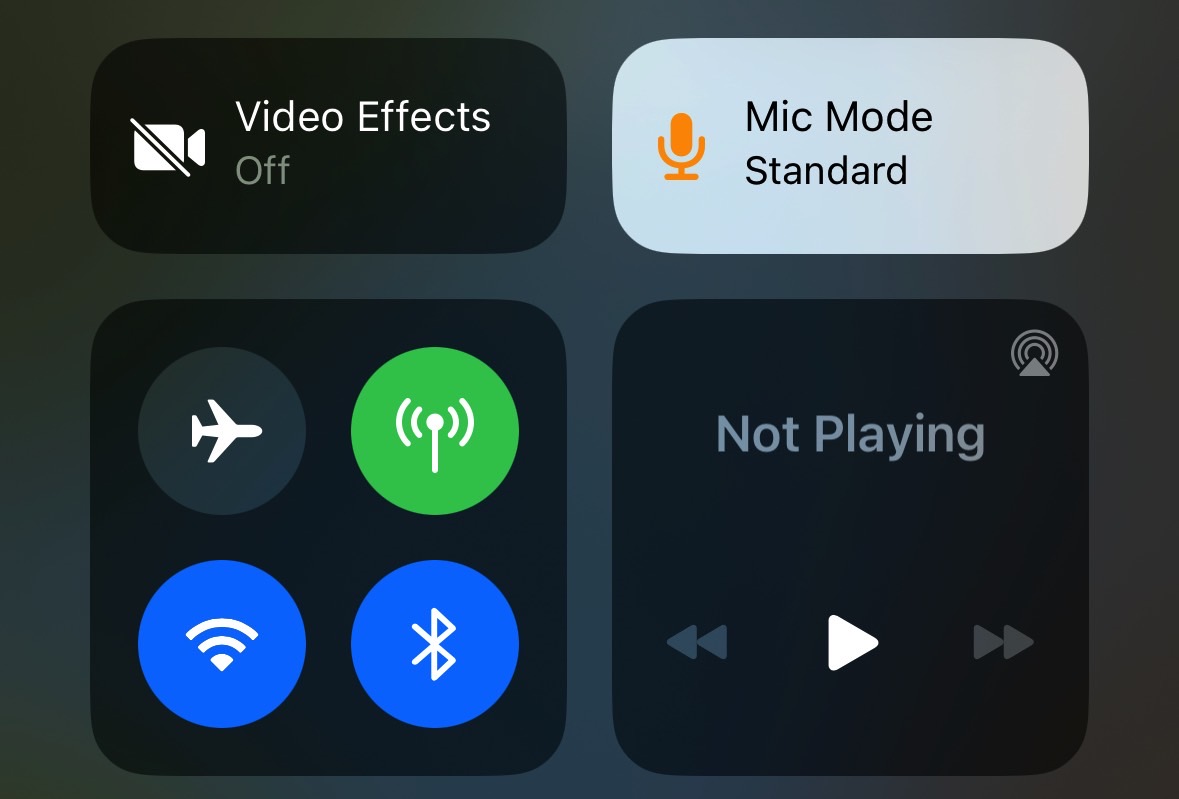 The security risk
A security researcher created a $70 gadget to send custom alerts to Def Con convention goers who had iPhones on them. TechCrunch explains (via Tom's Guide) that those alerts told iPhone owners to connect their Apple ID and/or share a password with a nearby Apple TV.
It wasn't a hack, but a demonstration that the Bluetooth connection stays active on iPhone even when you turn it off via Control Center.
I must confess that I also use Control Center to turn off Wi-Fi. I rarely disable Bluetooth since I use accessories like the Apple Watch and AirPods.
Still, I'll have to change this habit in the future. Because the way Control Center works is the way Apple intends it to. It's not a massive security issue that Apple needs to fix.
Turning Wi-Fi and Bluetooth in Control Center
You invoke Control Center by swiping down from the right corner of the iPhone screen (Face ID models) or swiping up from the bottom of the screen (Touch ID models). The Wi-Fi and Bluetooth toggles are always at the top. These are default settings shortcuts that you can't remove from the Control Center.
You tap each one of them to disable or enable them, and it seems like you're turning them off. But it turns out that's not what's happening. It's the intended behavior, as Apple explains in this support document: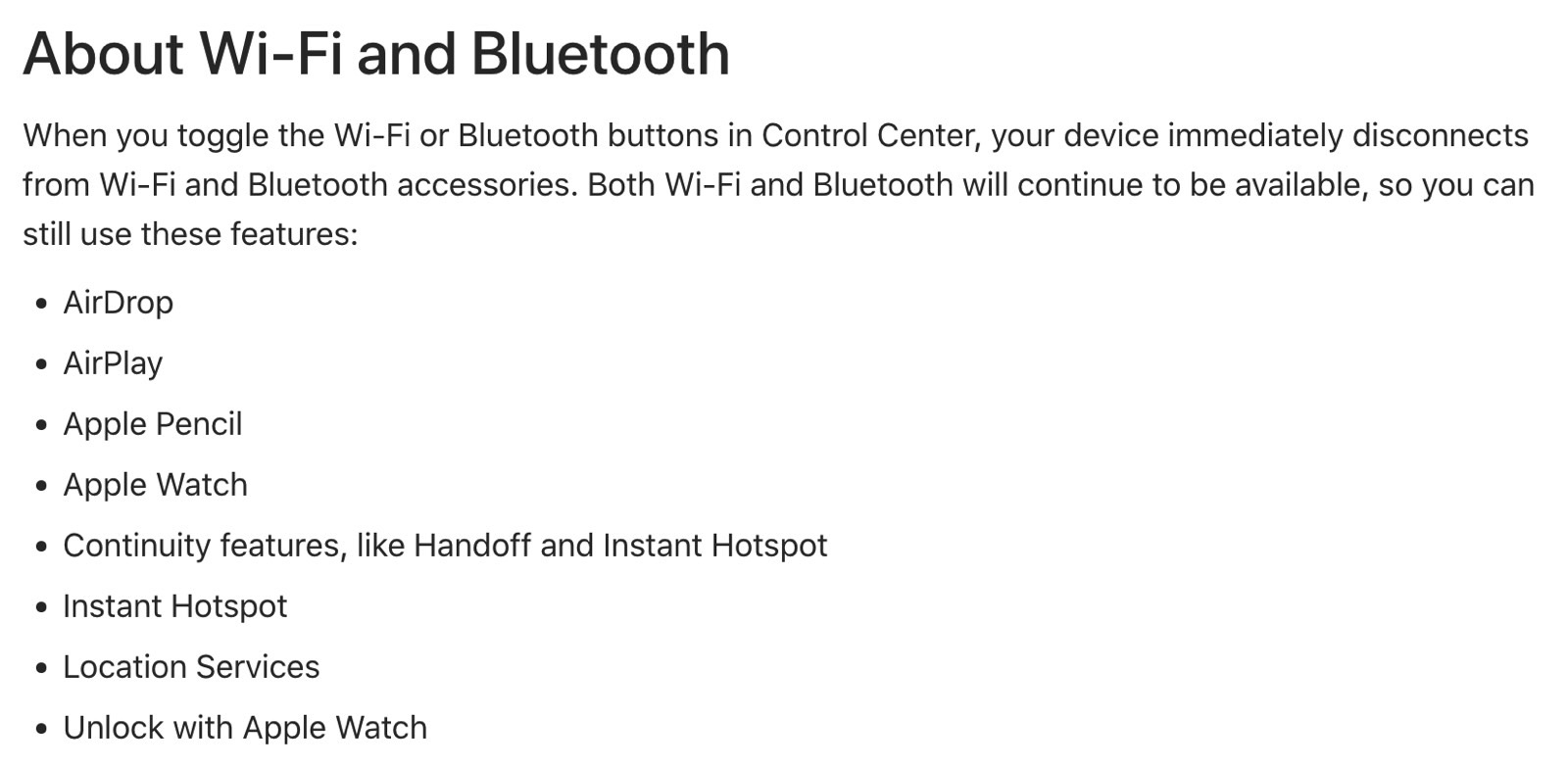 How to turn Wi-Fi and Bluetooth off for real
In the same document, Apple notes that you have to go to the Settings app to truly turn off the Wi-Fi and Bluetooth connections:

That's always been the way Wi-Fi and Bluetooth connections have worked. But, after so many years of Control Center, we've all gotten used to accessing it for turning these connections off. When, in reality, we were just temporarily blocking access to Wi-Fi networks or Bluetooth gadgets.
If you think you might run into security issues, you might want to start using the Settings app for managing Wi-Fi and Bluetooth and forget about Control Center. Even if it's not as fast. Even if you think you're not likely to run into issues.
That said, if you use Bluetooth accessories like AirPods, you'll never want to turn off the Bluetooth connection for real.
A permanent fix?
Apple could actually let you turn Wi-Fi and Bluetooth off from Control Center. After all, you can long-press on these icons to trigger additional actions. Why not include the real off toggle in there?
But again, the AirPods example is the best one, at least for Bluetooth.
Instead, Apple might want to improve Bluetooth security and prevent devices like that $70 gadget from being able to target unsuspecting users.
I'd be paying attention to Wi-Fi more than Bluetooth. I routinely turn off Wi-Fi in public places and avoid public networks. And I'll use the Settings app to do it now that I've realized Control Center isn't doing what I mistakenly thought it was doing.