It's been six years since Face ID arrived on iPhone and changed everything. It's easily one of the best iPhone features for me, one I wouldn't trade for anything else when it comes to biometric authentication on smartphones.
From the moment I experienced it on an iPhone X, I realized that Face ID opens the door to advanced security features. I saw a future where Face ID would offer perpetual authentication on the device whose data security and privacy are just as important as the iPhone; the Mac. More specifically, I thought Face ID would come to MacBooks soon enough.
Six years later, I'm still waiting for Apple to bring Face ID to the MacBook, though I understand what's causing the delay. But the good news is that Apple hasn't stopped working on the feature. The company was just awarded a patent that would make Face ID possible on Macs, MacBook included.
The problem with enabling Face ID on MacBook Air and MacBook Pro models concerns physical limitations. You can't place the bulky Face ID sensor present on the iPhone inside the lid of a MacBook.
The lid is a lot thinner than an iPhone or iPad, so those Face ID sensors can't go in there. Yes, the newest MacBook Air and Pro designs both have a notch at the top that would be perfect for Face ID. But the lid would have to be considerably thinner.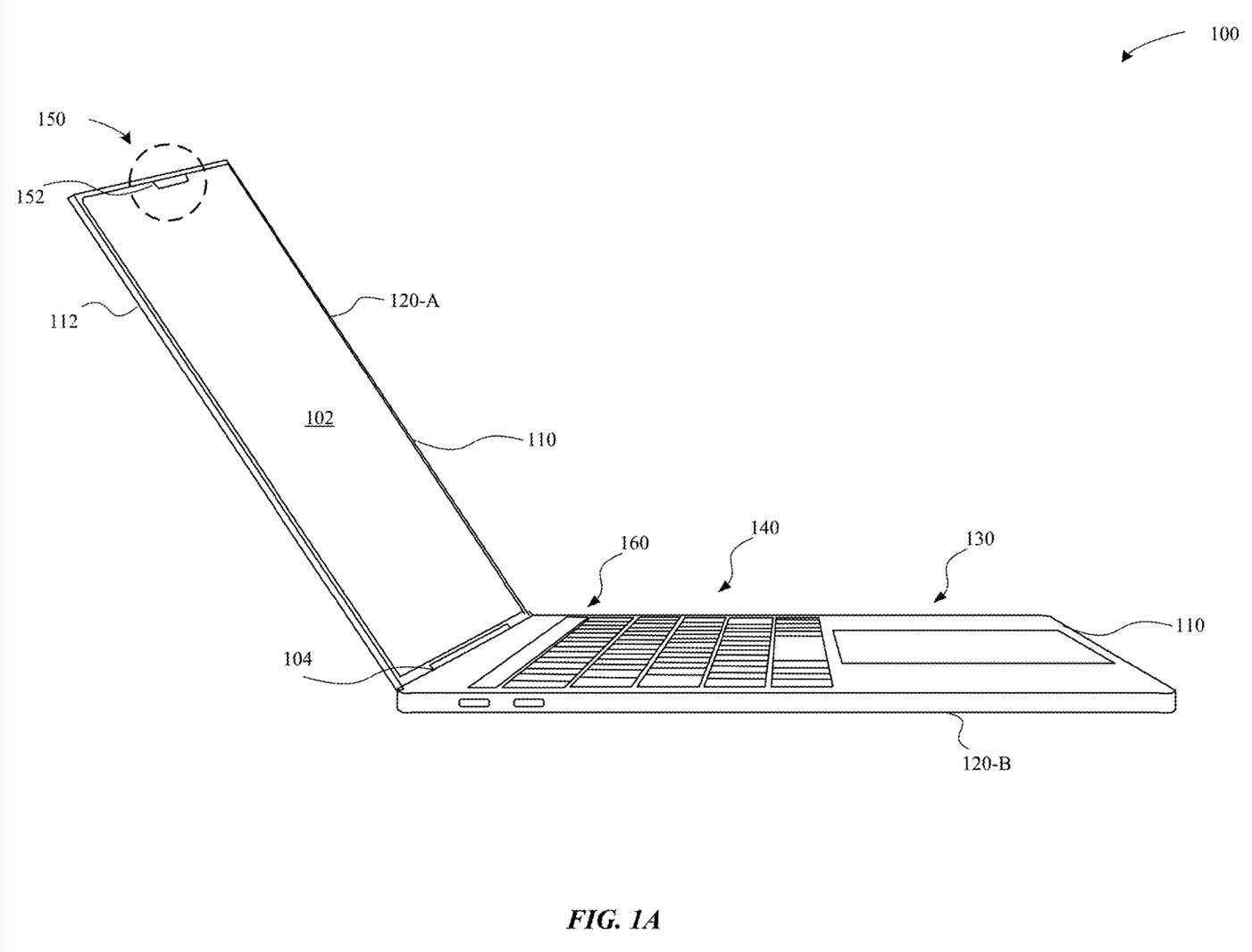 But Apple might also include Face ID components inside a Touch Bar-like area or inside the MacBook's keyboard. Apple even mentions having a single key move up and down to expose the Face ID camera.
Apple's USPTO patent number 11,727,718, which Apple Insider discovered, describes these technologies that would let Apple fit a Face ID module inside a MacBook. Or an iMac. With the latter, it should be even easier, considering that Apple doesn't have to deal with the same limitations. However, Apple would probably want to bring Face ID to most Macs, not just the all-in-one desktops.
Titled Light Recognition Module for Determining a User of a Computing Device, the patent was just awarded to Apple. But the MacBook maker applied for it all the way back in 2019, two years after the iPhone X's arrival.
Interestingly, Apple explains right from the abstract that the "application relates to a laptop computer." The images it uses show a MacBook Air/Pro design you'd recognize with ease. The device has a notch marked where the light recognition module would sit. That's a fancy way to describe Face ID.
As a reminder, Face ID works by beaming infrared light, which creates a unique pattern for each iPhone user's face. The iPhone then recognizes that pattern every time you use Face ID to unlock your phone, pay for purchases, or authenticate inside other apps.
Conversely, I want to do all that on a MacBook. I want to use Face ID to log into everything. And Face ID authentication is what Apple is proposing in the patent:
This paper describes various embodiments that relate to a biometric authentication module for authenticating a user of a portable computing device. In particular, the various embodiments relate to a light pattern recognition module that is capable of emitting a predetermined pattern of light at the user, and subsequently detecting a pattern of light that is reflected by the user for authenticating the user.
What's exciting in all of this is that Apple thinks it can place these Face ID cameras in the incredibly thin space available inside the MacBook's lid. The drawings in the patent also show iMacs. But, again, there's a lot of room to maneuver there.
That said, there's no telling when Apple will bring Face ID to the Mac, no matter how many patents it files to describe such technology. And the methods described in this patent might never be used.
However, we did see rumors back in 2019 claiming that MacBooks with Face ID and Macs with touchscreen displays were in testing at Apple. I'm especially interested in the former, although I wouldn't mind a touchscreen display.