It's 2023, which means we've been using the internet for 40 years. That's enough time for anyone to understand that the internet isn't free. It never was, and it probably never will be. I'm not talking about the monthly fee you pay to your internet service providers, including your mobile carrier. I'm talking about actual access to anything you want to do online, whether it's work or entertainment. Reading the news or shopping for goods.
Many websites are available for "free." That is, you don't even need an account to use them, and they don't cost money. But you still pay for that sort of free access with your personal information.
Whether it's a one-time fee, a subscription, product sales, or ads based on your personal data, there's always a fee that you have to pay. Yet, whenever something drastic happens, I'm reminded that some people still haven't realized that nothing is free, including the internet.
We've witnessed several headline-grabbing events recently that are related to internet businesses costing money to operate, and looking to profit from their online business.
I've addressed and explained some of them in the past since the internet is probably the most important product in our lives. Just imagine going even one day without using your phone to go on the internet to find answers to your questions, talk to your friends and family, or just watch YouTube.
YouTube's experimental ban of ad blockers
It's YouTube really that got me thinking that some internet users haven't realized they have to pay for access. Specifically, Google decided to restrict video access to three clips for those users who employ ad blockers. It's still an experiment, but I think Google is doing the right thing.
Google is spending money to host those YouTube clips. Data centers and all the infrastructure required to safely hold those clips and secure the user data. I'm talking about both users who view the clips and the creators. Plus, YouTube pays creators who make popular videos.
There's also the software that Google develops and makes free of charge. It's not just the website where you play the video. It's a lot more complicated than that. And it's not free for Google.
Google offers YouTube as a premium subscription or for free. Free YouTube requires ads. That revenue goes back to Google and the YouTube creators that you follow.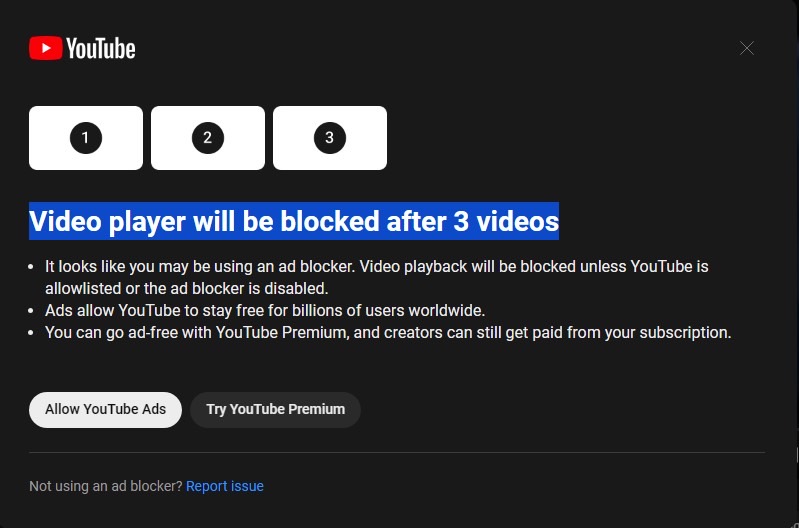 Predictably, I received feedback opposing my opinion. That's perfectly fine. It's your right to be wrong about paying for YouTube access by watching ads. And one reader did say that the internet is there for free access, and paywalls or ads shouldn't exist. I say to that person and anyone expecting to find free things in life, "good luck!"
It's not just YouTube. Plenty of examples show that the internet isn't free. But I will say that Google is to blame for our repulsion to ads. And Facebook shares part of the guilt. It's really the bad quality of ads of the past that moved plenty of us to ad blockers. And the privacy-infringing practices of some of the companies who track us online every day.
The Netflix password sharing ban
Netflix was initially happy to let you share passwords with anyone you wanted. But now that revenue growth has stalled, the company figured out that it can squeeze more money from users who aren't paying for access. Instead, they're using logins from family and friends.
You can be angry at Netflix for dropping the ball on content quality. Or for canceling shows you were following. And nobody likes price hikes.
But you can't expect to watch Netflix for free. Like Google, Netflix has expenses for delivering those movies and TV shows many subscribers appreciate. As long as these bring value to your daily life, you will be paying for access.
I foresee similar policies from Netflix's biggest rivals in the future.
The Reddit rebellion
Reddit went from one of the best places on the "free" internet to one of the worst. It all started a few weeks ago when major subreddits went dark in response to Reddit's leadership decision to charge third parties massive fees for access. This killed popular Reddit client Apollo, a mobile app many users appreciated more than the default Reddit one.
Reddit blamed its API fee change partly on generative AI products like ChatGPT scraping off content from Reddit. Ironically enough, OpenAI offers access to ChatGPT for free despite having broken user privacy and copyright to train its chatbot.
Twitter's access mess
Twitter is another service of the free internet which you pay for. You look at ads while scrolling or get that fake-verification badge for a monthly subscription.
Last weekend, Twitter delivered an incredibly broken experience, limiting access to a fixed number of tweets.
One can argue very well that Elon Musk drove Twitter into the ground. And Musk did try to make you pay for more access during the crisis. Because the internet isn't free, and some will try to profit from it.
In Musk's case, his Twitter is hardly profiting. And it seems like a matter of time until the service is gone. Hopefully, Meta's Threads will not replace it. But whatever ends up becoming the new Twitter, we'll have to pay for it. Again, it's either ads or a subscription of some sort. Or a combination.
Like Reddit, Twitter complained about ChatGPT-like bot scraping its content. And they'd both be right.
Facebook is still the worst
I did mention Facebook before when talking about the quality of ads. Now called Meta, the company is still the worst provider of free internet software. Meta is tracking everything you do while in its apps, and the list of apps might be growing. Facebook, WhatsApp, Instagram, and the future Threads are some of them.
But, as long as they bring value to your internet experience, you must agree to be tracked. You can limit tracking on iPhone and Apple devices, but you still have to deal with ads. It's part of the "free" internet experience.
ChatGPT's reckoning
The arrival of ChatGPT and similar generative AI services blew our minds. This type of AI changes everything about using the web. But services like ChatGPT, Bing Chat, Google Bard, and any future generative AI product will have to prey on data to become smart.
The way OpenAI has done it, but disregarding privacy and copyright, is why we've had the Reddit and Twitter issues recently.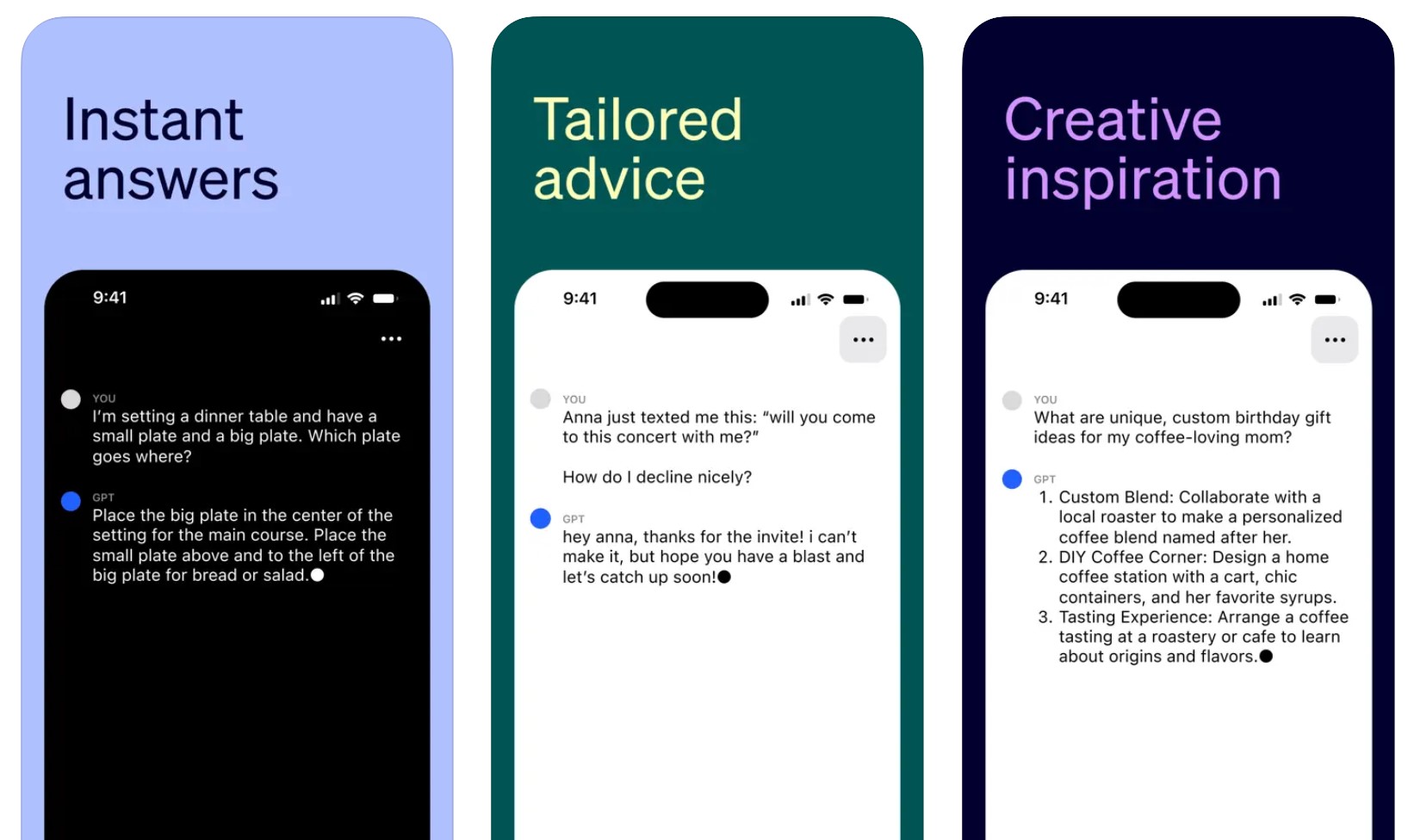 OpenAI conveniently forgot that the internet isn't free. But it spent hundreds of millions to train ChatGPT and then offer it as a free internet service.
You do have to pay for ChatGPT if you use it extensively via third-party apps, and there's a Plus subscription for access to the newest features and a connection to the internet.
OpenAI isn't alone. Google is also busy training its generative AI products. And that might mean skirting some privacy and copyright rules in the process. I am just speculating here, of course. Google has gotten better at caring about user privacy. But Google Bard is unavailable in the European Union because of the region's tight privacy rules. That's pretty telling.
The bottom line
As a consumer, deciding which parts of the internet to use is up to you. You choose which social media apps to participate in, and which streaming services to sign up to.
You can also stop using YouTube, Netflix, Facebook, and any other internet service or app whenever you want. Again, it's your decision.
But remember that you have to pay for any of your internet use choices. For as long as you use those apps and services. Whether you watch ads, pay subscriptions, or buy products, you still pay for your share of the internet. And that will not change in the foreseeable future.