I recently sided with Netflix, saying the company's password-sharing ban is warranted. I won't get into any of that again. But that's something you need to know before I explain why I think YouTube blocking playback for users who rely on ad blockers is the right thing to do. No matter how annoying the YouTube experience is with ads enabled.
What is the YouTube playback block?
Spotted by BleepingComputer, Google's new YouTube move might be just a limited test that might never graduate to a full feature. Google is running a "small experiment globally." The company will warn ad-block software users to turn off their ad blockers to continue playback. YouTube videos will stop after three video playbacks.
A Reddit user saw one such prompt from YouTube providing a screenshot.
"It looks like you may be using an ad blocker. Video playback will be blocked unless YouTube is allowlisted or the ad blocker is disabled," the message reads.
"Ads allow YouTube to stay free for billions of users worldwide. You can go ad-free with YouTube Premium, and creators can still get paid from your subscription."
YouTube confirmed the experiment to BleepingComputer:
We're running a small experiment globally that urges viewers with ad blockers enabled to allow ads on YouTube or try YouTube Premium.

In extreme cases, where viewers continue their use of ad blockers, playback will be temporarily disabled. We take disabling playback very seriously and will only disable playback if viewers ignore repeated requests to allow ads on YouTube.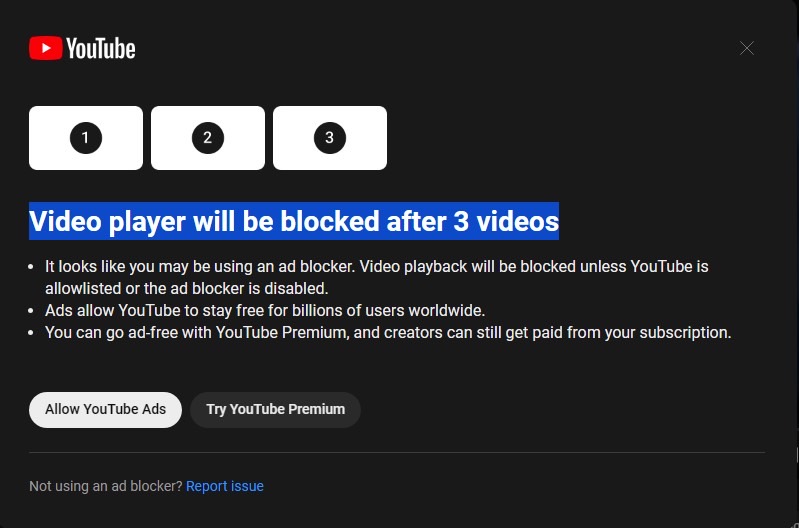 I think Google is doing the right thing
YouTube is easily one of Google's best products so far. It's also available for free to anyone with access to the internet, just like almost every piece of software that Google makes. But nothing is free in life, even if the company makes it seem that way.
Google has been monetizing the platform with ads. That's how creators are making money and how Google gets its share. You can't get free entertainment without paying for it. You either pay a ticket in real-life or a monthly subscription online. Or you deal with ads.
That's why I think Google's experiment is warranted. In a world where more and more internet users have figured out how to block ads, Google is right to worry about revenue.
Also, blocking YouTube ads could lower the quality of content from your favorite creators. It won't happen overnight, but it is a risk.
That said, I do blame Google for the rise of ad blockers.
Google's personalized ads and user tracking practices
We got to block ads everywhere on the internet because of companies like Google and Facebook. They have been tracking us for years to make more and more money from personalized ads. Even if that meant infringing the user's privacy and dealing with the consequences later.
Not to mention all the bad quality ads you used to see online that ruined the mobile experience.
Thanks to Apple's stance on user privacy, Google had to pivot hard towards privacy a few years ago. But Google is still tracking users. Its latest plans for tracking users via Chrome without the use of cookies still include, well, tracking users.
It might be years until we get rid of personalized ads, which is probably the only way to fix ad privacy and eliminate tracking.
As for annoying ads that can impact the browser's performance and user experience, Google started fixing those long ago.
But ad blockers allowed us to take matters into our own hands. People who turned them on years ago have probably not turned them off. This led to the current YouTube "experiment." It's up to Google to fix its advertising mess and convince internet users to ditch ad blockers completely.