When Tesla unveiled the Model 3 last year, tech and auto observers couldn't help but notice that the car lacked an instrument cluster. Instead, Tesla representatives suggested that drivers would be able to ascertain all the information they needed right from the car's 15-inch tablet located on the center console.
Because the design Tesla showed off was so outside the norm, many Tesla enthusiasts began speculating that Tesla must have a cool and advanced design it was planning to show us later on down the line. This speculation was only fueled by coy remarks from Tesla CEO Elon Musk who said via Twitter that everything would all make sense soon enough.
Responding to a question about the lack of a dashboard/HUD, Musk last April said that "it will make sense after part 2 of the Model 3 unveil."
Of course, part 2 of the Model 3 unveil came and went and we still didn't hear anything about Tesla's plans for the dashboard area. Meanwhile, speculation surrounding Tesla's plans to incorporate a futuristic HUD on the Model 3 began to grow wildly.
Looking to keep expectations grounded, Musk over the past few days has come out and said that the Model 3 will not have a HUD and that users won't really care.
You won't care

— Elon Musk (@elonmusk) March 28, 2017
No

— Elon Musk (@elonmusk) March 28, 2017
Musk later added that drivers don't need an instrument cluster on the dash because "the more autonomous a car is, the less dash info you need." Driving the point home, Musk asked the following question: "How often do you look at the instrument panel when being driven in a taxi?"
All that said, the Model 3 dashboard will more or less look like this.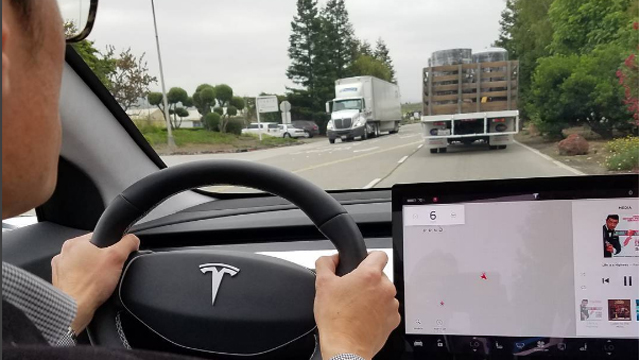 While such a design may make sense in a world where cars are fully autonomous, the reality is that many drivers today not only want, but need quick and easy access to pertinent information like range, speed and more.
Addressing this, Musk took to Twitter once again where he explained that the final Model 3 design will display such information on the center console.
On center screen. Also, center screen *will* show speed as an overlay that changes opacity according to relevance.

— Elon Musk (@elonmusk) March 29, 2017