With Samsung still unable to identify the root cause behind Galaxy Note 7 units catching fire and exploding, the South Korean tech giant had no choice but to discontinue the product entirely earlier this week. What this means is that Samsung has permanently ceased all Note 7 production, will not be issuing replacement devices, and will not even attempt to repair affected devices. Driving the point home, Samsung earlier today confirmed that it will dispose of every single returned device.
DON'T MISS: The battery in a Samsung phone burst in our office, and it wasn't a Note 7
Now if you happen to still be a Note 7 owner, there are a few things you should know. For starters, you need to replace your device immediately. Now you might not have had any problems with your Note 7 just yet, but holding onto an inherently faulty and dangerous device is beyond risky. As we've seen over the last few weeks, exploding Note 7 devices have completely engulfed cars and, in some instances, have partially destroyed houses.
The fire below, caused by a Note 7, speaks volumes.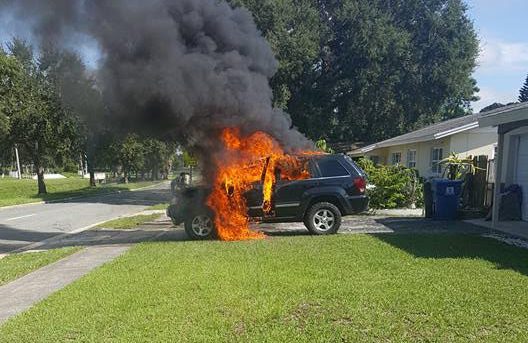 So whether or not you have an original or replacement Note 7 device, here are the steps you should take.
One, power down your device immediately. While we might ordinarily recommend that you transfer over any photos or important data on the device to your computer, it's probably not a risk worth taking unless you have a fire extinguisher handy. As we covered yesterday, one Note 7 owner recently saw her device start to smoke wildly after an innocent visit to Samsung's own homepage.
Two, you don't want to dispose of the device by yourself. After all, you don't want someone else to find it in the trash, turn it on and risk getting burned. Remember, Samsung by mid-September had already received upwards of 26 reports involving Note 7-related burns and upwards of 55 reports of the Note 7 causing serious property damage.
That said, the U.S. Consumer Product Safety Commission (CPSC) recommends that users return the device to the wireless carrier or retail outlet where it was purchased and exchange it for another smartphone model.
Notably, customers who opt to exchange the device for another Samsung smartphone model will be eligible for a $25 credit. Depending on where you purchased your Note 7, it may take as many as 2-3 billing cycles for the credit to appear on your statement.
It's also worth noting that customers can also exchange any Note 7 accessories they may have purchased.
According to USA Today, some carriers will even provide users with a "loaner" device in certain circumstances.
AT&T will even give you a loaner phone if the phone you want, like an iPhone 7 Plus, is back-ordered.

Not every carrier is doing this. T-Mobile told USA TODAY they were not doing a similar offer. We've reached out to Verizon and Sprint and will update this post once we hear back.
Speaking of T-Mobile, the "uncarrier" has come out and said that they will "waive any restocking charges" and that customers who purchased the device as part of a pre-order promotion can "keep the free Netflix subscription and Gear Fit or SD card" they received.
For anyone who ordered the Note 7 directly from Samsung, the company advises users to call 1-844-365-6197 for return instructions. More than likely, the company will send you a fireproof box in which to return the device.
Lastly, Note 7 owners who simply want a refund instead of a smartphone exchange can receive all of their money back, whether or note they paid for the device up-front or were already making payments on an installment plan.