Microsoft continues to add new features to Bing at a brisk pace, as the AI chatbot is now able to generate images. On Tuesday, Microsoft announced Bing Image Creator, which is powered by an advanced version of OpenAI's DALL-E deep learning model. Just type in a description of anything you want to see, and Bing will generate the image in seconds.
Bing Image Creator brings DALL-E to Bing
According to Microsoft, Bing data reveals that image searches are the second most common, only behind general web searches. Before now, the searches were limited to images that were already available on the internet, but now Bing can show you anything you can dream up.
For anyone participating in the Bing preview, Bing Image Creator will be fully integrated into Bing chat's Creative mode. Users can provide a description of an image, as well as additional context, such as a location, an activity, or an art style, and Bing Image Creator will attempt to generate a series of images that reflect everything the user typed.
Microsoft also plans to integrate Bing Image Creator directly into the Edge browser. Once it rolls out, Edge users will be able to click the Bing Image Creator icon in the sidebar to start generating images. Just type a description in the chat box and click the "Create" button.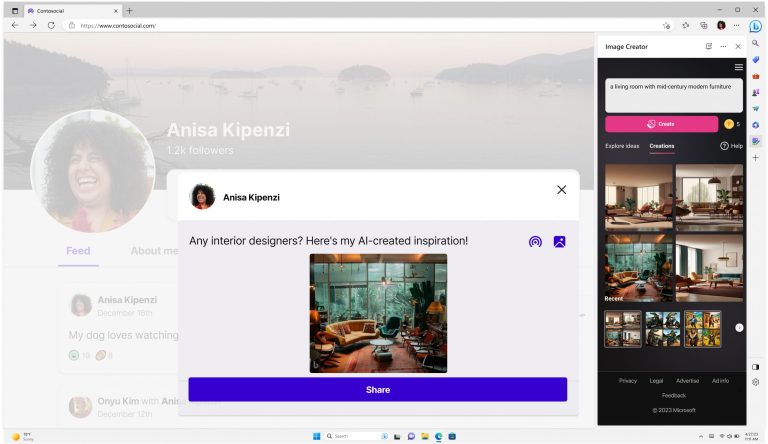 "To curb the potential misuse of Image creator, we are working together with our partner OpenAI, who developed DALL∙E, to deliver an experience that encourages responsible use of Bing Image Creator," says Yusuf Mehdi, Corporate Vice President at Microsoft. "We have ensured OpenAI's safeguards, plus additional protections, have been incorporated into Image Creator."
Microsoft will start rolling out Bing Image Creator integrated into Bing chat for Bing preview users on mobile and desktop today. If you are not in the Bing preview, you can take Bing Image Creator for a spin by visiting bing.com/create in your browser. The preview experience is only available in English, but support for more languages is coming.