Keeping a journal or diary might not be part of your daily routine, but it's actually a really good way to get things off your chest and help you face problems head-on by writing them down and forming them into solid arguments. But keeping up with a book of fresh paper to write on isn't easy, which is why I'm so excited about the Journal app on iOS 17.
Not only does the app do away with the need to keep up with a separate notebook, but Apple has also designed it to take note of all the things you do throughout the day. This includes the contacts you talk to, the places you go, and even the music or podcasts you listen to. It uses all this data to come up with a list of suggestions for topics you can write about, allowing you to take stock of the great things you've experienced over the past few days, weeks, and so on.
It does all this using on-device machine learning. But why would you want to turn to iOS 17's Journal app to keep up with all of that? Well, not only does it mean that your journal is always right there with you – because let's face it, most of us carry our phones with us everywhere – it also has end-to-end encryption, both on your device and in the cloud.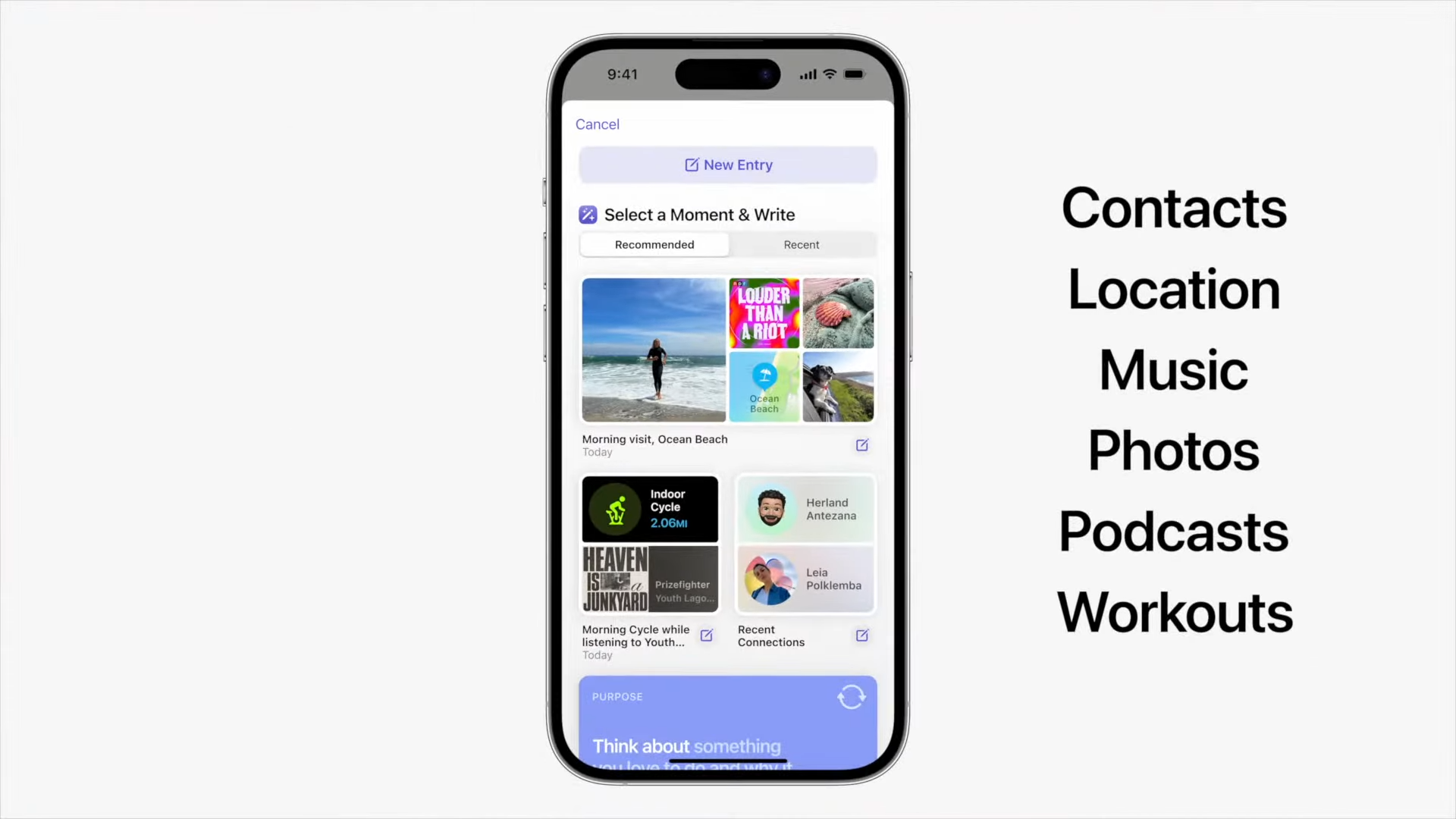 For those non-tech-savvy users, that means your journal entries are encrypted, and nobody but you can access them. This even includes locking Apple out. This protection allows you to use the app to jot down your favorite things about the day or even to jot down the things worrying you and how you want to face those without worrying about snooping eyes digging too deep.
Apple seemed to push the app as a mental health tool, which makes sense given that that was a theme of its most recent WWDC 2023 keynote. And to be honest, we could all use some help in understanding our feelings sometimes. Of course, this isn't the first app of its kind, so what makes the iOS 17 Journal app stand out?
To be honest, it's the sheer amount of data that this thing pulls into one place. I've tried similar apps which promise a smooth journal writing experience on mobile, and while they're fine overall, none of them offer nearly the same amount of function that Journal looks to bring to the table. And most of that comes down to how well it integrates with the data I'm already generating.
If you're anything like me, you're probably already invested pretty heavily in the Apple ecosystem if you're using an iPhone. And being able to get a glimpse of what kind of day you've had, as well as what kind of music or other media you might have partaken in, is really cool, especially if you've had a hectic day and couldn't keep up with it all yourself.
Unfortunately, Journal is already delayed, which means it won't launch with iOS 17 when it drops later this year. It's still set to release this year, but Apple hasn't said exactly when. Still, I can't help but be excited about what this app is going to offer and how it's going to let me take stock of the things I'm doing in my life so that I can celebrate the small things.