Samsung's new Galaxy S9 and Galaxy S9+ launched about two months ago. The OnePlus 6 began shipping earlier this week, and the LG G7 ThinQ is set to hit store shelves next week. The Galaxy Note 9 is on the horizon, and HTC just unveiled its intriguing new U12+. And yet despite the fact that there are so many impressive flagship phones out there right now and even more coming over the course of the next few months, Apple's next-generation iPhone X successors still manage to soak up most of the attention and anticipation.
We're about four months away from the releases of the next-generation iPhone X, the larger "iPhone X Plus," and a brand new addition to the iPhone lineup. Four months tends to feel like a lifetime for smartphone fans, and yet Apple's upcoming new iPhones are still dominating the tech news cycle. The biggest report of the day yesterday was news that Apple's new A12 processor for its 2018 iPhone models has entered mass production, and in the process we got confirmation that it's going to wipe the floor with the Snapdragon chip that powers this year's Android flagships. Apple's upcoming new iPhones are set to be the biggest story of the day once again on Thursday, and this time around it's because of what might be the first major leak to include a photo of key 2018 iPhone components.
Today's big next-generation iPhone leak is a bit murky. On one hand, it comes from a source with a good track record. He calls himself Mr. White on Twitter, and he has leaked accurate info and images in the past. But there's a big problem with the tweet he posted early Thursday morning, and Apple fans who pay attention to the rumor mill will notice it right away.
iPhone X 6.1 OLED pic.twitter.com/C9rYWNmShA

— Mr·White (@laobaiTD) May 24, 2018
Did you catch it? If not, we'll bring you up to speed.
According to Ming-Chi Kuo, the former KGI Securities analyst who is by far the most accurate Apple insider out there, Apple plans to launch three new iPhones this September. One will be a straight iPhone X successor with a 5.8-inch OLED display, and the second will be a larger "iPhone X Plus" with a 6.5-inch OLED display. The third new iPhone model we're expecting is a mid-range iPhone with a 6.1-inch display and a price tag that could start as low as $549.
The image above supposedly shows the 6.1-inch screens from that third new iPhone model, so what's the problem? The problem is that this new mid-range iPhone supposedly keeps the price down by including less RAM, dropping 3D Touch support, using aluminum instead of stainless steel, and ditching the pricey OLED display in favor of a much less expensive LCD screen.
In other words, there is no 6.1-inch OLED screen, if Ming-Chi Kuo is correct. And Ming-Chi Kuo is almost always correct.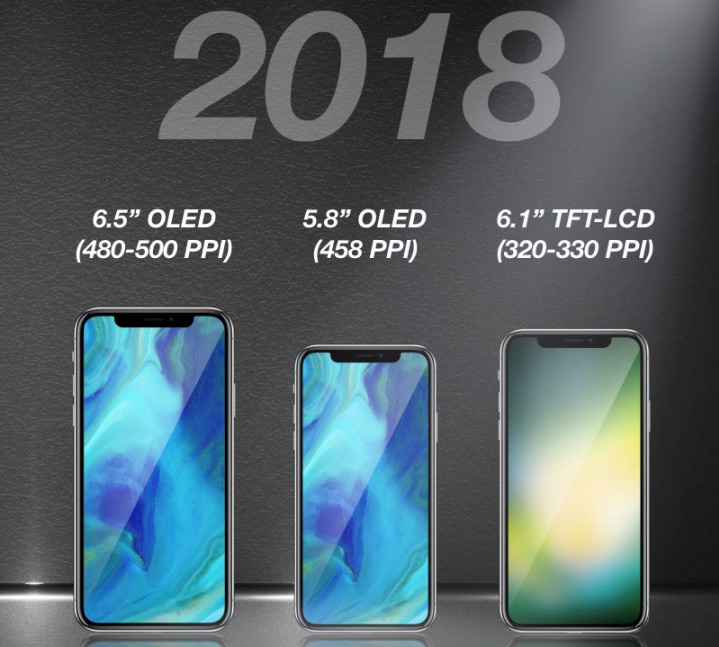 Now, it's still entirely possible that Mr. White's leak is legitimate. He may have just made an error and we could be looking at 6.1-inch LCD screens destined for Apple's new mid-range iPhone X successor. He also might have mistyped the size, and these could be 6.5-inch OLED panels headed to the "iPhone X Plus." It's unclear, but again, he has a good track record so it's certainly not out of the realm of reason that this could be our first real look at display panels destined for one of Apple's 2018 iPhone models.
Here's a closer look at the leaked image: