Something strange is happening right now in the smartphone market: Apple no longer makes the most powerful smartphone in the world. Well actually, we should amend that statement a bit. The A11 Bionic processor that powers Apple's iPhone X, iPhone 8 Plus, and iPhone 8 indeed outperforms every other smartphone that's currently available. Each of Apple's three flagship iPhones score over 4200 on GeekBench's single-core test, while the top-performing Android phone only managed a score of 3400. Apple's 2017 iPhones also crush the competition in the multi-core test, with scores reaching as high as nearly 10200. Meanwhile, only one Android phone has managed to break 9000 so far.
The iPhone X and Apple's other current-generation flagship phones pack plenty of power. Power has never been Apple's problem. The problem recently has been iOS, or more specifically, iOS 11. It has been plagued by bugs, security holes, RAM management problems, and other issues since the day it was released in September 2017. Things have certainly gotten better over time as Apple continued to release software updates, and the current version — iOS 11.3.1 — offers big improvements compared to last year's initial release. But there are still lingering issues that hinder performance, and there is still plenty of work to be done before iOS is back up to snuff.
Of course, all this isn't to say that the burden lies squarely on Apple and Qualcomm's current generation of Snapdragon chips are unimpressive. The Snapdragon 845 that powers the current flock of Android flagships brings impressive performance and efficiency gains. Coupled with gobs of RAM, as is the case on new Android phones like the OnePlus 6, the Snapdragon 845 processor soars. OnePlus' new flagship phone blew past the Galaxy S9, and therefor iPhone X, in the kind of real-world speed test that Apple used to dominate. But Apple's A11 Bionic is still the more powerful chipset — and in 2018, it sounds like Apple is set to retake the throne.
A new report from Bloomberg on Wednesday morning states that Apple's chip fabrication partner Taiwan Semiconductor Manufacturing Co. has begun mass production of the next-generation processors that will power Apple's 2018 iPhone lineup. Apple is expected to release three new iPhone models this coming September, including an iPhone X successor, an "iPhone X Plus" with a larger OLED display, and a mid-range iPhone with an LCD screen sized between the two. All three new iPhone models should be powered by the same A12 processor that TSMC just began producing.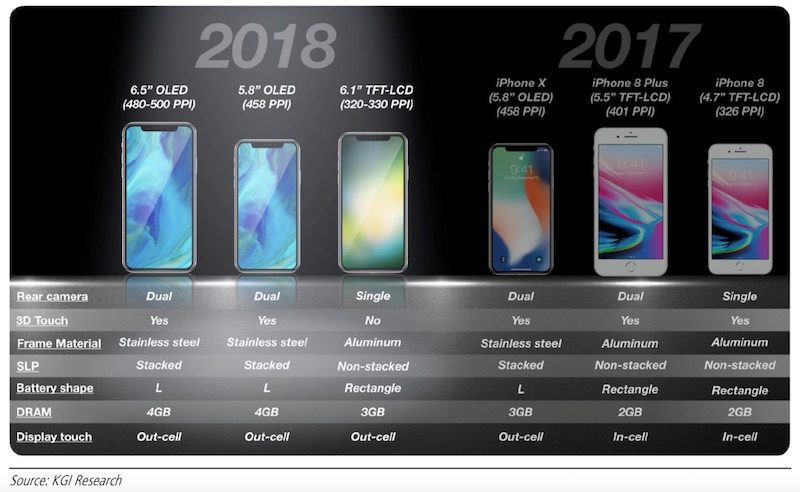 As we've heard a number of times in the past, Bloomberg reiterates that the A12 will be based on a 7-nanometer process. The Snapdragon 845 chipset that powers all of this year's Android flagships is based on a 10-nanometer process, which is what Apple's A11 Bionic chip used for last year's iPhones. Apple's 7-nanometer chips will be smaller, faster, and more efficient than the current crop of 10-nanometer chips, offering big performance gains in Apple's upcoming 2018 iPhone lineup.
But that's only half of the equation.
Apple's WWDC 2018 conference kicks off in less than two weeks on June 4th, which is when the company will host its big keynote presentation. The star of the show at this year's WWDC keynote will be iOS 12, of course. Apple reportedly had big plans for iOS 12, but then it decided to strip out some of the new features the company had been prepping. Why? To focus on improving performance and ironing out the bugs that have marred the iOS 11 user experience.
So what can we expect from Apple's 2018 iPhone lineup? We already know all about Apple's new designs and basic specs thanks to former KGI Securities analyst Ming-Chi Kuo, which are shown in the graphic above. As we can see, Apple's iPhone X update and the larger "iPhone X Plus" will pack the most RAM Apple has ever included in an iPhone. We also know that Apple is laser focused on bringing big performance improvements to iOS 12, and now we can state with near certainty that the upcoming new A12 chipset is based on a 7-nanometer process.
All this adds up to Apple's 2018 iPhone models turning out to be the most powerful and efficient smartphones the world has ever seen, and we'll almost certainly see them crush every Android phone out there once again in performance and speed tests.