Samsung's got a thing for dual-curved edge displays. The company likes it so much, that it's already rumored to consider launching the Galaxy S8 only in an edge version, just like it did with the Galaxy Note 7. However, while the curved display of the recent Galaxy S and Galaxy Note are definitely eye-catching, Samsung is yet to come up with ways to add useful features to the curved portions of the display.
Apple, which is also expected to make iPhones with curved screens in the future, might help Samsung with that little problem.
DON'T MISS: Report: the iPhone 7 will be exactly what you're expecting
A new patent discovery indicates that Apple has been toying with curved displays, which could be included in its wraparound iPhone in the future, or simply in an iPhone that has a Galaxy S7 edge-like display.
Apple's research suggests that such iPhones would feature curved edges that would house virtual buttons and switches and haptic feedback components. The iPhone's edges might not feature physical buttons as found on the non-screen sides of any iPhone made to date, but they would be able to offer the same sort of feedback.
"During operation of an electronic device, a virtual button may be, for example, a virtual volume button for controlling audio output volume and may be repurposed based on user input to become a virtual camera shutter button for taking a picture or may be reconfigured to serve as a controller for another device function," Apple's explanation reads, suggesting that Apple already has a plan to eliminate the physical buttons of the iPhone, without eliminating the features associated with that side of the iPhone.
"Images displayed on the flexible display may indicate to a user which function is currently being performed by the virtual button. Predetermined inputs to the touch-sensitive layer on the edge of the device (e.g., tapping, sliding, swiping, or other motions of an external object such as a finger across the edge of the device) may be used to change the operating mode of the device."
This isn't the first time a patent suggests that the iPhone's real buttons might be replaced by virtual 3D Touch buttons. In fact, this might be just one other piece of evidence supporting the idea that Apple is about to propose buyers a radical iPhone design which would include an AMOLED display, and a new form factor, one that lacks physical buttons.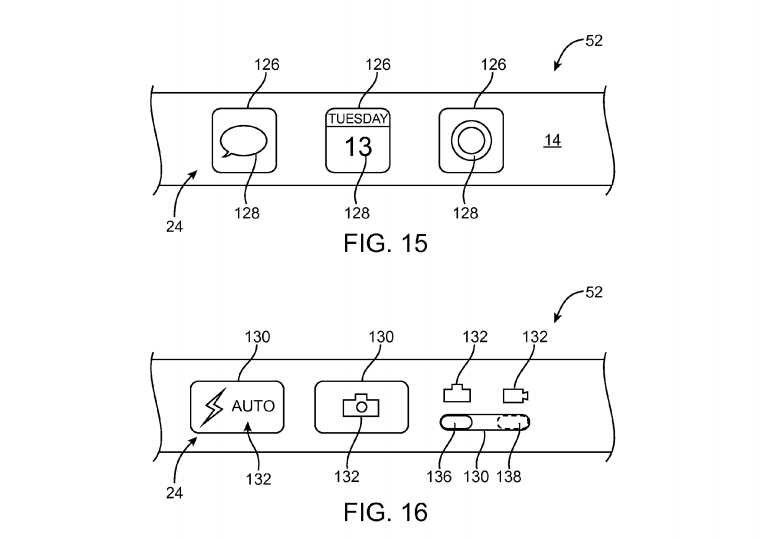 While some would be quick to call Apple out for copying Samsung, Apple first applied for the patent in May 2014, four months before Samsung launched its first ever edge-branded product, the Galaxy Note edge.
Furthermore, while the edge on Galaxy devices does have special features, and can display information, it doesn't come with the kind of feedback support that would allow Samsung to replace physical buttons with virtual ones. In fact, Samsung's edge phones still have buttons on the right and left sides, and Samsung might just have to copy Apple's future curved iPhones.