It's now June, which means we have just over three months to go until Apple unveils its new iPhones for 2017. But this time in years past, Apple's upcoming new iPhone design was basically a matter of record. While nothing is ever truly confirmed until Apple announces its new iPhones on stage in California, the rumor mill has always managed to produce a clear picture of what to expect. This year, however, the rumor mill is torn.
Will the iPhone 8 feature an all-screen face with barely any bezels, or will there be a hideous notch cut out for the camera, speaker and sensors? Will Apple and its partners figure out how to get their embedded Touch ID sensor ready for mass production, or will Apple have to move the fingerprint scanner to the back? These questions and more have yet to be answered, and the fight took yet another turn on Friday morning.
Early on Friday morning, new photos were posted on Slashleaks that supposedly showed an iPhone 8 mockup. We covered them in an earlier post. The mockup shown in those pictures was essentially an iPhone 7 with a new dual-lens rear camera and a new Touch ID fingerprint scanner integrated into the aluminum back of the phone.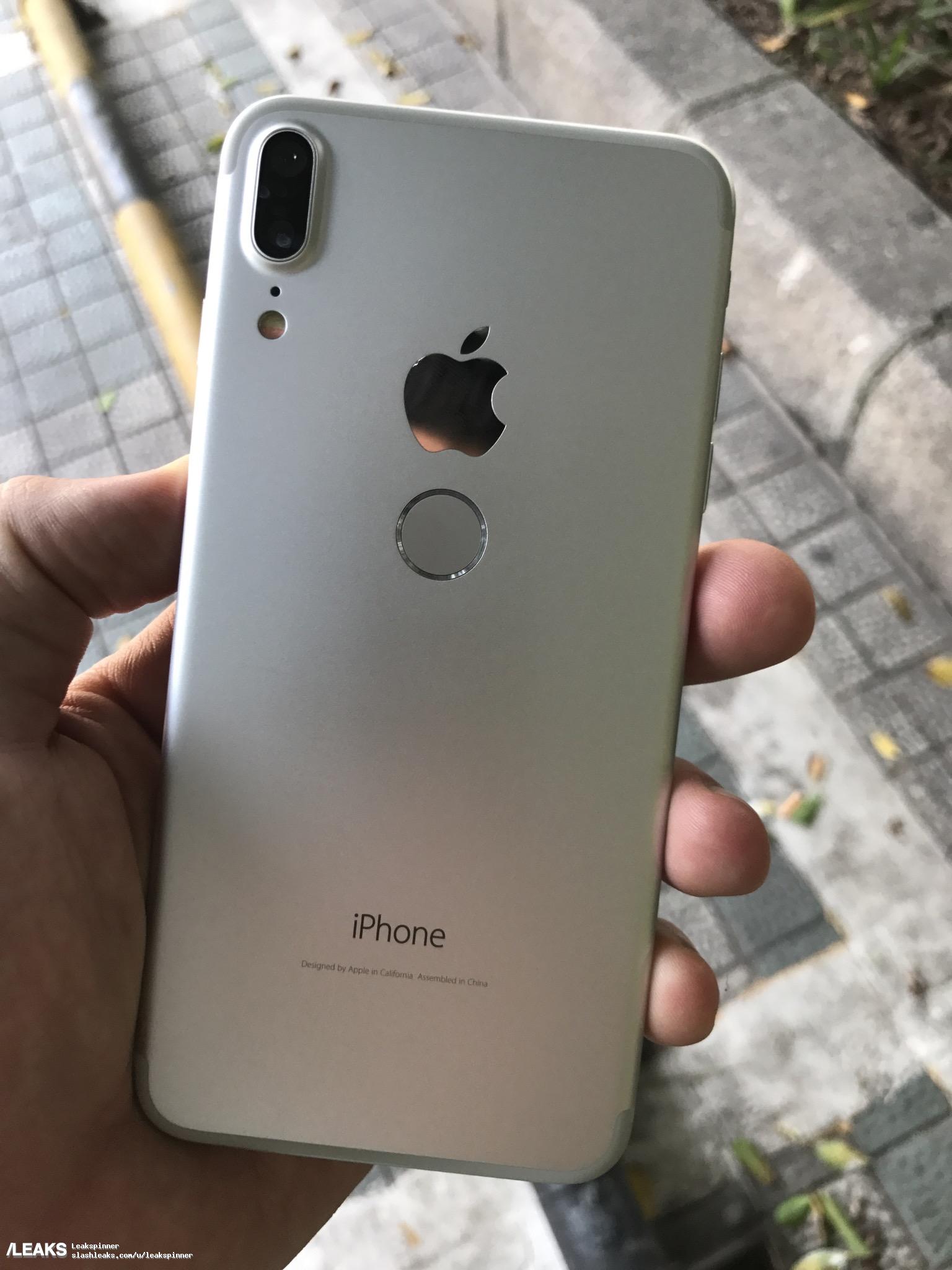 It goes without saying that these new photos show an iPhone 8 design that flies in the face of everything we've heard so far. Apple's new iPhone 8 is expected to feature wireless charging, which means the company can no longer use aluminum housings. Instead, Apple is expected to use Gorilla Glass on the front and back of the iPhone 8, with a stainless steel midframe that is rounded and polished around the edges. The steel edges should create a perfectly rounded design when lined up with the 2.5D glass on the front and back of the phone.
In response to those photos, graphic designer turned gadget leaker @VenyaGeskin1 posted the following tweet:
https://twitter.com/venyageskin1/status/870577680042913792
Now, Geskin has thrown a whole lot of spaghetti at the wall, so something will inevitably end up sticking. Citing unnamed sources who are believed for the most part to be random people in Chinese forums who claim to have an inside track at Foxconn, he has in the past made too many conflicting iPhone 8 claims to count. He's said that the Touch ID sensor will be on the back. He's said it will be on the front, embedded in the screen. He's said that the dual-lens camera will be horizontal. He's said it will be vertical. He's said the flash will be beneath the two rear camera lenses. He's said it will be between the two rear camera lenses. And so on.
The iPhone 8 design Geskin seems to have landed on is the one pictured above. It's a gorgeous design that is mostly in line with what we've heard from more reliable sources, though the notch cutout along the top of the display is absolutely hideous. It's almost as bad as the one on Andy Rubin's Essential phone. The only way I could see Apple actually using a design like this is if the company keeps the portions of the display panel on either side of the speaker and sensors dark, using them only to display things that currently appear in the iPhone's status bar (carrier, signal strength, battery charge, Bluetooth status, location status, etc.). Of course, that wouldn't work very well on an iPhone with a white face — perhaps Apple will only release the iPhone 8 in one color?
We're close enough to the iPhone 8's launch that the design is almost certainly finalized by now. In fact, we recently shared exclusive photos of what is believed to be Apple's final iPhone 8 design, though the mockup seen there doesn't answer the display question. Someone with more solid sources will undoubted answer the iPhone 8 design questions that remain, but you can expect to see plenty of back and forth until then.