After supply chain issues during its release last year, the iPhone 14 Pro Max has become the most shipped smartphone in the first half of 2023, reports Omdia. According to the company's Smartphone Model Market Tracker survey, Apple shipped 26.5 million units of this phone.
Interestingly, the other top shipped smartphones are also from Apple, as the list has the iPhone 14 Pro, iPhone 13, and iPhone 13. In fifth place, there's Samsung's Galaxy A14 model. Compared to last year, Apple shipped fewer iPhones, but the Pro Max model has never been so successful.
According to Omdia, the iPhone 13 was the most popular iPhone in the first half of 2022, with 33.7 million units shipped. However, the iPhone 13 Pro Max, which took second place, shipped 23 million units, 3.5 million less than the current iPhone 14 Pro Max. That said, even though Apple has shipped fewer iPhones, it has probably made more money since the Pro versions cost way more than the standard models.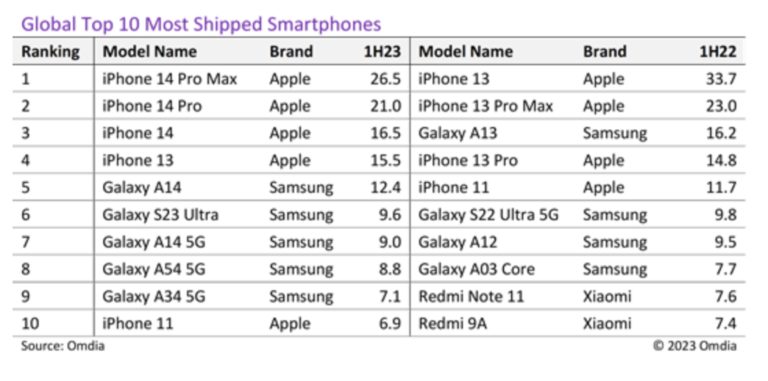 Omdia says, "The global smartphone market is recording negative growth as the mid-to low-end market shrinks due to economic recession and the expansion of the used smartphone market. On the other hand, the premium smartphone market is steadily increasing because replacement demand for Apple's premium models remains solid." The survey shows premium smartphones are growing in emerging markets.
The survey indicates that the general global smartphone shipments will continue declining again this year, but the premium market will keep increasing.
"The increasing portion of the premium market is expected to continue in the second half of this year with the launch of the new iPhone 15 series. Therefore, shipments of Android-based smartphone OEMs, which have a high portion of mid- to low-priced smartphones, will inevitably see another round of negative growth this year. On the other hand, Apple's shipments of Pro and Pro Max will increase due to solid demand for premium models, but overall iPhone shipments this year will be similar to last year or decrease slightly due to weak demand for standard and plus models," said Jusy Hong, Senior Research Manager at Omdia.
Apple is expected to announce the iPhone 15 event this week. Below, you can learn everything we know about this phone.