Google's new Pixel 3 and Pixel 3 XL flagship phones were released on Thursday, finally giving fans the opportunity to get their hands on the latest and greatest pure Android phones. They're not without their faults, of course, but overall the phones are terrific new options that are as fast and smooth as anything else on the market. The larger Pixel 3 XL also has the distinguished honor of having the largest display notch on any widely available smartphone to date. That's right, Apple's notch from the iPhone X has reached its most massive form on Google's newest flagship phone.
The notch has had a brief but eventful run over the past couple of years. LG and a small, floundering startup called Essential were among the first companies to launch smartphones with notches cut out of the display, but it was Apple's "all-screen" iPhone X design that just about every Android phone maker on the planet chose to copy. Beginning next year, however, there's a pretty innovative new design trend that will reportedly begin to replace the notch.
It's interesting that something as simple as a cutout in a screen can cause so much commotion, but the notch is definitely the most controversial smartphone design trend we've seen in recent years. The funny thing is despite the fact that people complain about it so loudly on social media, smartphone owners who have phones with a notch often don't even notice it. If you're among the small but vocal group of people who hate the notch and can't wait to see it go away, it looks like your wish will soon be granted.
A Twitter and Weibo user who goes by the name Ice Universe is quite plugged into the industry in the Far East. Samsung is his specialty and he's known best for dishing insider details on unannounced Samsung devices, but his reach often extends even farther. In the early hours of the morning on Thursday, his reach seemingly extended to the hot new smartphone design trend that will start to replace display notches in 2019.
"The display open hole camera technology will become the mainstream technology in 2019," he wrote in a tweet. He then asked about which positioning his followers preferred and posted an image with three options. Here is that image: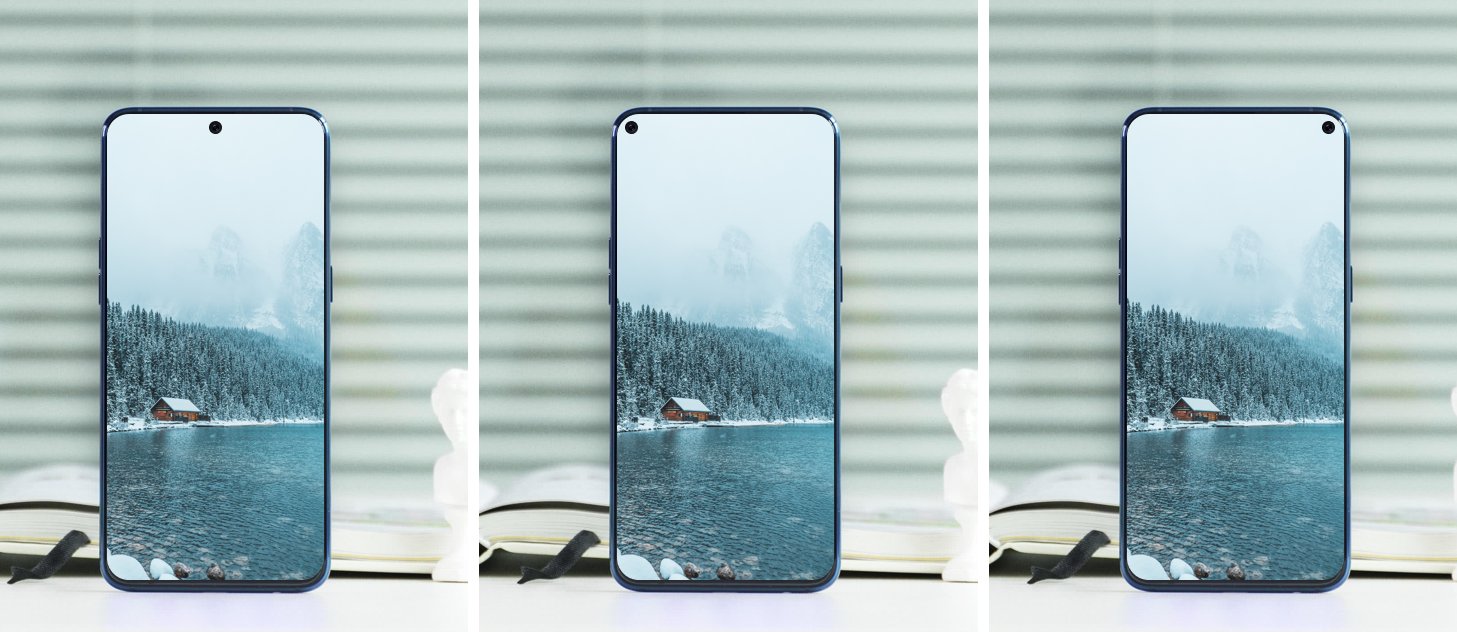 Of course, the question about preferred positioning doesn't concern us at all (even though the obvious answer is centered). The main takeaway here is that after nearly two years of notches, Ice Universe says that this is the new design trend that will sweep the industry beginning next year. Is it an improvement? Well, if covering the face of a smartphone with as much screen as possible is the goal, then this is clearly a step in the right direction.
Of course the holy grail is a design that has holes like the ones you see above for front-facing cameras, but live pixels on top of them. This way the screen can cover the whole face of a phone with no notches or holes, and then the pixels can turn off and become transparent when it's time to take a selfie. It sounds crazy, but it's actually real technology that's not very far away. But sadly, it won't quite be ready for mass production next year.