ChatGPT is the most exciting thing happening in tech right now, and anyone can try it, provided the system isn't at capacity. And the iPhone or Android phone in your pocket might be the best place to use ChatGPT since the smartphone is the most important computer in our lives. In what follows, we will show you how to use ChatGPT on your iPhone beyond opening OpenAI's chatbot in a browser.
You can create powerful shortcuts on iPhone and iPad to invoke ChatGPT for your questions and commands just like an app. You'll find such shortcuts below, including one that lets you incorporate ChatGPT into the iPhone's built-in assistant, Siri. We'll also show you how to set up a ChatGPT account if you don't have one. You'll need one to access ChatGPT and create iPhone shortcuts for it.
For even easier access to ChatGPT's powerful features, we'll show you several iPhone apps that will make it even easier to interact with the generative AI. That includes the official ChatGPT app for iPhone from Open AI. But also third-party apps like Perplexity AI and Petey for iPhone are two of the first ChatGPT iPhone apps out there, but there are plenty of exciting ones you can try.
Can I use ChatGPT on iPhone?
If you were wondering, you can use ChatGPT on iPhone. The product is a generative AI platform available in any web browser, no matter what computer you own. ChatGPT works on Windows, Mac, Linux, iPhone, Android, and any other operating system that supports web browsers.
But running ChatGPT inside Safari for iPhone or a different internet browsing app isn't necessarily as convenient as it is on a traditional computer.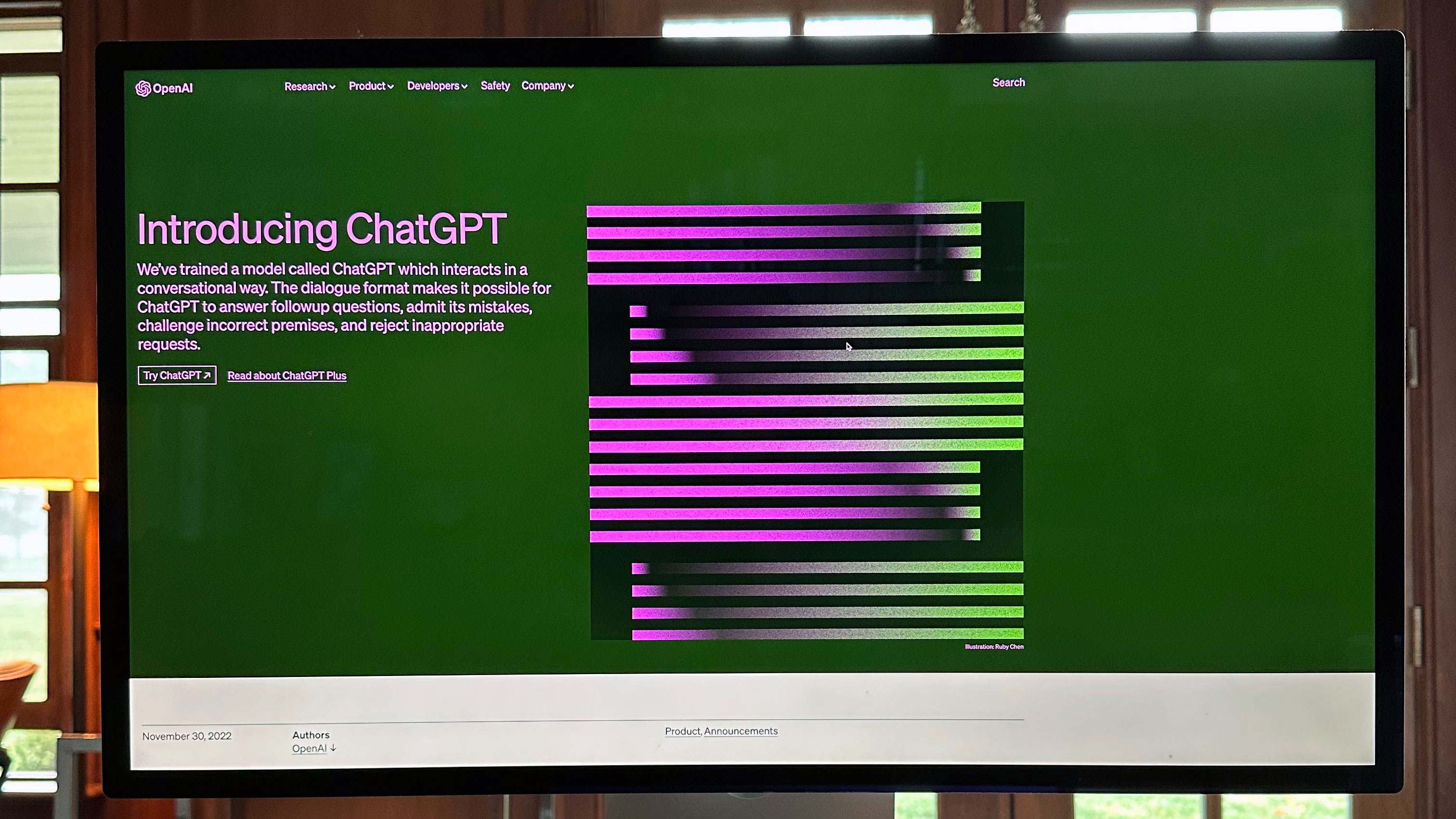 Is there an official ChatGPT mobile app for iPhone?
Unfortunately, there was no ChatGPT app for iPhone until mid-May. OpenAI released an official ChatGPT app for iPhone on May 18th. The app is available as a direct download from the App Store, but it's limited to US customers for the moment. Here's what the official app can offer, according to OpenAI:
Instant answers: Get precise information without sifting through ads or multiple results.
Tailored advice: Seek guidance on cooking, travel plans, or crafting thoughtful messages.
Creative inspiration: Generate gift ideas, outline presentations, or write the perfect poem.
Professional input: Boost productivity with idea feedback, note summarization, and technical topic assistance.
Learning opportunities: Explore new languages, modern history, and more at your own pace.
The app will let you buy the $20/month ChatGPT Plus subscription if you want access to the latest model.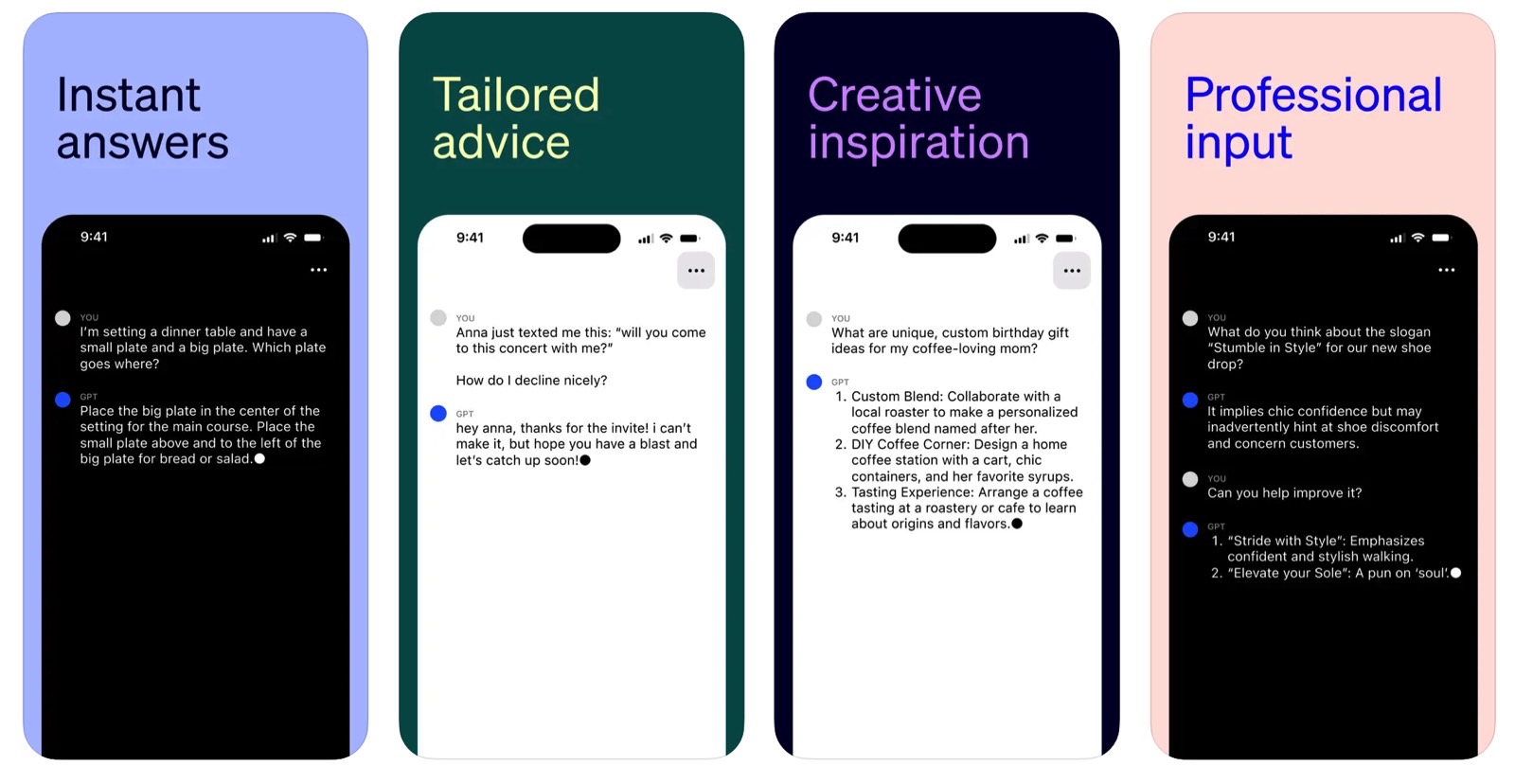 You can still use ChatGPT in a browser, or via a third-party app.
Regardless of how you use ChatGPT for iPhone, remember that the answers ChatGPT will provide might not always be correct. It's not as accurate as the regular version of Search, so you might want to double-check some of the facts the chatbot provides.
Will Siri be replaced with ChatGPT?
Siri is Apple's default voice-operated smart assistant for iPhone, iPad, Mac, Watch, and TV. ChatGPT can't replace Siri on iPhone or any other device, as it comes from a third party.
However, you'll see below that there are ways to make Siri work with ChatGPT. Again, these aren't official Apple tools that integrate ChatGPT into the iPhone. Apple has no reason to do that, and the company is likely developing its own ChatGPT-like generative AI products that might be incorporated into Siri in the future. That's just speculation.
Until then, shortcuts will get the job done, and you'll see a few examples below.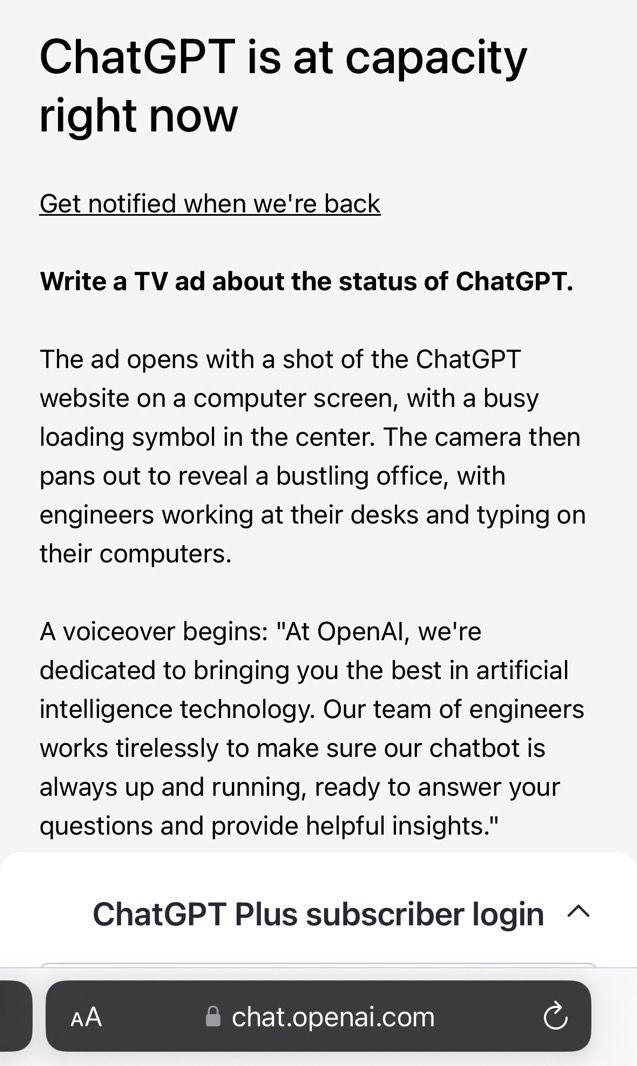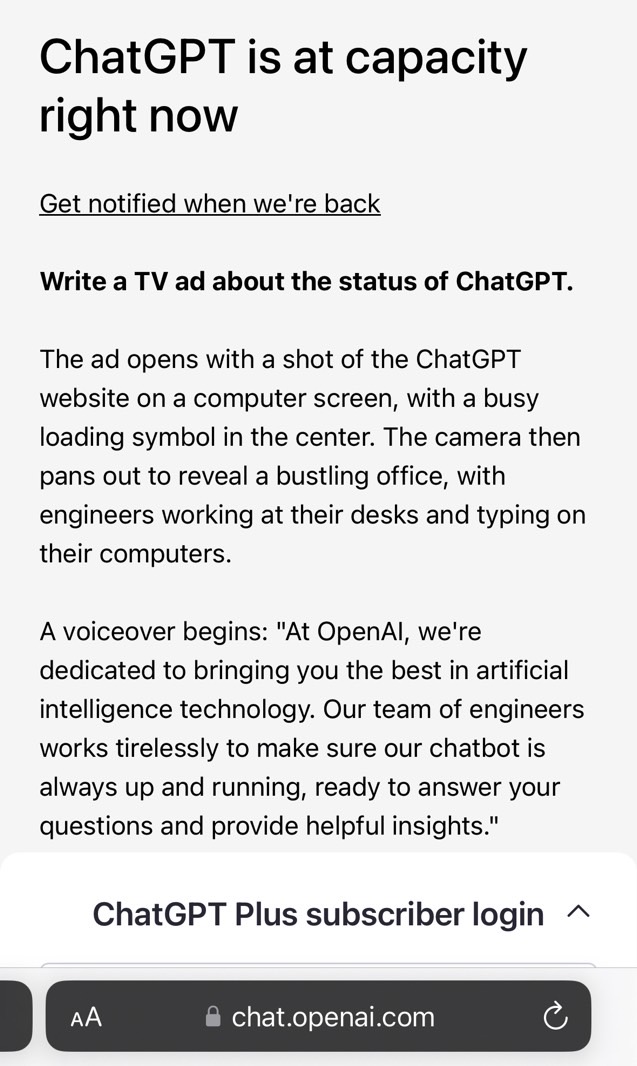 What about third-party ChatGPT apps for iPhone?
While some people created shortcuts that bring ChatGPT functionality to iPhone, others developed apps that get the job done. The advantage of using OpenAI's official app or a trusted third-party ChatGPT app for iPhone is that you don't need to go through a mobile browser. The interface might be cleaner, and you might be more productive.
We'll list several ChatGPT apps for iPhone (and iPad) below, and we'll keep updating this post with new information.
How to sign up for ChatGPT on iPhone
Since we did mention OpenAI being at capacity, we have to explain that all ChatGPT users need personal accounts. If you've already accessed the chatbot on an internet browser, you have an account ready. That means a username (email address) and a password.
You can always create an account on your iPhone. Just load up Safari or your iOS browser app of choice and head to chat.openai.com. This is where you can sign up for ChatGPT unless the system tells you they're too busy.
You'll need an email address to use ChatGPT on your iPhone and anywhere else. And you'll want to set a strong password. The system will also verify your phone number before it lets you in.
Once that's done, you can access ChatGPT on your iPhone straight from the browser. The following clip should help guide you through the sign-up process:
How to use a shortcut for ChatGPT on iPhone
While there's no ChatGPT app for iPhone, the good news is that you can create a shortcut for it relatively quickly. Fabian Heuwieser made an easy-to-follow tutorial, posting it on Medium a few weeks ago.
You can either replicate the steps as shown in the shortcut or just download the shortcut yourself.
You'll still need a ChatGPT account to create the iPhone shortcut. That's because you'll need your API key from OpenAI, and that's only available via an account.
Generating the API key is incredibly easy. All you have to do is log into your ChatGPT account and create an API key for the iPhone. This is where you can create the API key.
Once you retrieve that key, open the Shortcuts app and create the shortcuts just as shown in the screenshots that Heuwieser provides. An alternative is downloading the shortcut at this link. In case you download it, you'll need your API key handy.
As soon as the shortcut is ready, you can interact with ChatGPT on your iPhone without needing the browser. The shortcut will also work on Apple Watch, if you feel like you need access to the chatbot on your wrist.
How to use S-GPT on iPhone
There's another potentially game-changing ChatGPT shortcut for iPhone and iPad called S-GPT. It works with both ChatGPT-3.5 and ChatGPT-4, so you can load your API regardless of whether you're on a free OpenAI account or the Plus subscription. Still, those OpenAI requests will require a pay-as-you-go billing plan.
Created by MacStories' Federico Viticci, S-GPT integrates ChatGPT into native iPhone and iPad features. Once you set it up, you can use S-GPT inside Safari to summarize pages or process text in the clipboard. It also works with the Reminders and Calendars apps and can help you manage your Apple Music.
We've covered S-GPT in detail at this link.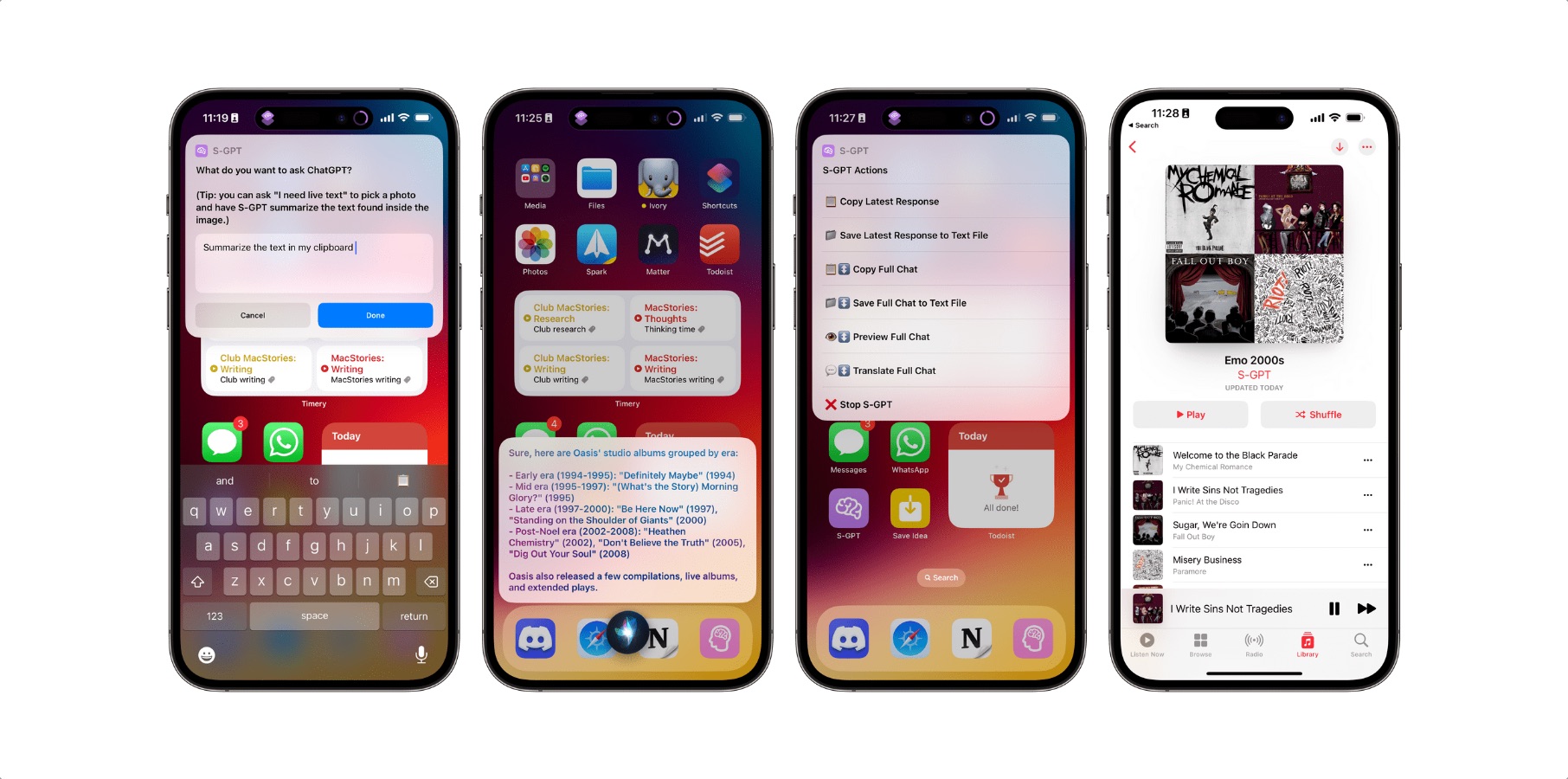 How to integrate ChatGPT into Siri on your iPhone
With the emergence of ChatGPT, the expectation is that Apple's own Siri will evolve similar capabilities in the future. And a version of Siri with features identical to ChatGPT would certainly improve how we use iPhone, iPad, and Mac.
Thankfully, we don't have to wait for Apple to unveil its own generative AI features built into Siri. Developer Mate Marschalko found a way to incorporate ChatGPT into Siri via a different shortcut. That means you have another option of using ChatGPT on the iPhone in addition to the ones above.
But the Siri trick is limited to performing specific actions via ChatGPT, like controlling a smart home. The Siri-ChatGPT will also answer questions related to the home in addition to controlling your connected devices.
The developer explained his Siri-ChatGPT hack in a blog post on Medium. You'll be able to follow the instructions along to create a similarly powerful Siri-ChatGPT tool on your iPhone or iPad.
Like Heuwieser's shortcut above, Marschalko's instructions are easy to follow. You'll be able to set up your Siri-ChatGPT shortcuts in no time, although, again, the functionality might be very specific. However, the Siri-ChatGPT solution might be more useful than using Siri alone to manage your smart home.
You can't talk to Siri-ChatGPT and give it all sorts of questions or commands on the iPhone like on the web. But Marschalko's work might inspire additional iPhone shortcuts that harvest the powers of ChatGPT via Siri.
The video below shows a demo of this Siri-ChatGPT shortcut in action.
How to replace Siri with ChatGPT on iPhone
The shortcuts above let you either access ChatGPT from your iPhone or Apple Watch or use ChatGPT to manage your smart home.
But there's another handy shortcut that lets you "replace" Siri with ChatGPT. That way, you can turn to the OpenAI chatbot for information rather than Siri. ChatGPT might not always be reliable, but neither is Siri. And ChatGPT can offer you a better way of interacting with the chatbot on iPhone.
You won't actually uninstall Siri on your device or replace it. You cannot do that on iPhone, iPad, and Mac. But developer Yue Yang posted on GitHub instructions on how to create a voice shortcut that uses Siri to trigger ChatGPT.
Like the previous steps, you'll need your OpenAI API key for the shortcut. Once you generate a ChatGPT key for this shortcut, you can download the shortcut directly from GitHub and then customize it.
That's all it takes to have a fully functional ChatGPT AI bot on iPhone, iPad, and Mac, right alongside Siri.
Perplexity AI brings ChatGPT search to iPhone
If you only want to use ChatGPT for online searches, you can install Perplexity AI immediately. I would also run the official OpenAI ChatGPT just to make sure I have direct access to it.
Perplexity app offers a clean ChatGPT user interface that lets you ask questions and follow-ups. It provides clear answers complete with links to sources. Perplexity also keeps track of threads, but you can delete the chats at any point.
Even better, Perplexity doesn't collect any user data from your iPhone. It won't bother you with ads, and you don't have to pay an access fee. This sounds too good to be true, and maybe Perplexity will one day monetize its ChatGPT client. And perhaps they should. What's clear is that the app is a must-have generate iOS tool right now. You can read more about Perplexity AI over here: How to use Perplexity.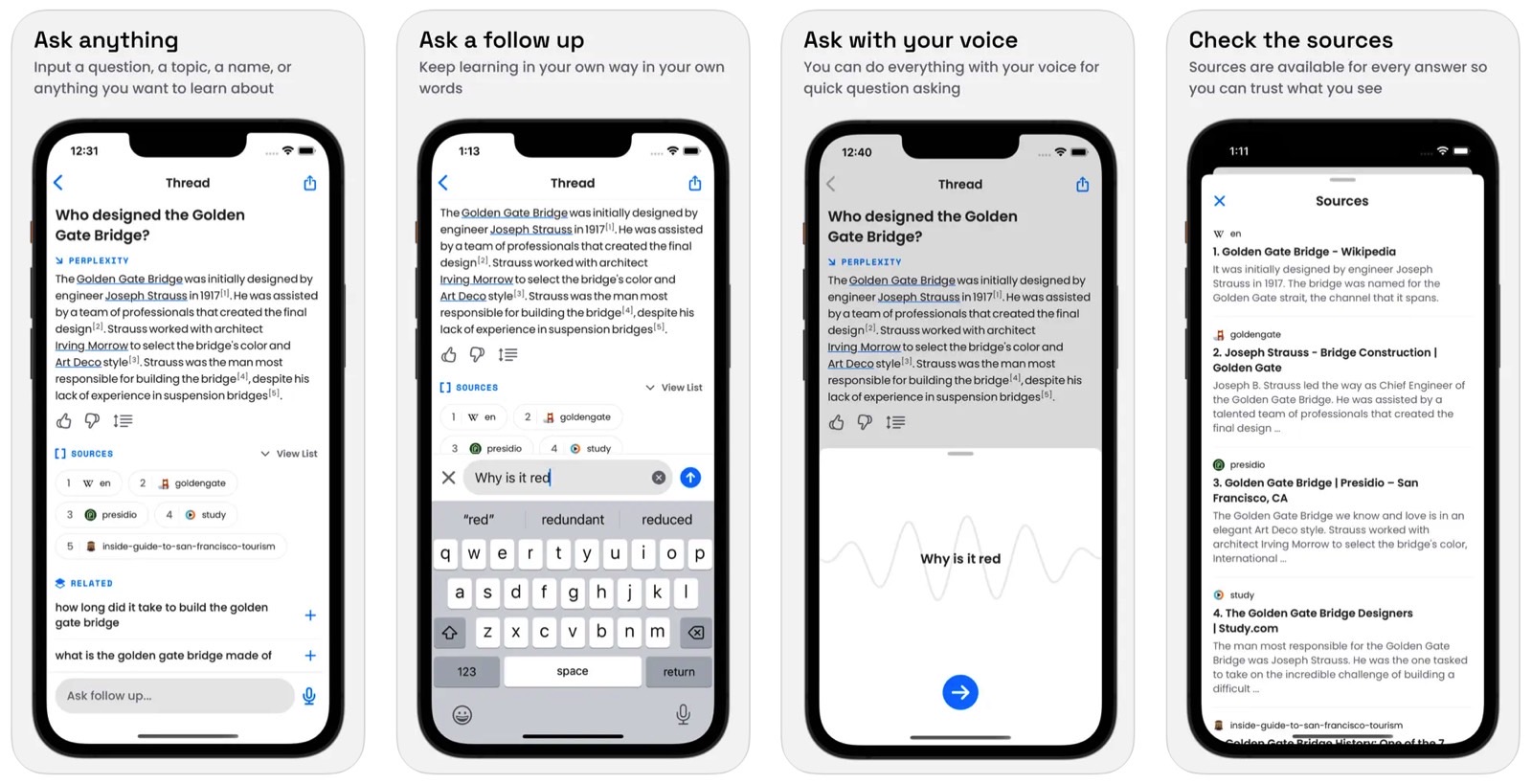 Petey for iPhone, another great ChatGPT client
In addition to Perplexity AI, there's also Petey for iPhone that you should take into account if you want simple ChatGPT action on your handset. Unlike Perplexity, Petey is an app that will cost you a flat fee or a subscription. The app gives you access to ChatGPT's GPT-3.5 engine, with an upgrade to the GPT-4 model to follow.
Petey for iPhone started on the Apple Watch, but the iPhone is a much better home giving the app better features. Like support for Live Activities. With the help of the Shortcuts app, you can use voice and use Petey as a Siri replacement. The default voice assistant can't be replaced on iPhone, however.
You will need a ChatGPT account for Petey, so ensure you have your APIs handy. Read more about Petey for iPhone at this link.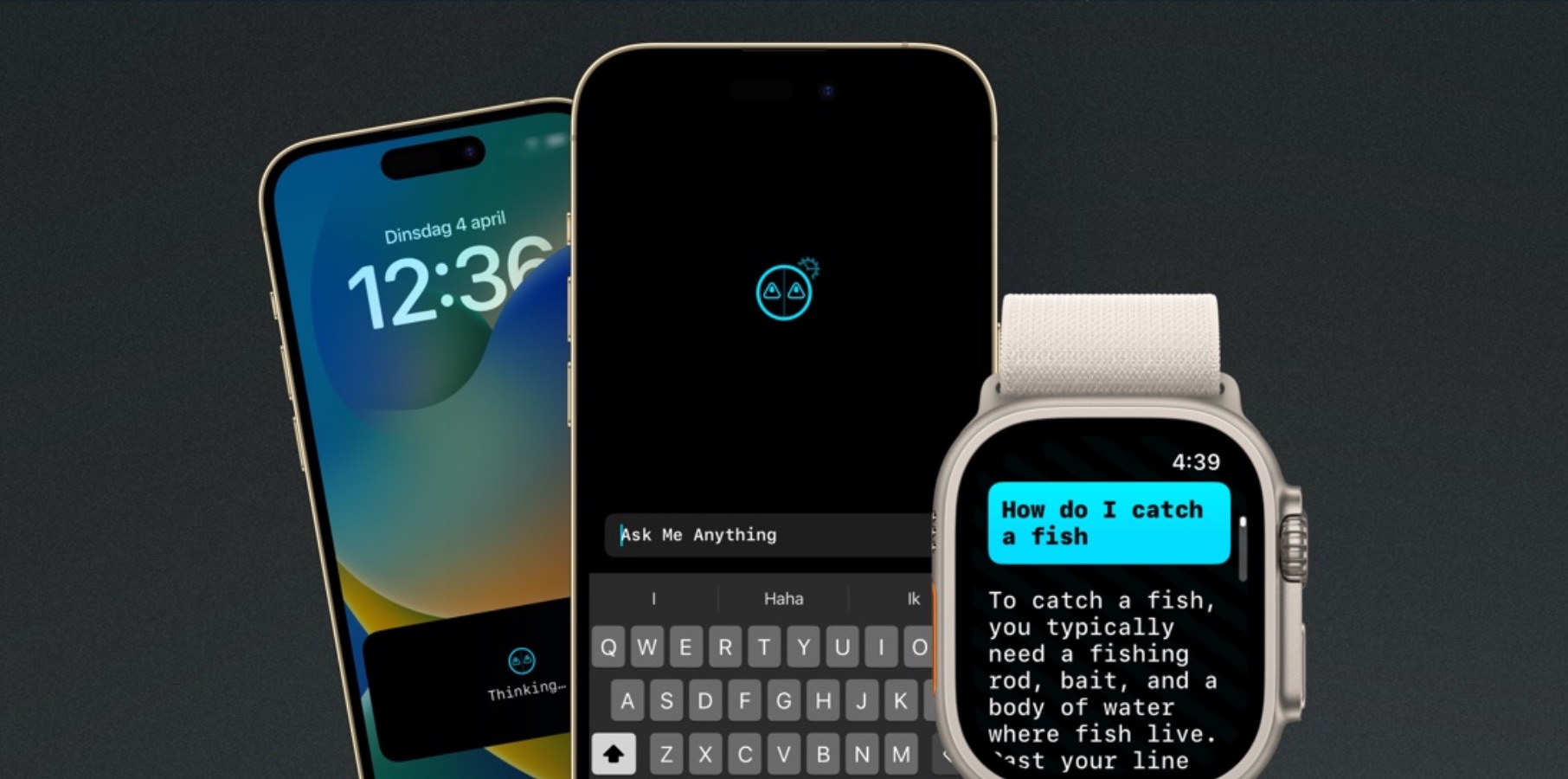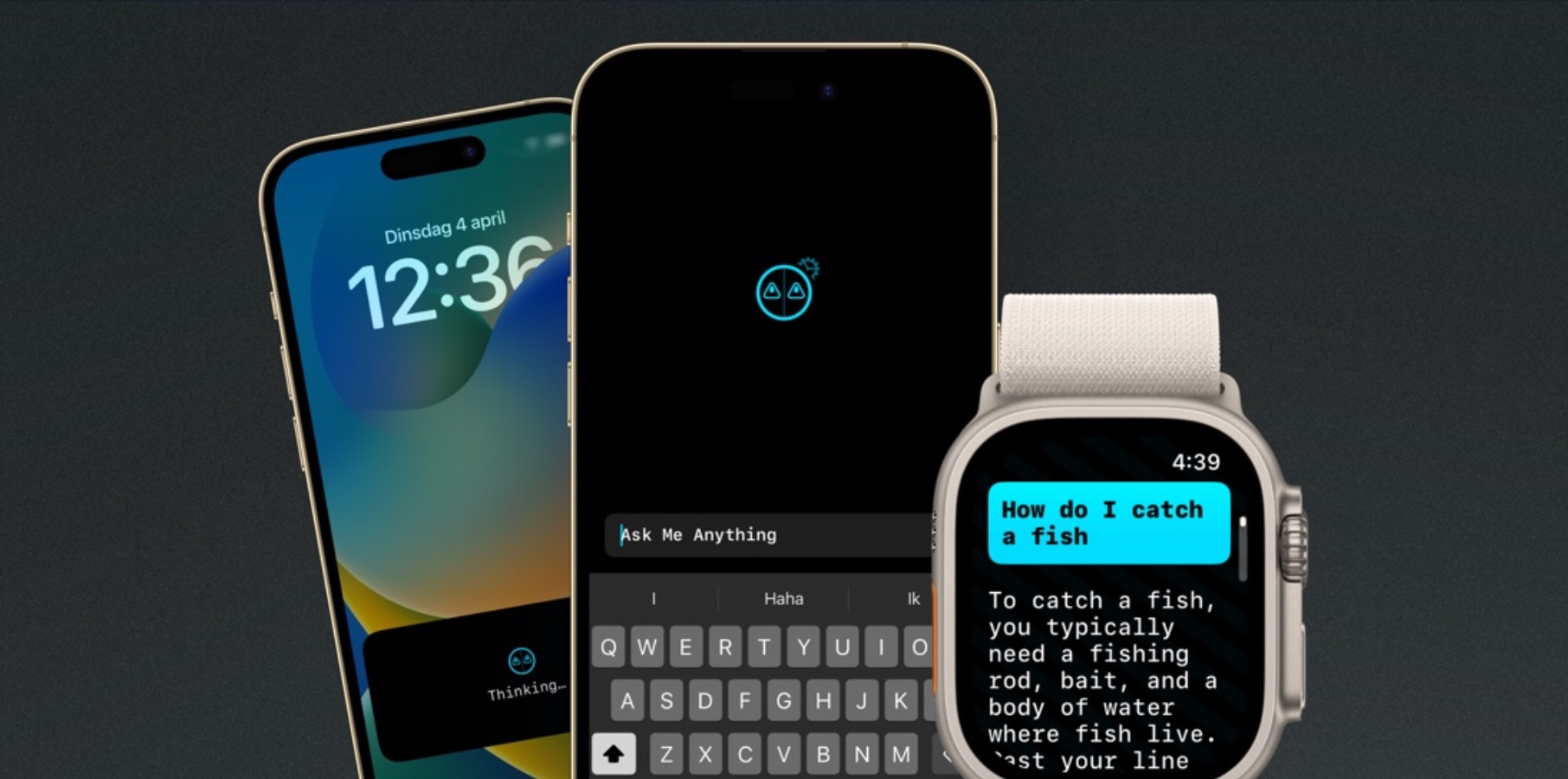 Premium ChatGPT apps for iPhone you should consider
In addition to Perplexity and Petey, you can install other ChatGPT apps on iPhone and iPad from the App Store. We've recently covered some of them, including AI Chat, Chat with Ask AI, Genie, and ChatOn.
Unlike Perplexity, these apps aren't free of charge, and you'll have to get a subscription to unlock premium features. Prices range from $4.99 a week to $19.99 a month or $39.99 a year, depending on your chosen app and period.
Apps like Chat with Ask Ai and Genie support GPT-4. Genie lets you upload photos, files, and URLs during your prompts. That means you get to use GPT-4's multimodal input support.
Beware of fake ChatGPT apps
Since listing the apps above in mid-April, we've learned that an app from the list above might be of concern.
In mid-May, security company Sophos included Genie in a list of "fleeceware" fake ChatGPT apps that are essentially pushing subscriptions to buyers. Sophos said that Genie seems to offer advertised functionality, but after four tries a day it prompts users to go for a free trial. You can read Sophos' report in full at this link.
Now that OpenAI's official ChatGPT app exists, you'd be better off getting that version on iPhone and iPad, assuming it's available in your country.