Google finally unveiled the Pixel Tablet at I/O 2023 after months of leaks that gave us all the details about this particular Android tablet. It's exciting to see devices like the Pixel Tablet and Pixel Fold become a reality, as that means Google is ready to give big screens another go when it comes to the overall Android software experience. And that will hopefully push developers to adapt and optimize their apps for larger displays.
But the Pixel Tablet won't be for everyone. It's also somewhat of a disappointment. Google teased it at I/O 2022 and then needed more than a year to release the Pixel Tablet at a price point that's not very appealing.
Pixel Tablet design, specs, and features
The Pixel Tablet looks just like you'd expect from a 2023 flagship tablet. It has a large, 10.95-inch LCD panel with uniform bezels that are about as large as the iPad's. And Google's design makes it clear that this tablet is meant to be used in landscape mode most of the time. Just look at the front-facing camera placement in these images. The 8-megapixel selfie shooter sits on the side, which dictates how you'd hold the tablet.
When it comes to specs, the Pixel Tablet will offer you a Pixel 7 Pro experience but on a bigger display. The same Google Tensor G2 chip that powers the Pixel 7-series phones will also serve the Pixel Tablet.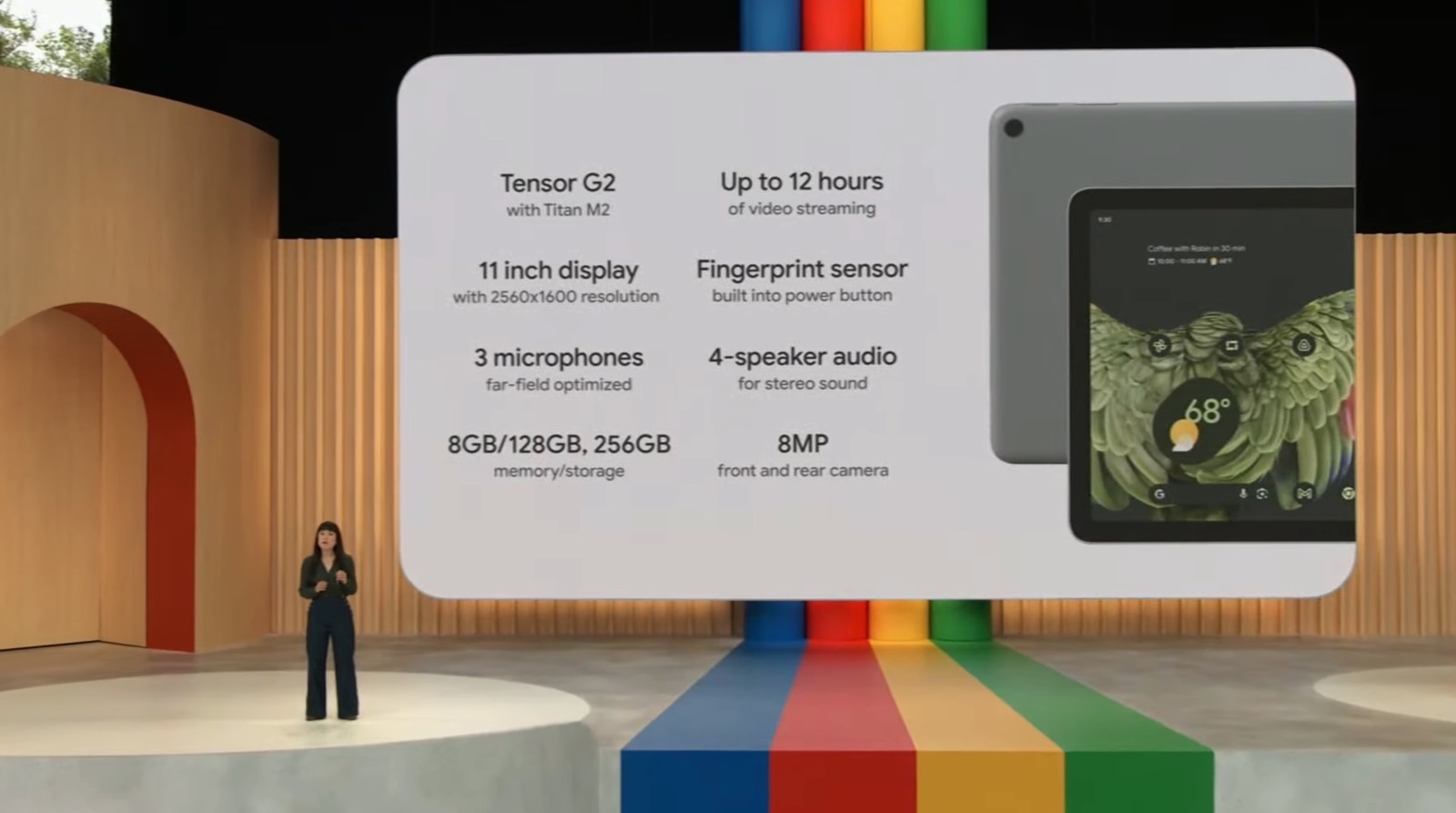 Google gave the device 8GB of fast LPDDR5 RAM. As for storage, you can pick between 128GB or 256GB, but we're looking at UFS 3.1 rather than the newer and faster UFS 4.0.
The LCD screen features a resolution of 2560 x 1600 pixels, and it offers up to 500 nits of brightness. The Pixel Tablet will also work with a stylus.
Like the front camera, the rear 8-megapixel shooter can support 1080p video capture at 30fps.
Other specs include quad speakers, a 4-pin accessory connector, Wi-Fi 6, Bluetooth 5.2, and UWB connectivity. As expected, the tablet rocks a USB-C port on the bottom, which will recharge a 27 Wh battery that's good for up to 12 hours of video streaming. The 15W Charging Speaker Dock should keep the tablet charged at all times.
It's not just the hardware that matters for this iPad alternative from Google. The software is even more important. Google can dictate the future of Android tablets. You know, again. But it looks like Google means it this time, considering the big Pixel Tablet and Pixel Fold push at I/O 2023.
Speaking of streaming, the Pixel Tablet comes with Chromecast built-in, so you can share all sorts of media files with it. Additionally, the Pixel Tablet supports smart home features in docked mode. And it works with multiple users.
Let's also not forget that Google stressed how Android 14 takes advantage of larger screens when announcing the first public beta. But Android 14 won't be released until after the Pixel Tablet hits stores.
Pixel Tablet price and release date
With all that in mind, the Pixel Tablet might just be what the Android tablet camp needs. A device to kickstart better tablet experiences that could rival the iPad.
But the Pixel Tablet isn't an iPad Pro equivalent. The Tensor G2 might be a great chip, but it can't match the M1 or M2 inside Apple's best tablets. Therefore, the Pixel Tablet isn't even an iPad Air 5 alternative. As of this week, Apple's iPad Air and iPad Pro can run professional video and music editors, which is impressive.
And this brings me to what might be the worst thing about the Pixel Tablet: the price. Google teased this device a year ago, and it'll hit stores on June 20th, 2023, featuring 2022 hardware.
The $499 starting price isn't going to make you happy. Sure, it's a Pixel device, which means the tablet will be among the first gadgets to run the latest version of Android. And it'll be the first Android tablet to give you all of Google's tablet-centric features in Android 14.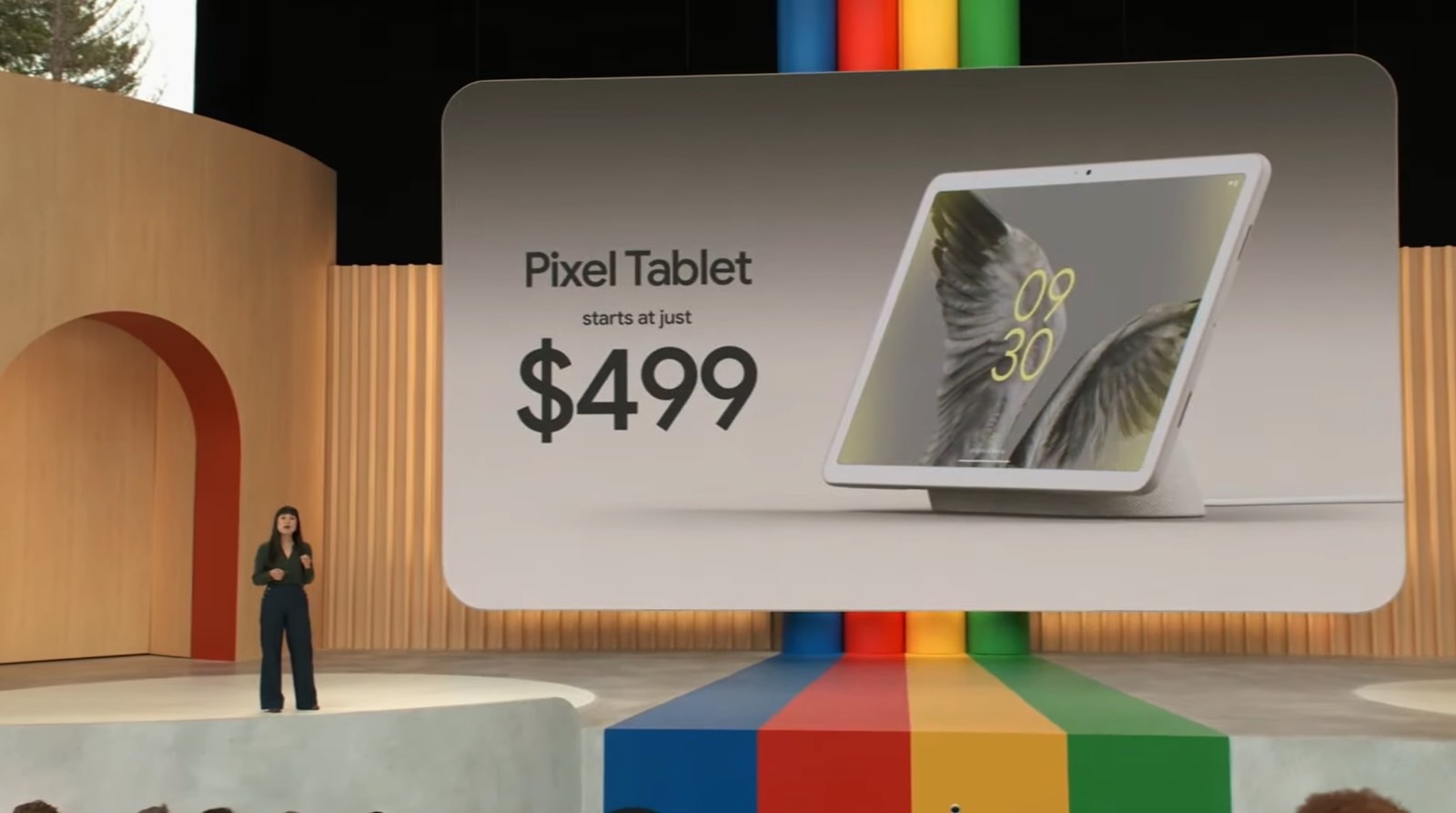 But the starting price is certainly somewhat of an obstacle you must overcome mentally if you want to purchase the gadget when it hits preorders on Wednesday. It's not as affordable as you might have expected.
Comparatively, the iPad Air 5 starts at $599, though it was on sale for $499.99 at the time of this writing. The cheapest iPad 10, which is essentially an iPad Air 4 variant, retails for $449 but is currently on sale for $399.99.
The good news is that the Pixel Tablet will be bundled with a free charging speaker dock. You can choose between Rose, Porcelain and Hazel color options.