Try as they might, Qualcomm and Samsung are still not able to outperform Apple's A-series mobile chips. The iPhone 7 is the undisputed king when it comes to mobile performance, both in benchmark tests and real-life use. Even the 2015 iPhone 6s is still able to beat 2016 flagships in real-life CPU performance.
Come next year, a new generation of mobile processors will hit the market, and Android flagships will outscore the iPhone 7. Maybe. And if they do, they'll just barely have the edge. It's likely their reign will be short-lived too, as Apple is working on even more powerful A-series chips for its 2017 iPhones and iPads.
An AnTuTu benchmark test for Qualcomm's Snapdragon 835 processor found by Phone Arena shows a score of more than 180,000 points. That's impressive, considering that the Snapdragon 835 isn't even out yet. The processor is expected to power most of next year's Android-based flagship handsets, including the version of Samsung's Galaxy S8 that will be sold in the US.
But as amazing as that score might seem, it only tops Apple's iPhone 7 by less than 10,000 points. Sure, we may be looking at a prototype Snapdragon 835 in prototype hardware, and final versions might be even better (or worse). But Apple's A11 chip that will go into the iPhone 8 next year will undoubtedly top that score by a big margin.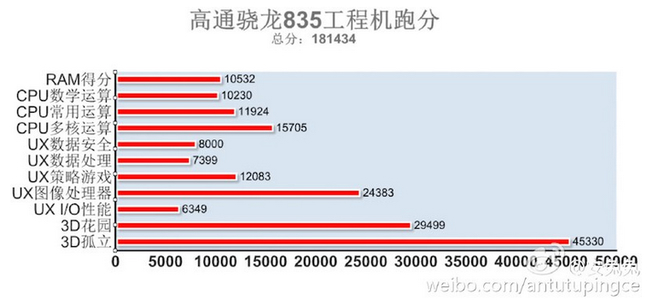 Samsung's next Exynos chip and Qualcomm's Snapdragon 835 CPU will both be made using 10nm process technology. That means we're looking at significant performance and energy efficiency improvements. The Snapdragon 835 alone should be 27% faster than predecessors and 40% more efficient. However, Apple's A11 is also going to be a 10nm processor. So we'd expect it to do better than rivals in both benchmark tests and in actual usage scenarios.
We'll also remind you that there might be a device out there in testing that already topped 200,000 in AnTuTu tests. Huawei, meanwhile, demoed a processor that does better than the iPhone 7 in actual real-life tests, but it's yet to power a new flagship handset.
That said, 2017 will be an exciting year for mobile hardware. Regardless of what flagship phone you end up buying, it's very likely that it's going to be faster at day-to-day chores than anything released up to this point.