Soon after Apple unveiled the iPhone 7, the first official benchmarks appeared and quickly confirmed what leaks suggested all along: the iPhone 7 is the fastest iPhone to date, with the A10 Fusion processor offering massive performance improvements compared to last year's chipset. The new iPhone 7 is also more powerful than high-end Android handsets, and AnTuTu's rankings for September show there's really no contest.
DON'T MISS: iPhone 7 vs. Galaxy S7 blind camera test: Guess which model hardcore Apple fans picked
AnTuTu released the top 10 devices for the month of September, with the iPhone 7 Plus and iPhone 7 taking the top two spots with scores of 172644 and 170124, respectively. With a score of 160856, the LeEco Le Pro 3 took the third place and Xiaomi's Mi 5s Plus and Mi 5s is ranked fourth.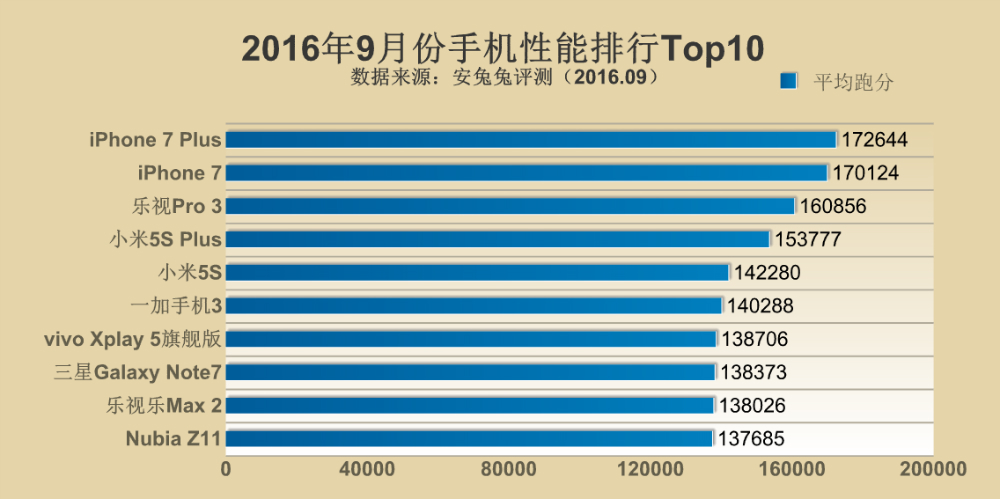 What's important to know about the Le Pro 3 is that it sports a Qualcomm Snapdragon 821 processor, which is exactly the chip that Google used for its Pixel and Pixel XL phones. That means the iPhone 7 will beat the Pixel in similar tests as well. Geekbench 4 scores that just hit the web confirm as much — Google's Pixels score a 1580 on the single-core test and about 4100 on the multi-core test, while Apple's latest iPhones score 3430 and about 5600.
Samsung's Galaxy Note 7 was the seventh fastest smartphone according to AnTuTu benchmarks, with a score of 138373. That's slightly above the iPhone 6s' score of 136477, which didn't make the top 10.
The only device that managed to outscore the iPhone 7 in these tests is also an Apple device, the iPad Pro tablet, whose AnTuTu score is 177266. A leak earlier this week revealed that the chips going into next year's iPads will be even faster than the A10 Fusion.
Here's the September top 10 for all iOS devices: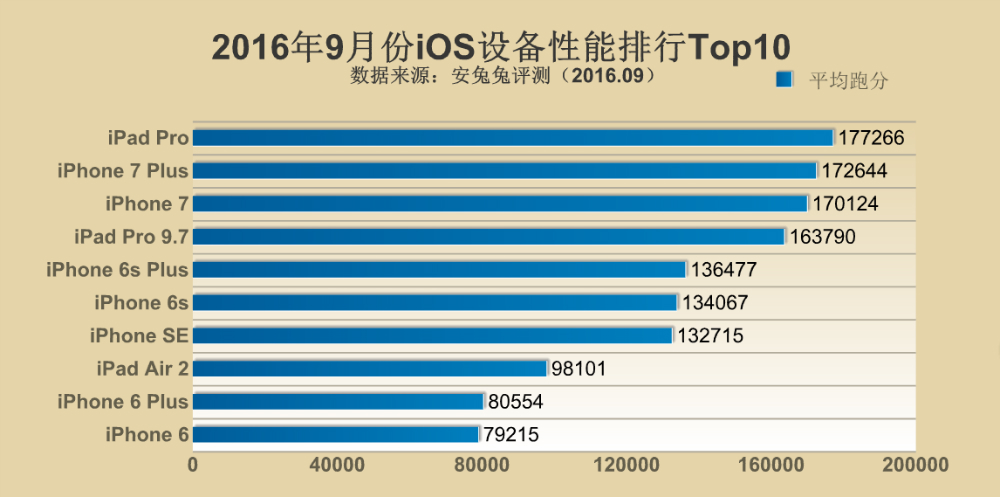 Of course, benchmarks alone never tell the whole story, but real-life tests have also proven that the iPhone 7's rivals are no match for Apple's latest phones. The iPhone 7 is consistently faster than the Galaxy Note 7, and therefore faster than most high-end devices that pack similar hardware.