Apple's new iPhone 7 and iPhone 7 Plus are far and away the most powerful smartphones the world has seen thus far. In terms of both raw benchmark test scores on paper and real-world performance, Apple's latest mobile devices outshine every other phone on the market. In fact, they're even more powerful than Apple's latest iPad Pro tablets, which is no small feat.
As powerful as they already are though, Apple is constantly working on next-generation products, looking to make them better and faster than their predecessors. Now, it looks like benchmark tests from Apple's next-gen processor have leaked, revealing huge performance gains that are somehow even more impressive than what we just saw from the iPhone 7 and iPhone 7 Plus.
DON'T MISS: iPhone 7 vs. Galaxy S7 blind camera test: Guess which model hardcore Apple fans picked
Dutch gadget blog Techtastic points us to a potentially huge leak sourced on Weibo, where an anonymous user with a solid track record has published what he claims are Geekbench benchmark test scores from Apple's A10X. The next-gen chip has not yet been revealed by Apple, but it will presumably power the company's upcoming new iPad Pro tablets expected to be released early next year.
As a refresher, the iPhone 7's new A10 Fusion chipset manages impressive scores of 3490 in single-core Geekbench tests and 5580 in multi-core tests. How does the A10X compare? According to this leak, Apple's upcoming A10X scored 4236 on Geekbench's single-core test and a ridiculous 6588 on the multi-core test. Those numbers would be off the charts if Techtastic hadn't charted them (click to enlarge):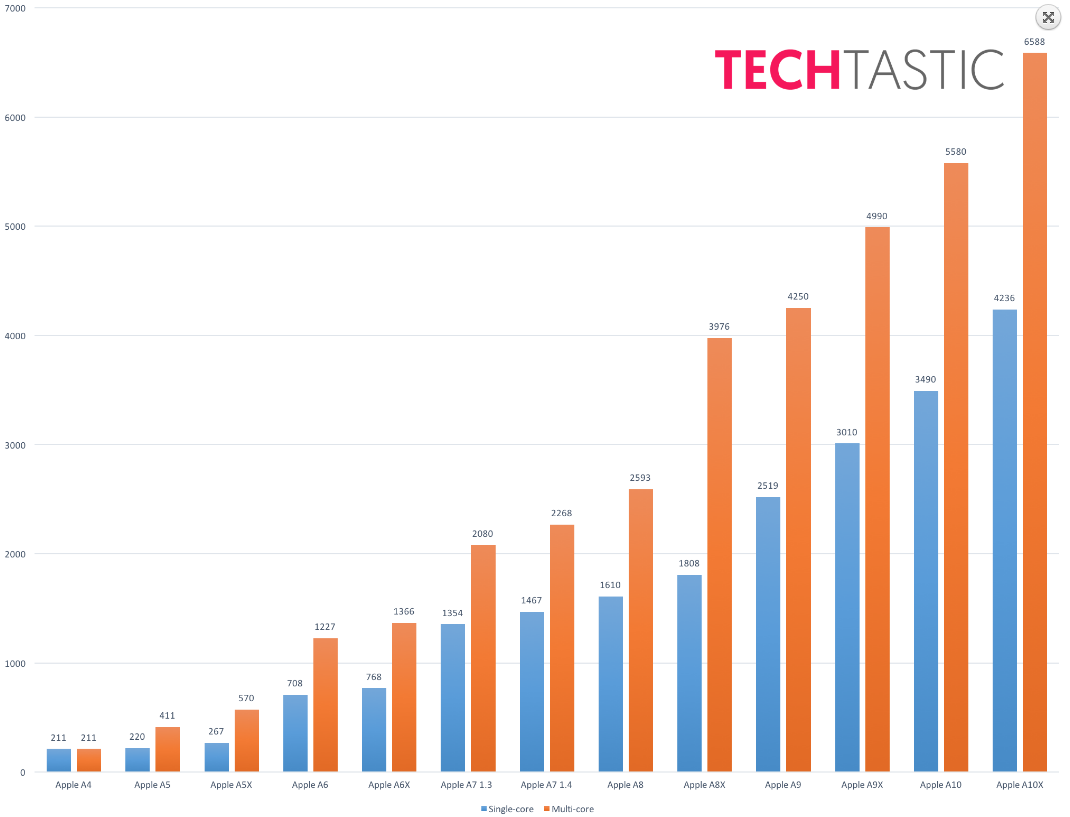 One last note: Beyond showing us how impressive Apple's next-gen A10X chip seemingly is, one can follow the curve to get a good idea of just how incredibly powerful the A11 Fusion chip that powers next year's iPhone 8 will likely be.