Even before Apple unveiled the iPhone 7, it became apparent that the brand new iPhone would be the fastest in the world where performance is concerned. The phone to beat was the iPhone 6s, a one-year-old device that was still faster than all the 2016 flagship Android handsets, including the hot new Galaxy Note 7. And since Apple upgrades mobile processors every year, delivering better CPU and GPU performance, it seemed obvious that the iPhone 7 would outperform its predecessor.
But just how fast are Apple's latest iPhones?
DON'T MISS: iPhone 7 review roundup: Boring? Exciting? It's time to find out
After the rumor mill spilled most of the beans, Phil Schiller explained on stage all the new features of the A10 Fusion chip and its impressive speed gains. Unofficial Geekbench benchmarks appeared online, showing scores that put the iPhone 7 well above iPad Pro and any other iOS device. The iPhone 7 scored higher than any smartphone from the competition.
Now, a new benchmark leak indicates the iPhone 7 is the phone to beat this year when it comes to speed. It also suggests there's no phone that's can even come close to touching it. Found by Phone Arena, the AnTuTu benchmark claims the phone reached a score of 178,397. That's 33% higher than the 133,781 score the iPhone 6s managed.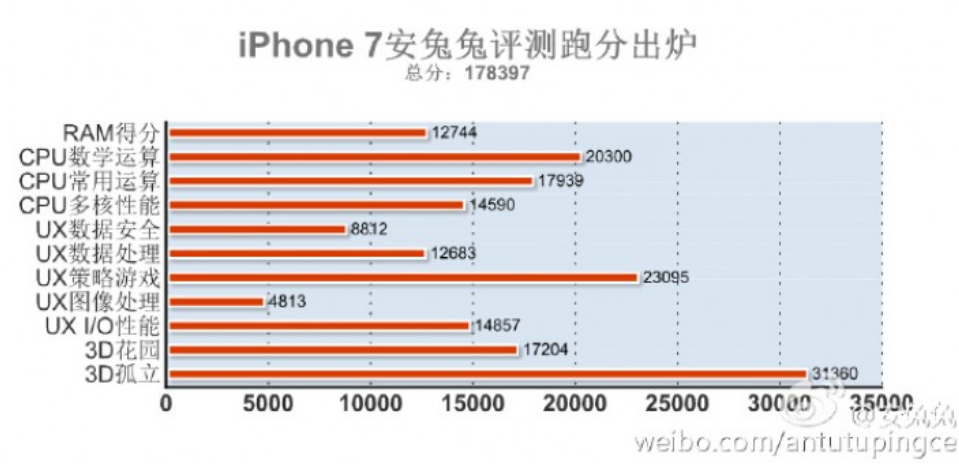 What about the competition? The best performance comes from the OnePlus 3, which reaches 140,388 in AnTuTu. That's nowhere near the iPhone 7's score, and marginally better than the iPhone 6s. The Galaxy S7 edge had a score of 134,599.
Not counting the iPhone 7, there are 10 phones that scored between 133,000 and 141,000 in August, including the iPhone 6s. Not included in the following list are the recently launched Moto Z Droid and Galaxy Note 7 which topped 151,000 and 145,000 in AnTuTu tests, respectively. But if this iPhone 7 leak is accurate, there's no smartphone in the world that can touch the iPhone 7 at this point. And it's likely the new iPhone will remain atop benchmark tests for some time to come.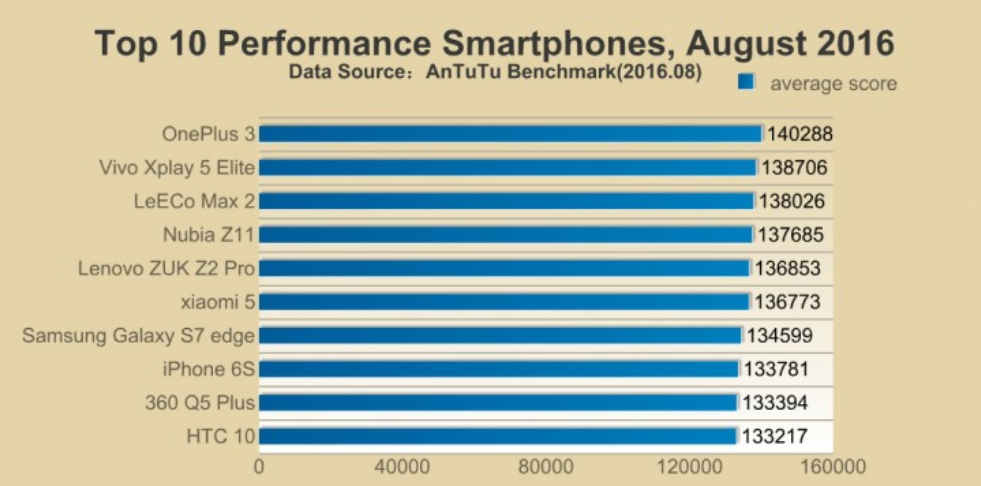 Obviously, these are pre-release iPhone 7 benchmarks, so there's always a chance they're either faulty or fake. But as soon as the iPhone 7 launches, more benchmark scores will appear online. Furthermore, we'll point out that benchmark tests don't always paint a complete picture regarding real-life use. So we're certainly still curious to see how the iPhone 7 will fare against the iPhone 6s and its most prominent Android rivals in speed and performance tests.