Apple's strict public relations policies are nowhere near as strict as they once were. Why should you care? Today, it means that what was once a small and select group of early reviewers is now a much larger pot for the iPhone 7 and iPhone 7 Plus. More reviewers means more varied opinions, which normally doesn't matter since people generally know even before new iPhones are announced whether or not they plan to buy one. This year, however, people seem to be less sure because visually, the iPhone 7 and iPhone 7 Plus don't look like big upgrades.
Can you judge a book by its cover? It's time to find out if this year's iPhone 7 and iPhone 7 Plus are worth your hard-earned cash.
MUST READ: How to get the iPhone 7 or 7 Plus you want on launch day even without a preorder
We've combed the internet and assembled highlights from all of the best iPhone 7 and iPhone 7 Plus reviews out there. As we mentioned, Apple handed review units out to tons of newspapers and blogs this year. The fact that Apple is far less selective now means that prospective shoppers have more opinions to weigh ahead of the new iPhones' release this coming Friday, and it also means that reviews are far more varied and, shall we say, colorful.
One review even opens with a line about farts. Yup, farts. We can't help but wonder what Katie Cotton might have thought about that.
There are tons of reviews out there to check out, but below you'll find excerpts from the 13 top sites that reviewed the iPhone 7. Spoiler alert, since we'll pull snippets from plenty of conclusions — but you should of course still click through on each heading and read the full reviews for more info.
The New York Times
To begin at the end, NYT has what might be the simplest and best iPhone 7 review so far.
Yet after testing the new iPhone 7 and its larger sibling, the 7 Plus, for five days, I have hopped on the 7 train. While it is irritating not to have an audio jack — Apple nixed the 3.5 millimeter port to make room for faster chips, better batteries and to make the iPhone water-resistant — and the older physical home button feels better to press than the new virtual one, the new iPhones deliver on Apple's promises.

The iPhone 7 and 7 Plus are tremendously fast — more than double the speed of the two-year-old iPhone 6 — and their cameras produce superb, vivid photos. The battery life is improved, and the iPhones survived water torture tests.

And after a while, I didn't miss the headphone jack as much as I thought. Apple is pushing people toward wireless earphones with the introduction of AirPods, its first wireless earbuds, which I tried. I found AirPods to be a decent first attempt at wireless audio, though there were glitches.

The bottom line: Those who have been waiting years to buy a new phone are in store for a major upgrade with the iPhone 7.
The Wall Street Journal
Over the past five days, I have squeezed an hour-and-1/2 more battery life out of the 7 and 7 Plus in brutal tests. I dropped an iPhone 7 in a pond, and it survived! And I've managed to snap more than a few after-sunset photos I'm actually proud of.

That's how I spell relief! But I still won't call it the most advanced phone money can buy. These benefits would make the iPhone 7 the best smartphone… of 2015. Last year is when Apple should have put it on sale. Now Apple's just playing catch-up to Samsung, which added an equivalent camera and waterproofing to its Galaxy S7 six months ago.
USA Today
After nearly a week of using the iPhone 7 Plus, what stands out to me is its excellent camera and the fact that we finally have an iPhone that can get wet. The funky-looking optional wireless AirPods aren't bad either.

The $769 iPhone 7 Plus is a solid, albeit incremental, upgrade to the company's seminal smartphone. I'd buy it and can recommend it to those of you in the market for an upgrade, though it's not leaps and bounds ahead of the rival Galaxy Note 7, which before its exploding batteries necessitated a recall, posed a formidable challenge to the iPhone.
TIME
If you're already carrying an iPhone 6s, there's little need to upgrade, unless you're a photography nut or desperately need better battery life. And many of the most exciting changes Apple has in store are actually part of iOS 10, the software upgrade that will also be available for older iPhones. That said, the modest improvements make these the best iPhones Apple has made to date — but it's nowhere near as big of an upgrade as the iPhone 6 was compared to past models.

The iPhone 7 may be evidence that gone are the days when a new smartphone could truly wow the world. After all, there's only so much functionality you can pack in these devices before you enter the realm of the superfluous. Apple's rivals are experimenting features that represent brilliant feats of engineering, like eye scanners that let you unlock your phone by looking at it, curved screens, and virtual reality support.

But perhaps what Apple realizes is that what most people want from their phones is simpler than all that: Long battery life, durability, and a great camera. There's certainly room for improvement — quick-charging would be nice — but the iPhone 7 delivers on these vital points. It doesn't "wow" like so many Apple products have. But then again, maybe it doesn't need to. It's not a huge upgrade, but it helps Apple's smartphone remain one of the best around.
Ars Technica
The iPhone 7 is a very good phone with the sorts of logical, useful upgrades that Apple typically delivers with new hardware. I still have my quibbles with the iPhone 6-era design and it's too bad that we're going to be trucking along with it for another year, but the iPhone 6 was also Apple's most popular phone by far so clearly actual people aren't all that bothered by it.

We won't know for months whether Peak iPhone or the headphone jack thing or both are going to affect sales, since Apple won't be releasing opening weekend numbers and we'll need to wait until January to get a full quarter of sales data. I suspect that many iPhone buyers will decide that the upgrades are good enough to justify the frustrations, but the fact remains that there are a lot of wired headphones out there, and the W1 chip that makes the wireless future seem Not So Bad will exclusively ship in Apple's headphones at Apple's prices.
Buzzfeed
Buzzfeed focused much of its review on the hot topics — the removal of the headphone jack, the new cameras, waterproofing and so on. We also got a nice little AirPods shake test: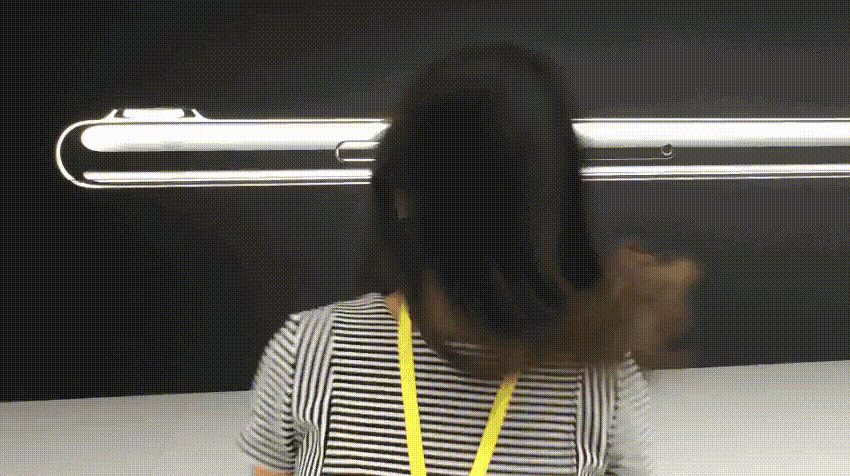 Yahoo
In recent years, Apple isn't always the technology leader in phones. This year, once again, some of the best new features are just catching up to rival phones: water resistance, image stabilization, stereo speakers. Believe it or not, Apple isn't even the first company to take out the headphone jack.

But catch-up has value of its own, and every company plays it. (And that camera-zoom thing on the 7 Plus is fantastic.)
CNET
Curved wraparound screen? Nope. Wireless charging? Not yet. Are you bothered that the new iPhone looks the same as last year's iPhone? If you are, I understand the feeling. The iPhone 7 doesn't feel like the "whole new thing." Does that bother you? Maybe. But is it better? Yeah, it is. Except for one small 3.5-millimeter thing.
TechCrunch
The iPhone 7 and 7 Plus are the best iPhones ever. And they are probably the best portable cameras ever made. The combination of wide gamut capture with wide gamut P3 display means that you have quite literally never seen images like this from a smartphone camera before. And that's not to mention the massive front camera upgrade. The phones are fast, capable and functional, with nice upgrades to speaker audio, water resistance and a more durable home button.

But, they don't have a headphone jack, and that is going to trip some people up.

If Apple is wrong — if people reject the new iPhones for a lack of a headphone jack — then its plans for a wireless future are probably going to hit a roadblock. But it won't stop them. During the event, Jony Ive said explicitly that Apple "believes in a wireless future," but if you've been following along at all that won't surprise you. They're just getting more explicit about it.
Engadget
You don't need me to tell you that this year's iPhones look an awful lot like last year's. Like it or not, Apple believed there was still room to improve the phone design we've been using for two years, so it focused on that instead of cooking up a brand-new aesthetic. It's tempting to say Apple's current design philosophy boils down to "if it ain't broke, don't fix it," but that's not really true either: The company actually fixed a lot this year.

Some changes are subtler than others. The 7 and 7 Plus's antenna bands swoop around the phones' curves instead of cutting across their backs. The iPhone's 12-megapixel camera (or cameras, in the case of the 7 Plus) is surrounded by an aluminum hump, rather than just jutting out like in the old days. Apple finally made 32GB the new storage baseline and gave the 7 and 7 Plus a seriously spacious 256GB option. Both models are the exact same size as the models that preceded them, but the 7 and 7 Plus have each shed a couple of grams here and there. The loss of a few paper clips' worth of weight isn't nothing, though, especially when we're talking about devices that we hardly ever put down.
The Verge
The iPhone 7 and 7 Plus are deeply unusual devices. They are full of aggressive breaks from convention while wrapped in cases that look almost exactly like their two direct predecessors. Even that continuity of design is a break from convention; after almost a decade of Apple's steady two-year iPhone update pattern, merely retaining the same design for a third straight year plays against expectations.

Inside that case, everything else about the iPhone 7 is a decisive statement about the future. The dual cameras on the iPhone 7 Plus promise to usher in a new era in mobile photography. The iconic iPhone home button is no longer a physical button, but instead a sophisticated ballet of pressure sensors and haptic vibration motors that simulate the feel of a button. The new A10 Fusion processor blends two high-power cores that rival laptop performance with two low-power cores that combine with a much larger battery to extend run time by up to two hours.

And, yes, Apple has removed the headphone jack.
Daring Fireball
Even if you want to judge these new iPhones based solely on their industrial design, the new black finishes alone would make me want to buy one. But what matters is what happens when you turn them on and use them. And in every single regard, from performance to battery life to camera image quality to haptic feedback to water resistance to sound quality from the speakers,[3] the iPhone 7 and 7 Plus are impressive year-over-year improvements over the 6S/6S Plus, and stunning improvements over the two- and three-year old iPhone 6 and 5S — which are the models most people considering the new iPhones will be upgrading from.
The Loop
What I want from Apple is to build devices that solve complex problems with simple solutions. I want them to make things more efficient for me as a user without going through any pain from using their products. That's exactly what they provided with the iPhone 7 and AirPods.