There are just a few weeks left before Apple finally unveils this year's new iPhones, and we already think we know what the company has in store for us. By all accounts, the iPhone 7 and iPhone 7 Plus are going to be so much more exciting than you think. Disregarding all the leaks and rumors, and looking at how Apple does things when it comes to the iPhone, I can tell you a few things about the iPhone 7. It'll have better cameras and a better CPU/GPU than any previous iPhone – and these are two things Apple always insists on while presenting a new iPhone. And while Apple might not make this point on stage, I'll bet you a rare Pokemon that the iPhone 7 will be the fastest smartphone in town this year. What makes me so sure? It's all because of that iPhone 6s vs. Galaxy Note 7 speed test video we saw yesterday.
DON'T MISS: Samsung's hot new Galaxy Note 7 still isn't as fast as last year's iPhone 6s
By now it's crystal clear that nobody can keep up with Apple when it comes to smartphone performance. Apple's 64-bit chip is miles ahead of the competition, and Qualcomm and the others are still struggling to put out a mobile processor that can compete with Apple's A-series chips when it comes to performance. Secondly, Apple's ability to optimize software to offer a faster experience is something other smartphone makers can only dream of.
Apple last year said that the A9 chip inside the iPhone 6s generation delivered 70% faster CPU and 90% faster GPU performance than the iPhone 6. If you made the jump from iPhone 6 to iPhone 6s you immediately notice the speed difference – and of course, the RAM bump helped as well.
What's fascinating about it is that almost a year after the iPhone 6s was launched, there's still no smartphone can beat it when it comes to opening apps and reloading them from memory. Those functions sound unimportant, but think about it — that's what you spend most of your time doing on a smartphone. And it's all thanks to Apple's high-end silicon.
On its website, Apple describes the third-generation 64-bit A9 as the most advanced chip ever included in a smartphone, able to offer "64-bit desktop-class architecture" and "gaming console-class graphics performance." The A9 "sits at the cutting edge of mobile chips," Apple wrote on that page that's almost a year old. These statements still hold true now.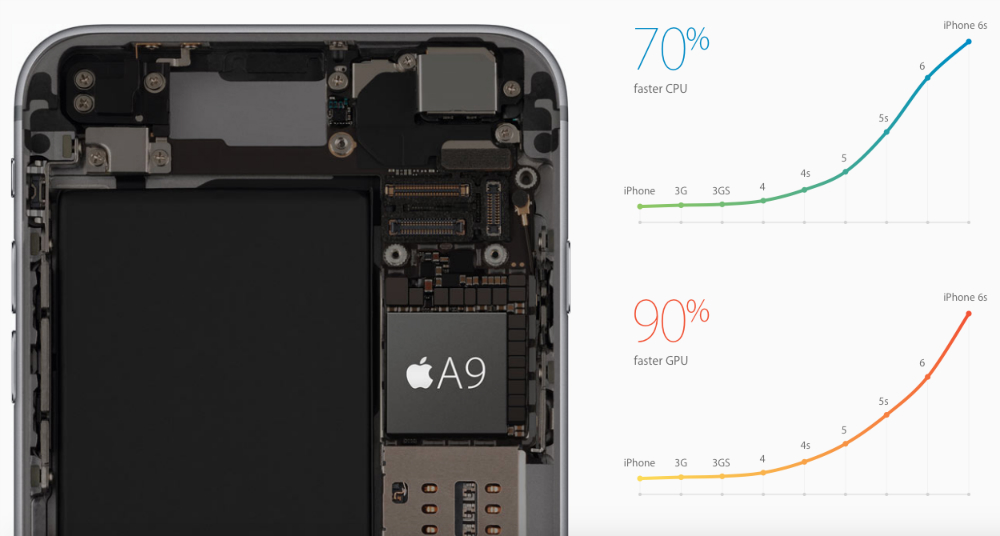 Going into the imminent iPhone press conference in early September, Apple will only have to beat the iPhone 6s when it comes to performance. Think about it for a second. The best new Android devices are still no match for Apple's one-year-old phone, and Apple already knows that. The A10 chip inside the iPhone 7 and iPhone 7 Plus should be even speedier. The CPU and GPU graphs Apple always offers (see above) indicate that every iPhone has been better than its predecessor, with performance increasing dramatically with the iPhone 5, and even more so with the iPhone 5s that ushered in the era of the 64-bit mobile chip.
But the speed comparison between the iPhone 6s and Galaxy Note 7 "doesn't accurately reflect real-world performance," SamMobile wrote.
"The speed test doesn't indicate the handset's real-world performance as nobody is going to open 14 apps and render a video in the same exact sequence," the site said. That's absolutely true. Everyone will open apps differently… but when opening the same apps for the first time, or from memory, the iPhone will always be faster. Every single time. That means you spend less time waiting and more time doing what you want to be doing on a mobile device.
Sure, Galaxy Note 7 owners might not even notice the difference unless they also use an iPhone 6s. But that comparison video alone paints a great picture of Apple's future for the A10 chip. If A9 is desktop-grade computing, just wait to see what the A10 does.
SamMobile does agree that "Apple does a lot of work to optimize its hardware and software so that they work together almost perfectly." That, however, is still not a valid excuse for Samsung not trying to do the same thing, or for Qualcomm and Samsung not being able to match the A9.
"This speed test doesn't cover some of Samsung's genuinely useful features like split-screen multitasking or the S Pen's Glance feature which are great for productivity as they enable users to use two apps side-by-side," the site noted. A valid point. But what if the Galaxy Note 7 delivered speeds that matched the iPhone 6s? Wouldn't that offer an even better experience?
Finally, a Galaxy Note 7 performance review from xda-developers that you shouldn't miss explains everything that's wrong about the Galaxy Note 7. And if the best Android phone of the year can't match Apple's year-old iPhone in overall performance, how will it fare in similar tests against the iPhone 7?