Every year, Apple comes out with faster and more efficient processors for the iPhone and iPad. The A10 Fusion chip in the iPhone 7 and iPhone 7 Plus is probably the best mobile processor in the world right now for smartphones. It crushes the competition in benchmarks, as recent tests have shown, including the brand new Google Pixel and Galaxy Note 7. And it offers a faster overall performance in real life tests.
But every other smartphone maker upgrades the silicon in its devices each year as well, with flagship phones getting the best of the crop. With that in mind, there's already one mobile device that significantly outscores the iPhone 7 in AnTuTu tests. Is it next year's Galaxy S8? Or are we looking at early tests for the next-gen iPad Pros?
DON'T MISS: After buying 9 Android smartphones in a row, this Android fan switched to the iPhone 7
AnTuTu released its top 10 benchmark scores for September, with the iPhone 7 Plus and iPhone 7 outscoring every possible device from the competition. Their scores were 172644 and 170123, respectively, and were at least 10000 points higher than the best Android contenders.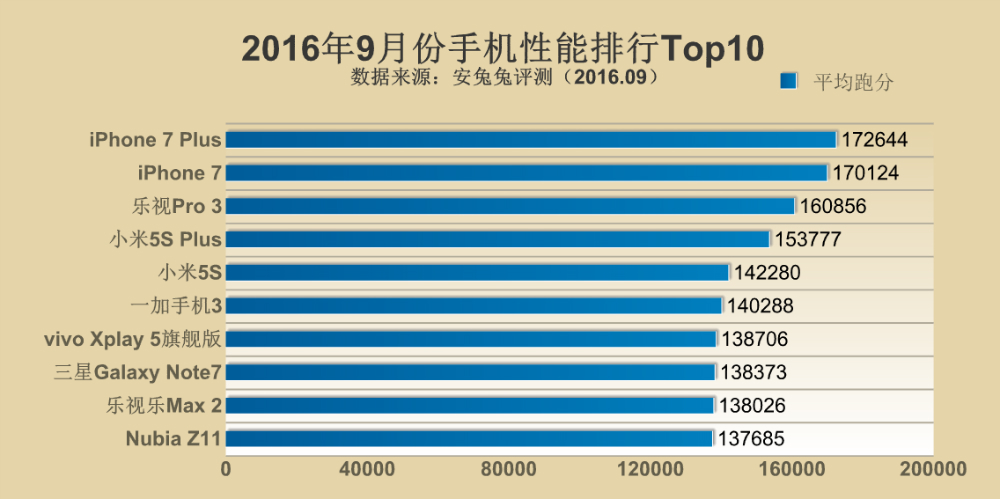 A leak posted by Twitter user @Ricciolo1 teases that a device that will launch at some point in the first quarter of 2017 has broken the 200K barrier in AnTuTu. The prototype device scored 203737, which beats the iPhone 7 by quite a big margin.
203.737 !!! 200k barrier has been broken,and it's not FINAL … someone wanna try to guess ??? ;) #antutu #Q12017 pic.twitter.com/teL4pzxXOo

— Ricciolo (@Ricciolo1) October 5, 2016
The Galaxy S8 is probably the first smartphone that comes to mind, and Samsung is rumored to be working on faster processors for its first 2017 flagship. Also, the Galaxy S8 is expected to debut at some point in the first quarter of the year. On the other hand, Samsung has not been able to match Apple when it comes to custom silicon, and its Galaxy devices are usually bested by iPhones in performance tests.
But what if that prototype device isn't a phone? We already saw A10X scores on Geekbench that show Apple isn't done improving its mobile chips. The A10X will power the next-gen iPad Pro models, which may arrive at some point in the first quarter next year.
Whatever it is, it'll be interesting to see whether this processor will be built on next-gen 10nm process technology. That means new chips will be even faster and more power efficient than the A10 Fusion. Samsung and Apple are both rumored to equip 2017 devices with 10nm processors, although it's unclear whether these mobile CPUs will be ready in time for a Q1 2017 launch.