It's time for one more Samsung story about the Galaxy S8's design, and this one concerns the internals of Samsung's most recent jewel. The company on Friday published an in-depth look at what's inside the Galaxy S8, even though anyone interested in such details probably already knew what's inside of the phone. We've already seen the "official" iFixit teardowns for both devices, and many users took the Galaxy S8 and Galaxy S8+ apart as soon as they launched. Samsung, however, has a passion for telling incredibly annoying stories about its devices. Thankfully, however, the marketing speak is a lot lighter this time around, although there are some gems in it.
Samsung's teardown story offers more details about the handset's internal components providing some insight into how Samsung built the phone. This is definitely a much better thought out promo piece to generate some Galaxy S8 buzz than Samsung's previous design stories.
"[The] Galaxy S8 is a device that beautifully merges form and function," Samsung explains, as if this wasn't clear enough from its previous design stories — read part one and part two.
However, the Galaxy S8 is "the result of the latest breakthroughs in engineering," and that's the point Samsung is trying to make with its teardown.
Samsung says "the display makes watching video content a truly cinematic event," which also implies that any other phone you'd buy from the company will not offer you a great video experience. Or not a "truly" cinematic one.
The ear jack is located on the bottom, or "appropriately situated for the high-performance, AKG-tuned earphones that are included with the Galaxy S8." It really sounds like sound might sound a lot worse had the headphone jack been placed anywhere else. Or omitted, for that matter.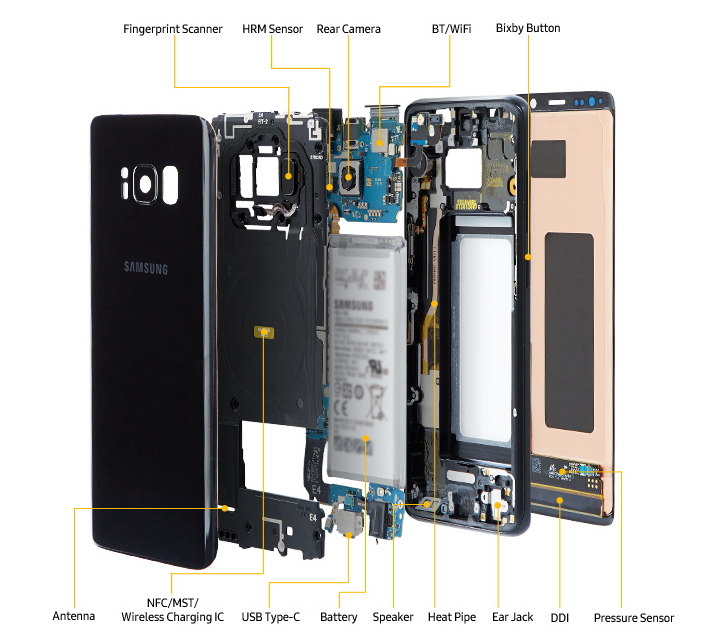 Samsung explains that it had to move the Display Driver IC from the top to the bottom to reduce the phone's bezels. Weirdly, however, it notes that the front camera was built into the phone's upper bezel "to maximize screen space." That's exactly where you're going to find the selfie camera on other smartphones as well, including Samsung's previous flagships.
One interesting detail concerns the logic board. Samsung notes that the new PCB structure minimizes the gap between the processor and the heat pipe to improve faster hear dissipation. Speaking of the phone's safety, Samsung also mentions that the battery features a rubber barrier to buffer shocks and prevent any accidents.