Dark Sky is one of the most popular smartphone weather apps among both iOS and Android users, and it's just announced a major overhaul that's one of the biggest in the six-year history of the app that's pretty much constantly the top paid weather app in the iOS App Store.
The Dark Sky team says the makeover has been more than a year in the works and incorporated user suggestions to essentially rebuild it from the ground up. The update also marks the first major version of the app built by its all-new app team, with new iOS and Android leads, and the new app is a free upgrade for existing users.
"The most noticeable change is the introduction of a new unified timeline," the Dark Sky team explains in a blog post today. "Rather than separating the forecast onto multiple pages, we now combine the current conditions, next hour rain forecast, next 24 hours, and next week forecasts into a single scrollable view that lets you quickly get to the part of the forecast you care about. This makes it much easier to scan what will happen in the minutes, hours, and days ahead."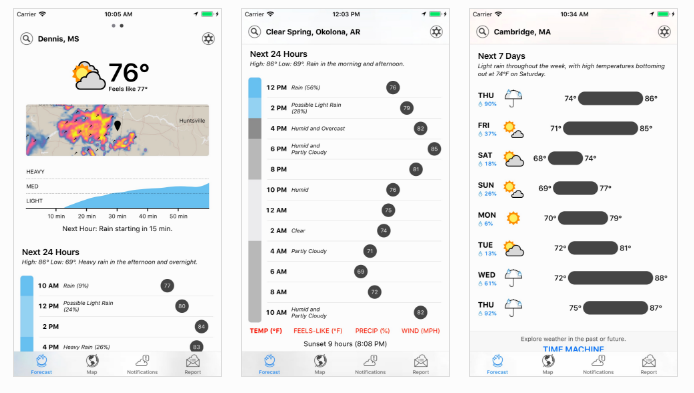 The timeline improvement also includes the introduction of a graph showing various different weather conditions.
Among other changes users will notice:
The Dark Sky team worked with The Iconfactory to redesign its weather icons, ditching the stark black-and-white for more colorful icons and buttons. There's also a Time Machine feature that lets you go back decades to look at historical weather data.
A lot of users told the team they wanted true saved locations so they could quickly get a sense of the weather in multiple cities. That feature has now been added, so you can save multiple locations and then browse through them by swiping the forecast left or right.
Finally, you can also create and manage notifications, including custom notifications that let you create your own weather alerts.
"This update isn't just a visual refresh," the Dark Sky team explains. "On iOS, we've completely rewritten the internals of the app from scratch. It is, effectively, an entirely new app. This means it should be far more stable and responsive, it loads faster, and it sets us up to much more easily incorporate new features and enhancements in the future.
"With our new code base and expanded app team, you will be seeing more frequent app updates from now on. We already have a number of great new features in the works."