It's now been more than three years since the original Apple Watch hit store shelves and Apple still hasn't disclosed any sales figures for its increasingly popular wearable. While Apple isn't likely to change its strategy in this regard anytime soon, company executives over the years haven't been afraid to boast about the popularity of the Apple Watch while avoiding any mention of precise sales figures.
Case in point: Tim Cook during an earnings conference call this past March said that Apple Watch Sales during the 2017 holiday quarter were record-breaking, no doubt fueled by the popularity of the Apple Watch Series 3 and the inclusion of LTE connectivity on select models.
Since then, it appears that Apple Watch sales have stayed strong. According to a new research report from Canalys, Apple Watch sales during the first quarter of 2018 checked in at 3.8 million units, giving it an 18% share of the wearables market. Apple Watch sales during the March quarter narrowly edged out Xiaomi which sold an estimated 3.7 million Mi Bands.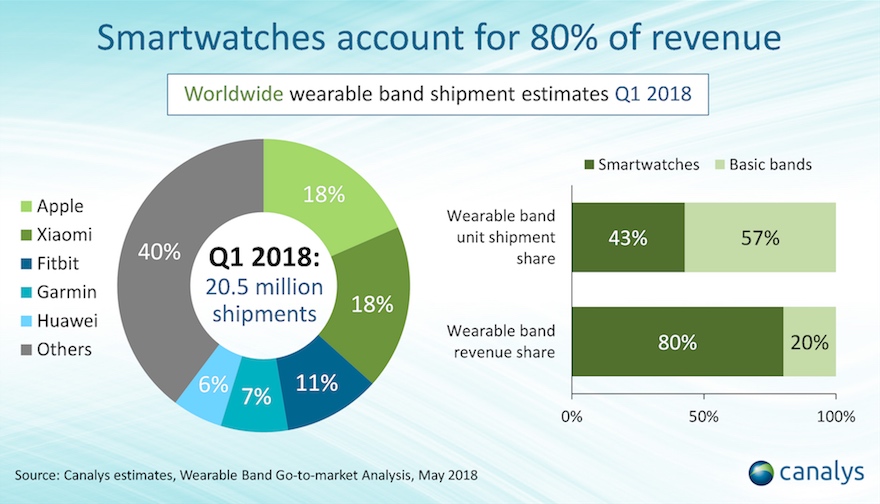 "Key to Apple's success with its latest Apple Watch Series 3 is the number of LTE-enabled watches it has been able to push into the hands of consumers," Jason Low of Canalys said. "Operators welcome the additional revenue from device sales and the added subscription revenue for data on the Apple Watch, and the list of operators that sell the LTE Apple Watch worldwide is increasing each month."
Of all the smartwatches that include an LTE option, the Apple Watch is said to account for 59% of sales.
On a related note, analyst Ming-Chi Kuo earlier this year predicted that Apple Watch sales in 2018 may increase by 30% year-over-year and that cumulative sales for the year may reach as high as 24 million units. Beyond the current year, Kuo added that Apple Watch unit sales may reach the 50 million range by 2021 thanks to improved battery life and, perhaps, a model with a bigger display.
Kuo's note, which was released just two months ago, reads in part:
We think that once the following requirements are met (within three years), annual shipments of Apple Watch will grow to 40-50mn units: (1) LTE Apple Watch is supported in more countries; (2) besides heartbeat monitoring, more health monitoring functions are added; (3) more FDA approvals are awarded; (4) a more trendy form factor design; and (5) continued lowering of prices for older models.
Incidentally, there have been rumblings that future Apple Watch models will incorporate advanced heart-rate monitoring features such as EKG and ECG measurements.