The irony wasn't lost on me when I realized the most annoying thing about the Apple Watch shortly after I purchased one last year. It was the charging cable. Well, the 27 minutes it took to open and refresh any app was probably the most annoying thing, but the charging cable was a close second. The good news was the fact that the Apple Watch finally came with a charging cable that was actually long enough to reach from a wall outlet to a table, unlike any other iOS device Apple has ever released (hence the irony). The bad news was that it was a proprietary wireless charger, so it meant yet another cable to carry around while traveling. Forgetting it was all too easy, and wouldn't be long before the first time I traveled and left my Watch charger behind.
Thankfully, someone finally created the Apple Watch charger Apple should have released from the get-go.
MUST WATCH: iPhone 7 and iPhone 7 Pro look hotter than ever in new leaked video
Apple's charger design for the Apple Watch is quite brilliant. Instead of having an unsightly open port just begging to let water in, Apple created a wireless charging mechanism. The charger is a small disk that is drawn magnetically to the back of the Watch, and it passes power wirelessly when connected. Of course the problem is that no other Apple devices use this type of charger, so it means yet another cable to carry in addition to everything else you have to remember and lug around.
Enter Diskus, a wonderfully simple accessory that every Apple Watch owner out there is going to want.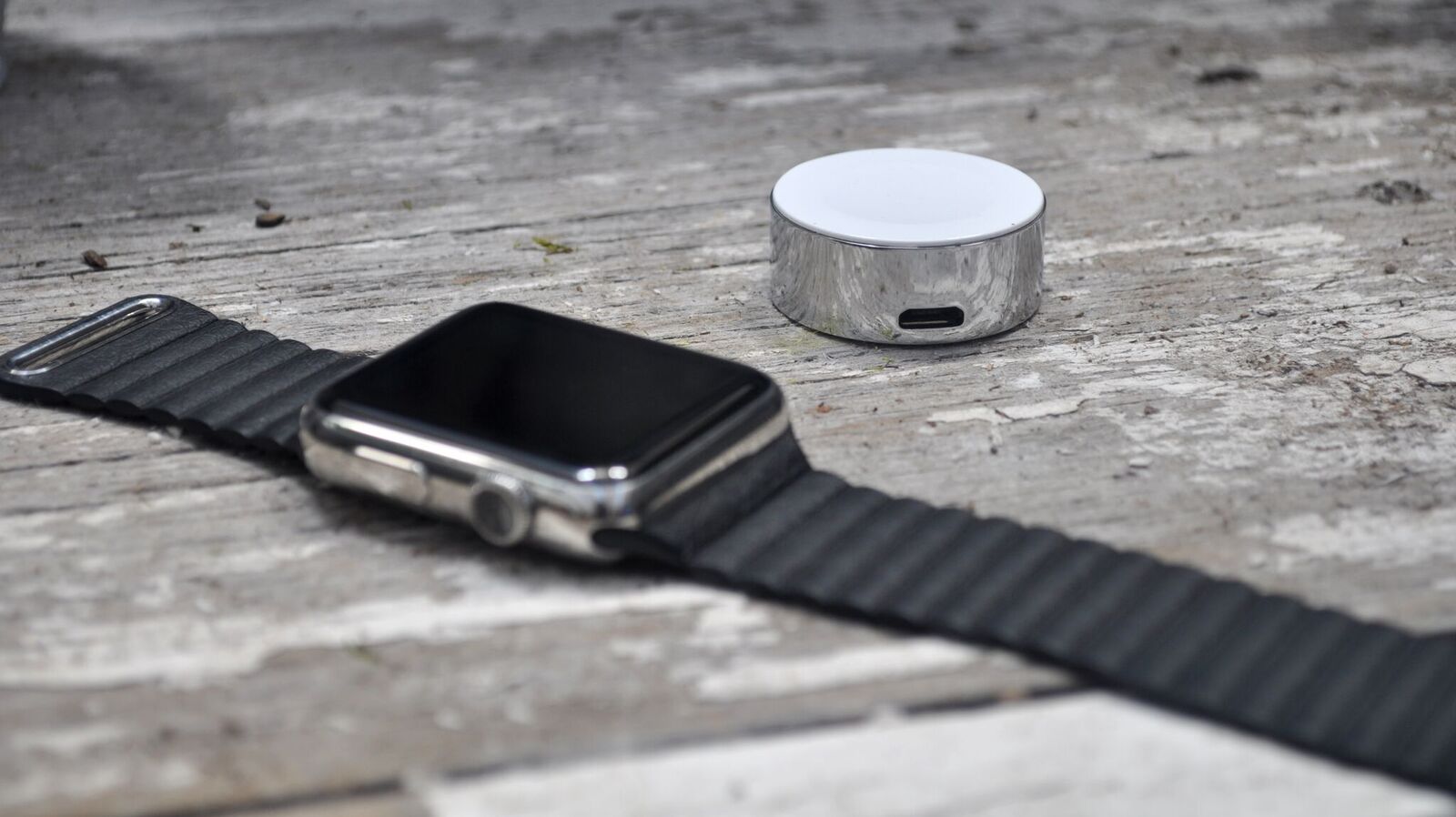 In a nutshell, Diskus is an Apple Watch charger without the connected cable. It's just the disk part of the charger. Like Apple's OEM Watch charger, Diskus connects to the Apple Watch and is held in place by magnets, and it also passes power wirelessly. But instead of having a fixed power cable attached to the side like Apple's charger, it simply has a microUSB port so that any standard microUSB charger can be connected.
A Lightning port might have been nice instead of a microUSB port, but it also would have been much more expensive to produce. Everyone has microUSB chargers lying around anyway, and Diskus ships with one in case you don't.
I tested a Diskus prototype and it works just as advertised. I didn't time any complete charges, but it even seemed like Diskus charged my Apple Watch a bit faster than the stock charger from Apple. You won't have to worry about any overload though, because Diskus is MFI certified to work with the Apple Watch, making it the first such accessory to gain Apple's approval.
Now, for the bad news: You can't actually purchase a Diskus charger just yet.
ThanoTech, the company behind the Diskus Apple Watch charger, is launching a Kickstarter campaign in an effort to fund the first manufacturing run of Diskus chargers. The company wants to raise $55,000 through the 30-day campaign, and it expects the first batch of chargers to ship to backers beginning this October, just three months from now. The device will then be made available to the general public through Amazon and on the company's website.
While there are never any guarantees when it comes to Kickstarter, it should be noted that this isn't ThanoTech's first rodeo. The company's K11 iPhone bumper is one of our favorite third-party iPhone cases, and it's now widely available for purchase on Amazon following the successful crowdfunding campaign.
As for pricing, the Diskus will be available to early backers on Kickstarter for $28, which is certainly by no coincidence $1 cheaper than Apple's own Apple Watch charger. Early backers will also have the option to prepay for two Diskus chargers at $26 each. Once the early bird supply runs out, the regular Kickstarter price is $32 per unit. At launch, ThanoTech expects the Diskus charger to retail for $44.95.