There sure is a lot of buzz surrounding the upcoming iPhone 7 and iPhone 7 Plus/Pro, especially for a pair of new smartphones that have been deemed by bloggers to be "boring." We're seeing just as much interest in Apple's next-generation models set to debut this September as we did last year ahead of the iPhone 6s and iPhone 6s Plus release — and as you might recall, that ended up being Apple's biggest iPhone launch ever, albeit by a narrow margin. With expectations mounting for a massive tenth-anniversary overhaul next year though, Apple's 2015 launch is going to be difficult to beat in 2016. But even if Apple falls short, it'll still have the two most popular new smartphones on its hands when they finally debut in about a month and a half.
Of course, you don't have to wait that long to check out Apple's next-generation iPhone 7 and iPhone 7 Plus.
DON'T MISS: iPhone 7: Seriously, this phone sounds boring to you?
The leaks have been coming in steadily over the past few weeks now that production is well underway. The designs for Apple's new iPhone 7 and iPhone 7 Plus (or iPhone 7 Pro, as it may be called) leaked long ago, and factories in China have been pumping out new iPhone mockups. These precise replicas are used by accessory makers so that their protective cases and other accessories are ready for primetime even before Apple unveils its new iPhones each year.
Of course, they're also used to give Apple fans a taste of things to come.
Each year new sources seem to pop up and emerge as the go-to spots for iPhone leaks. In 2016, an anonymous Weibo user named "KK" has managed to climb to the top of the heap and establish himself or herself as the premiere source for iPhone 7 leaks. Sure, others are still getting in on the action — in fact, a tried and true source just told the world exactly when the new iPhone 7 and iPhone 7 Plus will be released — but KK has been the go-to source for sneak peeks at Apple's new iPhones.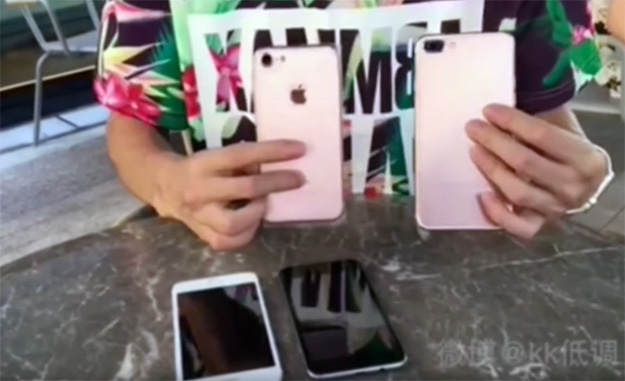 The Weibo user released two new videos showing off iPhone 7 and iPhone 7 Plus mockups over this past weekend, and they were combined into a single video by YouTuber ConceptsiPhone. In the first part of the video, we see the upcoming iPhone 7 Plus in three different colors — rose gold, silver and space gray — along with a 4.7-inch iPhone 7 in rose gold. The look of the phones aligns perfectly with what we've come to expect following more than a month of steady leaks.
The second part of the video shows a person handling mockups of the new iPhone 7 and iPhone 7 Plus, both in rose gold. The person is talking but the video has been overdubbed with music, so we have no idea what was being said.
The full video is embedded below.