When the iPod was at the height of its popularity, bolstered of course by the iTunes Music Store, Steve Jobs repeatedly exclaimed that consumers and music lovers had absolutely no interest in a subscription music service. "Never say never, but customers don't seem to be interested in it," Jobs said back in a 2007 interview. "The subscription model has failed so far."
Eventually, though, the dynamics of the tech industry enabled streaming-only services to not only take off, but to flourish. Thanks to the proliferation of smartphones and the roll-out of 4G networks, the notion of being able to stream millions of songs right from your smartphone became less of a fantastical idea and more of a reality. And though Apple resisted for as long as it could, it eventually conceded that it was time to embrace a new reality, one which involved subscription music.
And so, with a whole lot of fanfare, Apple in June of 2015 introduced Apple Music, a Spotify rival with a few decidedly Apple-esque components, including a streaming radio station dubbed Beats 1 and curated playlists. While Apple's foray into the streaming music business was arguably long overdue, the early iterations of Apple Music — both on iOS and on the desktop — were fraught with a myriad of problems, not the least of which was an incredibly muddled, inconsistent and confusing interface. While Apple's bread and butter typically centers on intuitive software that "just works", using Apple Music was a maddening experience to say the least.
Over the last two years or so, Apple has added some nice enhancements to Apple Music and has cleaned up a lot of the sloppy UI that plagued early incarnations of the software. Still, as someone who listens to a ton of music throughout the course of a week, I still can't help but find Spotify's UI much more intuitive and appealing, Apple Music's curated playlists notwithstanding.
That said, a visual design student from Northwestern named Jason Yuan recently put together an Apple Music concept and redesign that, truth be told, Apple might want to take a look at. Interestingly, Yuan notes that he actually interviewed for a graphic design internship at Apple Music but didn't land the position.
At first, I was frustrated — Northwestern University doesn't offer any sort of undergraduate graphic design program, so whatever growth they were looking for would have to be self taught…

…but as soon as I came to this realization, I became inspired to embark on what became a a three-month long journey to the holy grail — the iOS app that Apple Music deserves.
Some of Yuan's solutions address a few of Apple Music's shortcomings, and he even tosses in some original ideas that Apple Music would strongly benefit from having.
Without question, one of the more interesting idea put forth by Yuan is something he calls My Sampler.
My Sampler is a new experience made to bridge the gap between Hoarders and Nomads, replacing the current "New Music Mix." It was born out of the understanding that users who are picky about what goes into their library would also be more reluctant to sit through an entire playlist full of new music. A better experience would be presenting snippets — or samples — of curations that gives the user just enough information to decide whether or not to add it into their library and weekly playlist.

Upon entering the Sampler, the user is presented with a series of artist headshots that correspond to a curated song. The user can tap and hold to preview 15 seconds of each song, before swiping up to reject the song or swiping down to add the song to their library.
The Sampler UI that Yuan came up with looks pretty sweet and would definitely help improve the entirety of the Apple Music user experience.
One of the more interesting modifications to the Apple Music UI involves replacing the dedicated "Radio" option with a "Watch" option. I'm sure Apple wants people to have easy access to Beats 1, but with Apple continually trying to roll out more video content under the Apple Music umbrella, a "Watch" option on the bottom menu pane is a pretty thoughtful idea.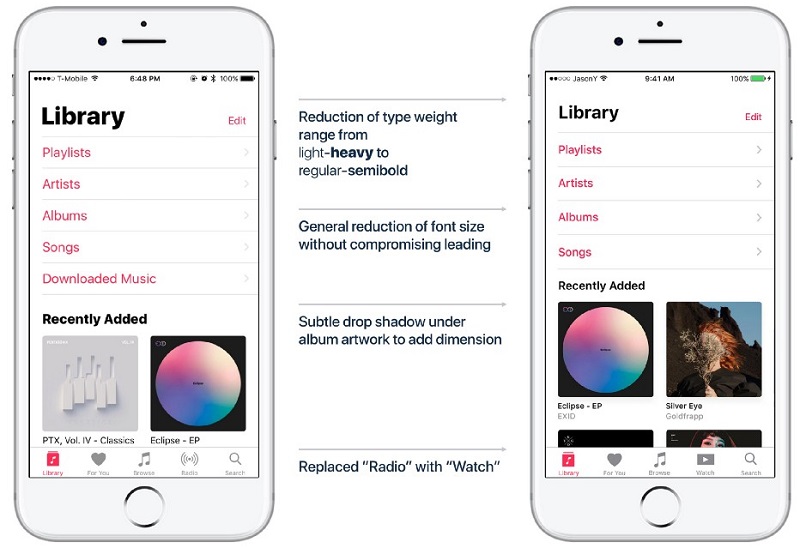 All in all, Yuan has completely rethought and re-imagined what a compelling Apple Music UI should look and feel like. And believe it or not, what we've highlighted so far is just the tip of the iceberg. Make sure to check out Yuan's full design mockups over here at Medium. If you're an Apple Music fan or even a Spotify fan who wishes that Apple Music was a little bit better, it'll be well worth the read.