Today, Apple announces the second generation of the HomePod. With a $299 price point, this model delivers a similar experience to the original version but with new tricks, such as Matter support and a U1 chip for Ultra Wideband technology.
For the HomePod 2, Apple uses a transparent mesh fabric with a backlit touch surface that illuminates from edge to edge. This time, the company sells this smart speaker in white and midnight, both made with 100% recycled mesh fabric.
"Leveraging our audio expertise and innovations, the new HomePod delivers rich, deep bass, natural mid-range, and clear, detailed highs," said Greg Joswiak, Apple's senior vice president of Worldwide Marketing. "With the popularity of HomePod mini, we've seen growing interest in even more powerful acoustics achievable in a larger HomePod. We're thrilled to bring the next generation of HomePod to customers around the world."
Unlike the mini version, HomePod 2 delivers better audio quality with rich, deep bass and improved high frequency. Apple says it features a custom-engineered high-excursion woofer, a powerful motor that drives the diaphragm a remarkable 20mm, a built-in bass-EQ mic, and a beamforming array of five tweeters around the base; all work together to achieve a powerful acoustic experience.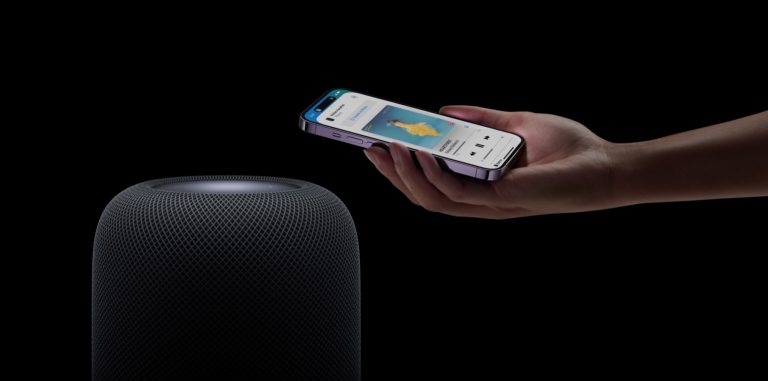 With Apple Watch's S7 chip combined with software and system-sensing technology, Apple says HomePod 2 offers even more advanced computational audio that "maximizes the full potential" of the smart speaker acoustic system.
The HomePod 2 recognizes sound reflections from nearby surfaces to determine if it is against a wall or freestanding and then adapts the sound in real time.
HomePod 2 is better with more speakers
Two or more HomePod or HomePod mini speakers unlock various powerful features. Using multiroom audio with AirPlay, users can simply say "Hey Siri" or touch and hold the top of the HomePod to play the same song on multiple HomePod speakers, play different songs on different HomePod speakers, or even use them as an intercom to broadcast messages to other rooms.
Users can also create a stereo pair with two HomePod speakers in the same space. In addition to separating the left and proper channels, a stereo pair plays each channel in perfect harmony, creating a broader, more immersive soundstage than traditional stereo speakers for a truly standout listening experience.
Improved smart home speaker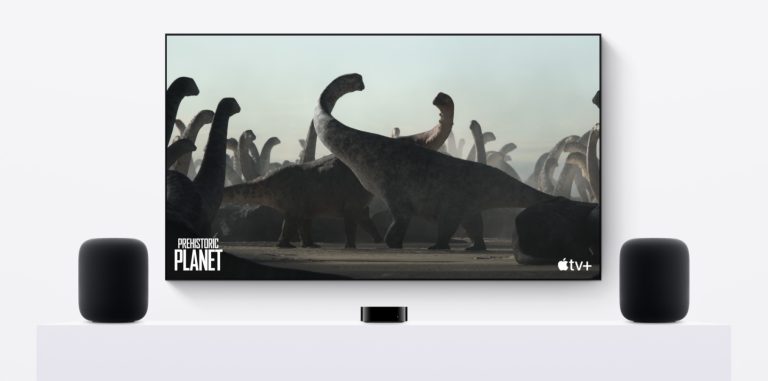 With the U1 chip, users can hand off whatever they're playing on their iPhone — like a favorite song, podcast, or even a phone call — directly to a HomePod. To efficiently control what's playing or receive personalized song and podcast recommendations, anyone in the home can bring an iPhone close to HomePod, and suggestions will surface automatically. HomePod can also recognize up to six voices, so each home member can hear their playlists, ask for reminders, and set calendar events.
HomePod easily pairs with Apple TV 4K for a powerful home theater experience, and eARC support on Apple TV 4K enables customers to make HomePod 2 the audio system for all devices connected to the TV. Plus, with Siri on HomePod, users can control what's playing on their Apple TV hands-free.
Find My on HomePod allows users to locate their Apple devices, like iPhones, by playing a sound on the misplaced device. Using Siri, users can also ask for the location of friends or loved ones who share their location via the app.
Last but not least, the HomePod offers Matter support, enabling smart home products to work across ecosystems while maintaining the highest level of security.
HomePod 2 is available to order for $299 at the US store and in Australia, Canada, China, France, Germany, Italy, Japan, Spain, the UK, the US, and 11 other countries and regions. It will become available on February 3. This smart speaker needs iOS 16.3 and an iPhone SE 2 or iPhone 8 or later.