We're just a couple of months into the public rollout of Android 9.0 Pie, but the first hint at the future of the mobile OS might have leaked online this week. Spotted by Mr Gizmo Blog, a recently uploaded benchmark for the Google Pixel 3 XL on Geekbench indicates that the device is running Android Q. Google has yet to make the next major Android version official, but it looks like it might already be in some phase of testing.
The rest of the benchmark appears to be in line with what we've come to expect from the Pixel 3 XL: the same specs, the same model, and the same single-core (2404) and multi-core (8510) scores. The only noteworthy difference is the operating system, which reads Android 9 in virtually every other Geekbench test.
In all likelihood, this surprise reveal of Android Q can be explained by one of the two following scenarios:
Someone edited the build.prop file on their phone (or used some other method) to screw with the reading, thus resulting in a Geekbench benchmark with the incorrect operating system.
Someone testing an alpha package of the next version of Android accidentally uploaded a benchmark.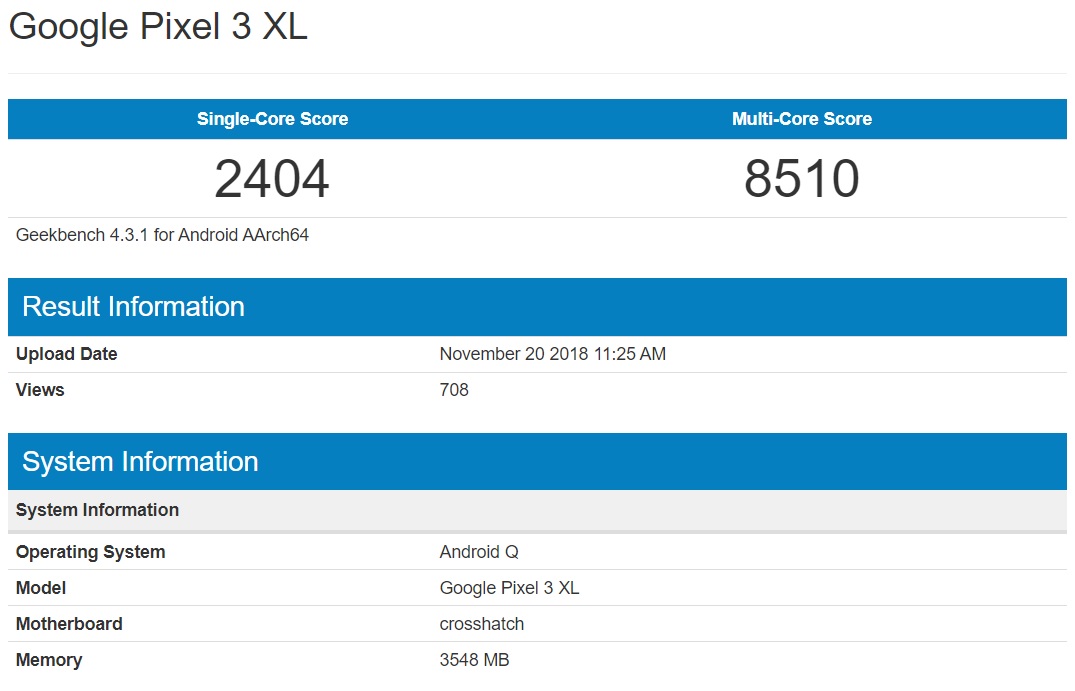 Both seem well within the realm of possibility, but as GSMArena points out, Google's Project Treble team confirmed earlier this month that every smartphone shipped with Android Pie out of the box will Treble-compliant, which means that developers can begin building apps before the software is ready, and phones will be able to upgrade faster than before. Perhaps that lends some credence to this leak being legitimate.