Google mistakenly leaked an unannounced Android P feature, a new navigation menu that looks a lot like the iPhone X's gesture-based navigation. A new report now shares more details about how Google's new navigation works, revealing that Google has definitely borrowed a few things from Apple's iPhone X, but it hasn't copied everything Apple did.
As you can see in the following concept images posted on 9to5Google, Google is indeed going for an oblong design for the home button indicator, just like Apple did on the iPhone X. The button in Android P is much smaller than Apple's, but the resemblance is obvious.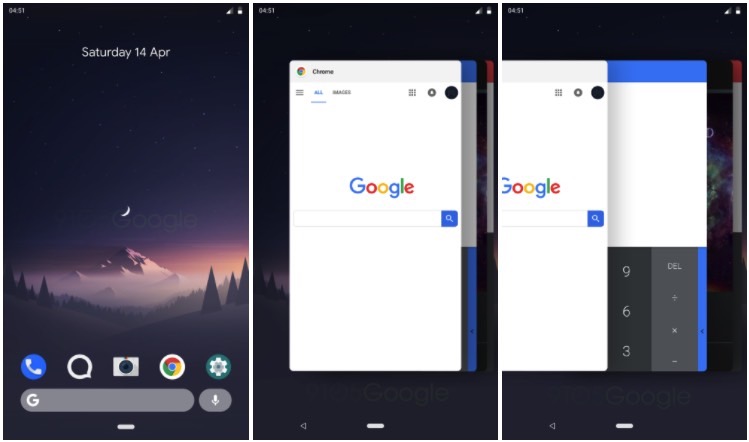 The virtual button appears to be present at all times on the screen. Flanking it, there's just one additional virtual button instead of two, and it's a back button. The "Recents" button is going away — and I have to say that having just two buttons in there instead of three doesn't look great, symmetry-wise.
To access recently opened apps — the multitasking menu — you'll have to swipe up on the pill icon. Sound familiar? The gesture is identical to the one available on the iPhone X, although on the iPhone you have to swipe-and-hold for multitasking. Swiping alone takes you back to the home screen in iOS.
Once you swipe up on the button, a carousel of apps opens up, just like on the iPhone. The thumbnails can be scrolled through just like on the iPhone X, and swiping up on an app will close it… also like the iPhone X.
Tap the home button instead of swiping it, and you go to a home screen — on the iPhone X you have to swipe up for home, as I said before. Tap-and-hold on the button and the Assistant comes up, complete with the flowery animation you expect.
It's unclear at this time whether the other iPhone X gestures will also be integrated into Android P's navigation. Swiping left and right on the bottom of the iPhone lets you flip through apps without bringing up the app switcher UI.