According to the latest Counterpoint Research report, 2023 could be the worst year for smartphone shipments in a decade, as the largest markets (China and North America) are driving negative growth throughout this year. That said, of all smartphone makers, Apple is the only one that can rest assured as the iPhone 15 series could make it the first brand in shipments for the first time.
These are preliminary figures from Counterpoint Research's latest Global Smartphone Shipment Forecast. The paper expects shipments to decline 6% to 1.15 billion, the lowest in a decade, due to the economic turnaround anticipated for China at the start of the year and North American consumers hesitating to upgrade their devices in the first semester.
"There's been a decoupling between what's happening in the economy and consumers buying phones. So far this year, it's been record low upgrades across all carriers," says Jeff Fieldhack, Research Director for North America. "But we're watching Q4 with interest because the iPhone 15 launch is a window for carriers to steal high-value customers. And with that big iPhone 12 installed base up for grabs promos are going to be aggressive, leaving Apple in a good spot."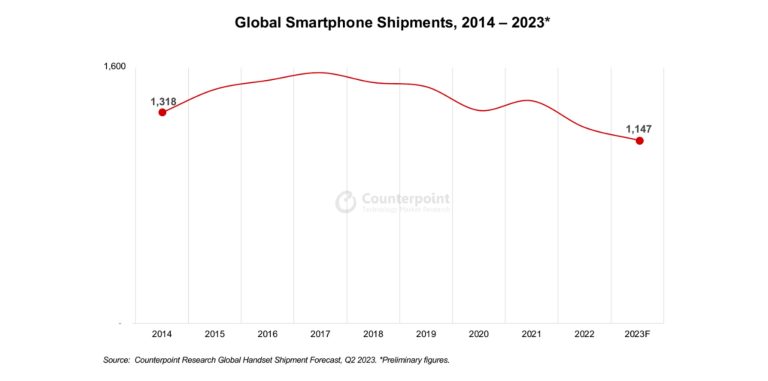 That said, Counterpoint expects that 2023 could mark the start of a new era for Apple as a "resilient premium market." Fieldhack says it's the closest Apple's been to the top spot. "We're talking about a spread that's literally a few days' worth of sales. Assuming Apple doesn't run into production problems like it did last year, it's really a toss-up at this point."
With users taking more time to upgrade their smartphones, Apple expects this to be another supercycle, as iPhone 12 customers are willing to upgrade to the latest models. With the 2020 release, Apple bet on OLED display for all models, 5G, and Night Mode support.
Those who upgrade to the iPhone 15 series will get the new Dynamic Island cutout, a new model to choose from (an iPhone Plus instead of a mini), an improved processor, a USB-C port, more storage for the same price, better cameras with the primary lens with 48MP, and more.
For those planning to get a Pro model, Apple now offers ProMotion and Always-On Display. In addition, it's expected that these phones will get camera improvements; the A17 Bionic and the Pro Max could get a periscope lens for 6x optical zoom.
As we're about a month from the iPhone 15 series announcement, we'll soon discover everything Apple has in store for customers.