Xbox and Discord are getting even friendlier with the latest Xbox software update.
Earlier this year, Xbox rolled out official support for Discord — built right into the Dashboard. When it launched, it enabled users to see and join voice channels and chat with their friends without the need to use a separate Discord app on a phone. It was a big deal since Discord, of course, has taken over the gaming community as the go-to place to chat with friends while playing.
However, one thing that was missing from the integration was the ability to stream your games directly from Xbox to Discord. This week, that's getting added. In a blog post, Xbox announced its September software update, and — you guessed it — you'll now be able to stream your games right from your Xbox to your friends on Discord.
To get started, first link your Discord account. Then you can join voice channels from your Discord servers directly from your Xbox console. To navigate there, press the Xbox button on your controller to open the guide, scroll to Parties & chats, and select Discord. Then scroll through your available Discord servers, jump into a voice channel with friends, and share your gameplay!!
While you're playing your games, you likely have wanted to have Variable Refresh Rate (VRR) turned on if you have a TV that can support it. However, VRR is something you might want to have turned off if you're watching Netflix. The new update now allows users to elect specifically when VRR is turned on or off between "Always On" and "Gaming Only."
Starting this week, you can choose how you want VRR enabled on your Xbox Series X or Series S console. To select your option, go to General > TV & display options > Video,and then go to the dropdown menu for VRR. You can select if you want VRR to be "Always On," "Gaming Only," or "Off."
I've been using the Wish List feature on the Xbox Store for a long time now. While it has been great to use it to track when games go on sale (thanks for the discount on Alan Wake Remastered ahead of Alan Wake II), the latest update also adds the ability to get a notification when a game on your Wish List is released or, if you're really lucky, gets added to Game Pass.
The new wish list notifications will show up in the guide and as a pop-up to let you know when your wish list games are available. In Settings > Preferences > Store notifications, you can decide if you want to see notifications in the guide, when your wish list items are released, when they are available with Game Pass, and more.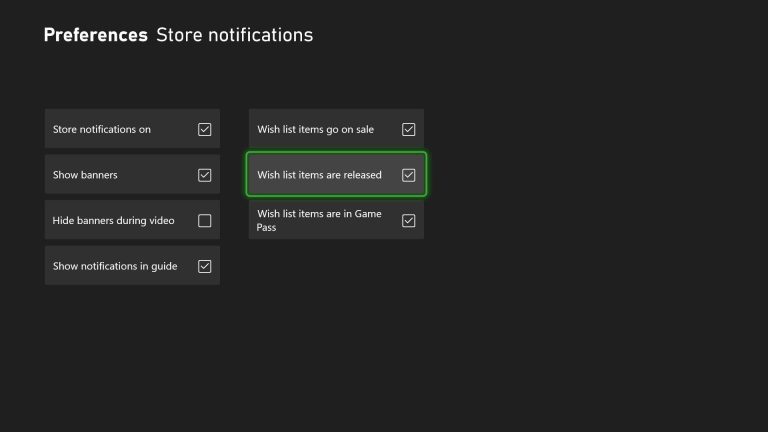 In addition to the above, the September update also adds new ways to view and redeem rewards, the ability to ask to join a friend's game without being in their party, the company's new voice reporting safety features, and the ability to start pairing a controller with your Xbox without having to press that button on the console.
The company says that the September update is rolling out to consoles this week, so keep an eye out for all of the new features over the next few days!