In his recent videos, he's paid an assassin to try and kill him; funded a surgical procedure that restored the sight of 1,000 blind people; survived 50 hours in Antarctica; survived a plane crash; gifted an island to one of his subscribers; built a Willy Wonka-like chocolate factory; and re-enacted the series of challenges from Squid Game. As a result of content like that, and more, MrBeast (aka Jimmy Donaldson, aka the Oprah of YouTube) has 140 million YouTube subscribers and is now wealthy enough to have branched out into philanthropy as well as offline commerce (via, for example, his line of chocolate bars).
In his latest video, posted over the weekend, he funds the procedure that allows 1,000 deaf people to hear for the first time. As he explains in the video: "We got our hands on over $3 million of cutting-edge hearing aid technology that, unlike old hearing aids, analyzes people's specific hearing needs — allowing them to hear again without causing any damage."
MrBeast's YouTube videos — extremely lavish productions with snappy editing that have the feel of episodic TV — as a rule tend to rack up 100 million+ views, and quite often approach 200 million. And, as noted above, the gimmicks feel like they get more dramatic with each successive upload. With titles like Would YOU Quit School for $100,000, I Survived 50 Hours In A Maximum Security Prison, and World's Most Dangerous Escape Room, these videos practically click themselves for you.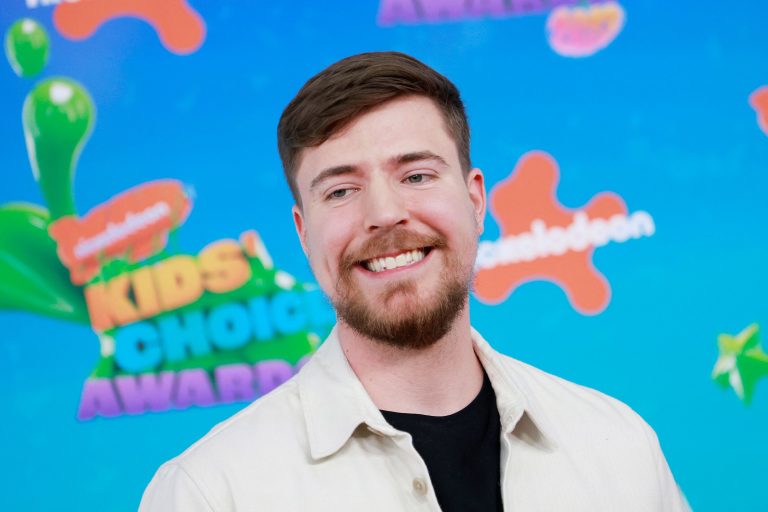 The flipside of MrBeast's popularity, unfortunately, is that he also attracts an army of haters and nit-pickers who find a way to chime in with something negative, no matter what he does. And no matter that his is some of — at least on the surface — the most wholesome and entertaining content you'll find on YouTube. What gives?
Feel-good content, philanthropy – and controversy
His Instagram bio, summing up both sides of the MrBeast phenomenon, is probably a great place to start here. "I want to make the world a better place before I die," it reads, speaking to his positivity and his philanthropic side. How many YouTubers have you come across who aren't insufferable show-offs and who also talk like that?
The rest of his Instagram bio, however, reads as follows:
"(also go to your local Walmart and buy my choclate plz)"
In other words, to his legion of detractors, there's an undercurrent of exploitation — of charity for clicks — that seems to keep the wheels of the MrBeast enterprise constantly turning.
This argument especially came to the fore in the wake of one of his latest videos, in which he paid for an operation that helped 1,000 blind people see again. Rather than enjoy and appreciate it for what it is, MrBeast's videos like that one draw responses like the following:
Via Twitter: "It's deeply frustrating to have to rely on a benevolent content king making feel-good videos, rather than addressing the root causes of these problems"
Buzzfeed: "Another huge problem: MrBeast's video seems to regard disability as something that needs to be solved."
Also Twitter: "There is something so demonic about this and I can't even articulate what it is"
The newest video that we mentioned above, about MrBeast helping 1,000 deaf people to be able to hear, attracted this tweet that got some pretty strong engagement on Twitter: "I don't think ya'll realize how problematic Mrbeast's new video really is… Acting like being deaf is something that needs to be 'fixed' is such a toxic mindset that only an able-bodied male such as himself would have. Disgusting."
On other platforms, you'll find users debating notions like (on Reddit): "How Mr Beast's Charity Content Grossly Exploits Poverty and Why Millionaire Charity Doesn't Work." And, via Quora, "Why do many people like Mr. Beast? Is he exploiting a psychological loophole that causes people to enjoy his content?"
Well, as long as we're not being dramatic about it …
My two cents – and my 5 favorite MrBeast videos
If I'm being honest, I get where some of the sentiment comes from. In one of his recent videos, MrBeast surprised a hard-working waitress who has to rely on Uber to get to work with her very own car … albeit a new free car that just happened to have MrBeast's Feastables bars logo displayed on it ("MrBeast you can do better than that," one TikToker commented).
MrBeast followed up that video by telling his followers they took the branding off.
And how about that blindness video? I can acknowledge that maybe there was a tone problem with it, in certain places. As the video got underway, for example, MrBeast is in full YouTuber mode, declaring to the camera what's about to happen and that "It's gonna be crazy!!!" All that was missing was the admonition to "be sure to click like and subscribe."
For me, the bottom line is that MrBeast's content is generally positive and upbeat. It's also entertaining, but, more importantly, he does what everyone is constantly pushing the wealthy to do — which is to give back. He makes videos in which he pays for things like people's surgeries so that, yes, he gets clicks and views … so that he can then keep bringing in the resources that allow him to make these kinds of videos.
According to the Beast Philanthropy website, Donaldson has also helped donate more than 5.7 million pounds of food, deliver more than 4.7 million meals, and feed nearly 300,000 people. Last year, Donaldson also donated $3 million to go to Ukrainian refugees. What have you done for society lately?
MrBeast, meanwhile, can keep doing what he does as long as people keep watching his videos. My favorites include: