Even if you're not a video gamer, I dare say that most people are probably aware of Tetris — the deceptively simple puzzle game that's also one of the most popular titles of all time — and they've more than likely even had a go at trying to make the game's falling pieces fit together snugly. What most people probably don't know, however, is the Cold War intrigue behind the game or the fact that Tetris was created by a Soviet software engineer — a backstory that's explored in an upcoming Apple TV Plus movie about the game that doubles as an edge-of-your-seat thriller.
Tetris movie coming to Apple TV Plus
Stick with me here, because I know some of this might sound a little dry. Taron Egerton stars as Henk Rogers, the entrepreneur who negotiated a dispute over the rights for the game — which Nintendo eventually licensed to package with the Game Boy handset. You get a small taste of that urgency, and the stakes involved, in the trailer below, which Apple released just days ago.
The film itself, by the way, hits Apple's streaming service on March 31.
There's a little bit of a Halt and Catch Fire vibe at times in the trailer, which I intend as the highest of compliments. Specifically, in moments like when Egerton's character and his wife are awestruck at the sound of silence in their apartment, as their children are glued to their TV screen to play Tetris. I also love the little design touches, like the way you see a car crash at one point in the trailer morphing into the animation of Tetris blocks slamming into each other.
The movie is directed by Jon S. Baird from a script by Noah Pink, and here's how Apple describes it:
"Tetris tells the unbelievable story of how one of the world's most popular video games found its way to avid players around the globe. Henk Rogers (Taron Egerton) discovers Tetris in 1988, and then risks everything by traveling to the Soviet Union, where he joins forces with inventor Alexey Pajitnov (Nikita Efremov) to bring the game to the masses. Based on a true story, Tetris is a Cold War-era thriller on steroids, with double-crossing villains, unlikely heroes, and a nail-biting race to the finish."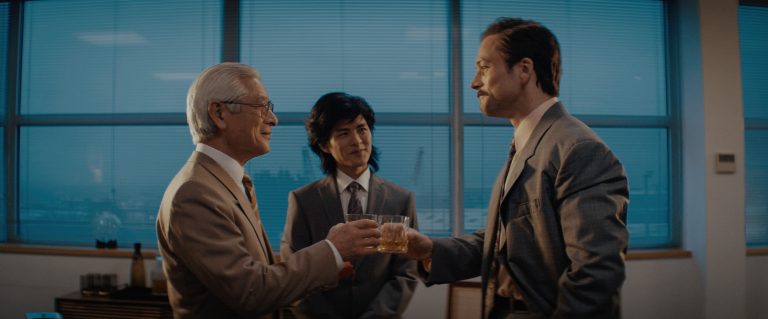 Two video game movies back-to-back
It kind of blows my mind how messy of a backstory surrounds this simple game, the rights to which were once so complex that about a dozen different companies believed they owned them. That's another way of saying that you can see where that kind of messiness would lend itself to a dramatic narrative.
And speaking of classic video games: For the average gamer, there are only a handful of titles they'd probably name if you asked them for the most beloved or memorable titles from their childhood. One is Tetris, which we're getting this movie about from Apple TV Plus at the end of March. Exactly one week later, meanwhile, a movie about one of the only other titles with equivalent name recognition will hit theaters: The Super Mario Bros. Movie, coming on April 7.