February feels like a slightly busier than usual month as far as big new Apple TV Plus releases go. Usually, given the highly curated nature of the iPhone maker's monthly release slate, there are at most maybe two or three titles over a four-week period from the streamer that I'm especially excited about. And that's not a criticism at all, it's just the nature of the smaller-scale game that Apple playing.
As we get closer to the mysterious "sometime this spring" release of Ted Lasso Season 3, through, February will bring at least four Apple titles I'm super-eager to check out, ranging from new TV series to a high-profile new A24 movie. We'll get into all the details below, including the release dates for each of them. And if you need additional suggestions for what else to check out on Apple's streaming service, you can also peruse our list of the best shows available to watch at the moment (including my personal favorite so far, Pachinko).
Coming soon to Apple TV Plus
Just to get right into it, though, here are the new February Apple releases I'm excited about the most. And these are separate, by the way, from existing releases on the streamer that will still be dropping new episodes this month, like the stellar comedy Shrinking that stars Jason Segel, Harrison Ford, and Jessica Williams.
Hello Tomorrow!
First up, coming on February 17 we have the 10-episode Hello Tomorrow! — a dramedy with sumptuous visuals and set in a retro-future, wherein Billy Crudup plays a salesman hawking timeshares on the moon. His character is all about getting ordinary people excited about the future, and about what lies beyond the ordinary world.
The first three episodes drop on the show's release day, followed by one a week thereafter. And starring alongside Crudup are Haneefah Wood, Alison Pill, Nicholas Podany, Dewshane Williams, Emmy Award winner Hank Azaria, Matthew Maher, and Academy Award nominee Jacki Weaver.
Sharper
Moving right along: I'm a simple man — I see John Lithgow attached to pretty much any project, and that's a guarantee I will check it out. Fans of FX's The Old Man, in which he plays FBI assistant director Harold Harper, you know what I'm talking about.
Sharper, also coming to Apple TV Plus on February 17, is a release from Apple Original Films and A24 starring Lithgow and Julianne Moore. The movie is styled as a noir thriller, about which Apple teases: "Sharper unfolds within the secrets of New York City, from the penthouses of Fifth Avenue to the shadowy corners of Queens. Motivations are suspect and expectations are turned upside down when nothing is as it seems."
Two more February Apple TV Plus releases
Meanwhile, there's also a pair of additional Apple releases to check out later this month that include a thriller series and a lighthearted travel show.
Liaison
Here's what Apple says about Liaison, a 6-episode thriller coming to Apple TV Plus starting on February 24 and starring Vincent Cassel and Eva Green:
"Liaison is a high-stakes, contemporary thriller exploring how the mistakes of our past have the potential to destroy our future, combining action with an unpredictable, multilayered plot where "espionage and political intrigue play out against a story of passionate and enduring love."
One episode of the show will debut on its release day, followed by a new episode weekly thereafter.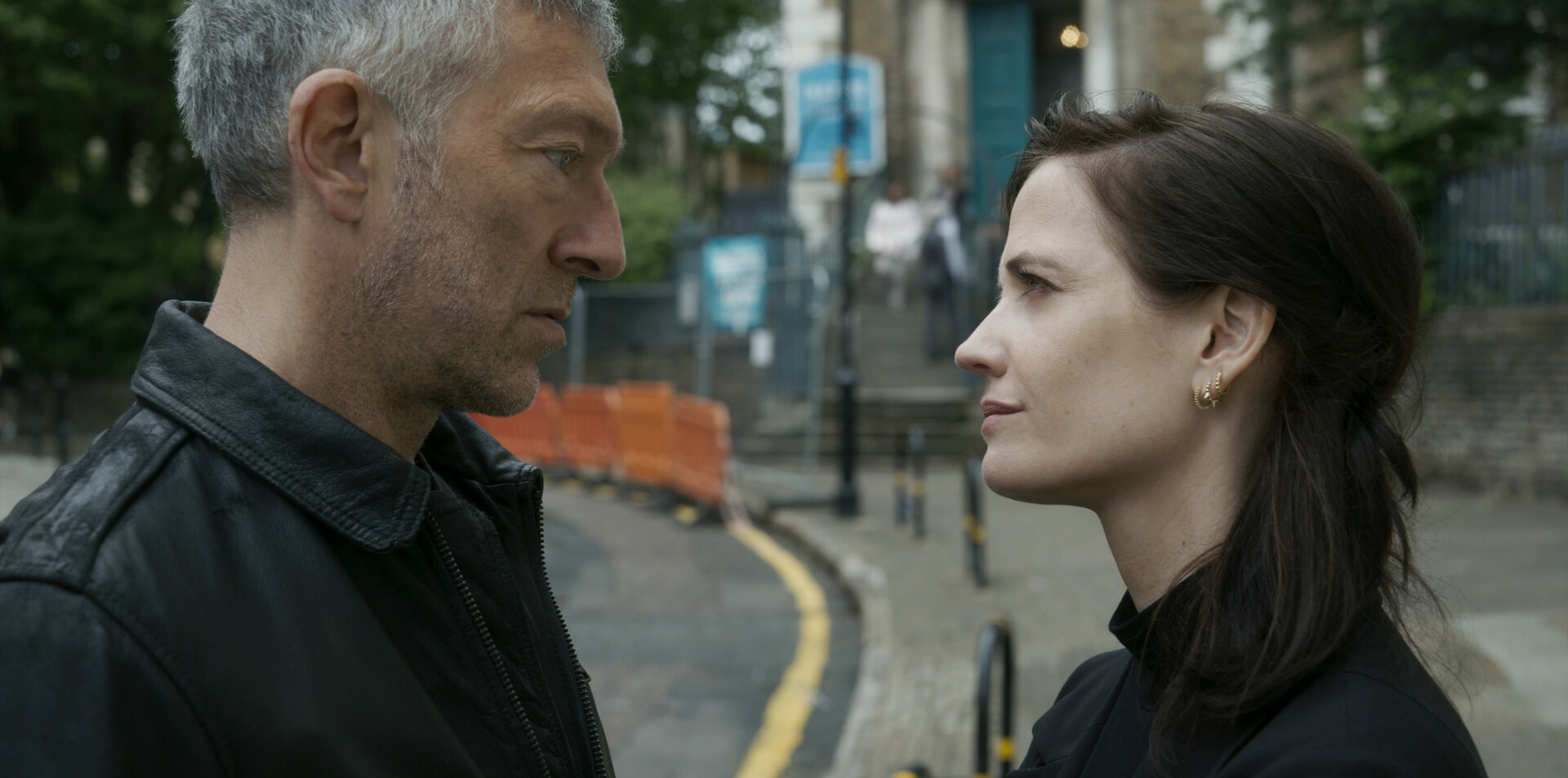 The Reluctant Traveler
Finally, also coming on February 24 is The Reluctant Traveler, an 8-episode travelogue series that takes host Eugene Levy — in all his deadpan glory — to far-flung locales around the world, amounting to a kind of anti-No Reservations series in which the host generally can't stand to be away from home … though he does slowly open up and learn to appreciate his unusual surroundings.
"I'm in the Arctic Circle," Levy tells the camera at one point, "and the big question, for me, is 'Why?'" That's the kind of dry humor you can expect from Levy in this Apple TV Plus release, and if you were a fan of his turn as characters like Johnny Rose in Schitt's Creek, you should find plenty to enjoy here. I'm almost finished with the press screeners, in fact, and I have to say that this show pleasantly surprised me.
The locales are gorgeous, from Finland to Venice to the Utah desert. The Reluctant Traveler is even, dare I say it, a kind of stress relief, in a way. And it definitely has me also looking forward to my next vacation.