I'll say this about the new Billy Crudup-led, retro-futuristic drama Hello Tomorrow! that hits Apple TV plus … well, tomorrow: It looks absolutely breathtaking. The visuals are gorgeous, from the polished chrome of the vintage-looking cars to the stylish fonts, colors, backdrops, and fashions redolent of 1950s Americana, an era when everyone probably naively imagined we'd all be driving flying automobiles by now.
Crudup's Jack — a salesman in a snappy suit and tie, with a wide grin plastered on his face — likewise feels like a throwback to a time when everything from encyclopedias to cookies was hawked door-to-door. In this case, Jack is peddling something far more eyebrow-raising, the success of which relies as much on the person buying into a dream. It's the kind of thing you imagine would be sold with a flourish of the hands: Timeshares … on the moon.
Hello Tomorrow! on Apple TV Plus
Of course, buying into an out-of-this-world notion like that requires fixation on the sky — and, more specifically, on "tomorrow," rather than the encumbrances of the here and now. Therein lies Jack's, and in a way, the show's, challenge.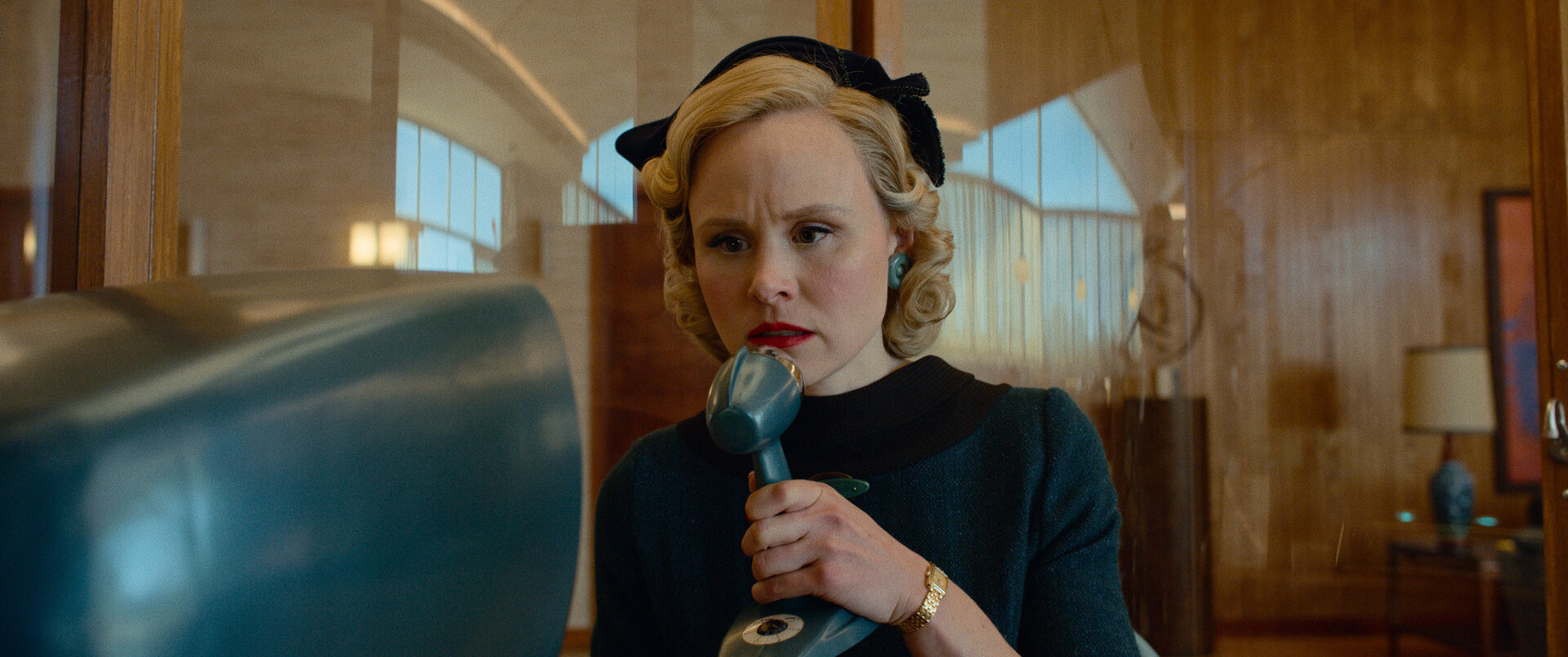 From Apple's official description of the half-hour series:
"Set in a retro-future world, Hello Tomorrow! centers around a group of traveling salesmen hawking lunar timeshares. Billy Crudup stars as Jack, a salesman of great talent and ambition, whose unshakeable faith in a brighter tomorrow inspires his coworkers, revitalizes his desperate customers, but threatens to leave him dangerously lost in the very dream that sustains him."
Three episodes of the show will be available to start, followed by one episode each week thereafter through April 7. Co-created by Amit Bhalla and Lucas Jansen, the cast includes (in addition to Crudup) Haneefah Wood, Alison Pill, Nicholas Podany, Dewshane Williams, Emmy Award winner Hank Azaria, Matthew Maher, and Academy Award nominee Jacki Weaver.
We should add … unfortunately, the early ratings and reviews don't look promising. The show currently has a 41% critics' score on Rotten Tomatoes (based on 17 reviews as of this writing), but perhaps that score could tick upward as the show debuts and more episodes are released.
Also coming this month for Apple subscribers
As for what else is hitting Apple's streamer in the coming days, another new series to put on your watchlist — especially if, like I was, you were a fan of pulse-pounding thrillers like Homeland — is the 6-episode Liaison.
Liaison will make its global debut with the release of Episode 1 on February 24, followed by one new episode every Friday thereafter through March 31. The show was created and written by Virginie Brac and directed by Emmy Award winner Stephen Hopkins, who also worked as a director on 24. And here's how Apple TV Plus describes the new series:
"Liaison is a high-stakes, contemporary thriller exploring how the mistakes of our past have the potential to destroy our future, combining action with an unpredictable, multilayered plot where espionage and political intrigue play out against a story of passionate and enduring love."