As the biggest streaming platform in the world, Netflix is home to everything from a massive library of movies to TV shows that run the gamut from Korean dramas and trashy reality shows to dramas, docuseries, and much more. Sci-fi is another popular category — and in this post, we'll be taking a closer look at some of the best Netflix series and movies currently available for sci-fi fans to enjoy.
We'll start with some of the best sci-fi Netflix series and then move into a rundown of similarly-themed movies. Hopefully, this will give you perhaps an idea of what to check out next on the platform and maybe even steer you to your next Netflix favorite.
Put these Netflix sci-fi series on your watch list
First up, these series include something for almost any kind of sci-fi fan, from dark and twisted to mind-bendy, time-warping plots, book adaptations, and much more.
Alice in Borderland: This Netflix series is about a video-game-obsessed young man who finds himself in an alternate version of Tokyo, one where he and other visitors are forced to compete in deadly games. The show, which debuted in 2020, is also based on a graphic novel by Haro Aso.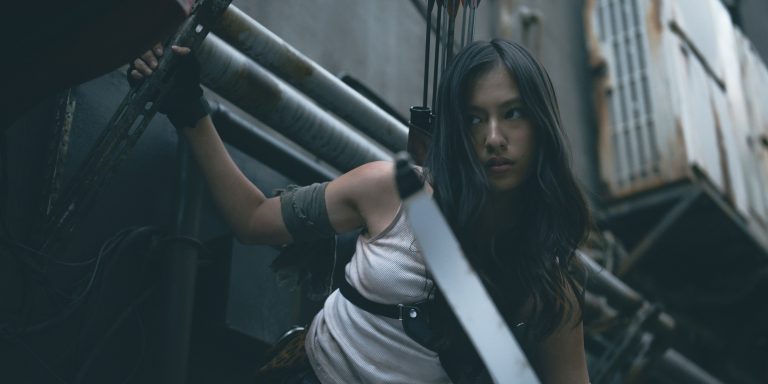 Explains Netflix: "Arisu — a listless, jobless, and video-game-obsessed young man — suddenly finds himself in a strange, emptied-out version of Tokyo in which he and his friends must compete in dangerous games in order to survive. In this strange world, Arisu meets Usagi, a young woman who's navigating the games alone. Together, they set out to unravel one mystery after another as they risk their lives and confront what it means to live."
In a Netflix interview included with the show's press material, series star Kento Yamazaki praised Alice in Borderland's scale of production, raving that so many things about it have never been done in Japan before. "It's a battle of life and death," adds director Shinsuke Sato.
"These guys are not warriors. They are not soldiers or heroes. They're just regular people in Tokyo. So when they gather in Shibuya at the end to finish this chaotic game, I thought it would be great to show them standing up to the fight as heroes."
Dark: This 3-season Netflix series, which premiered at the 2017 Toronto International Film Festival, is set in a present-day German town. Two children have disappeared, exposing the double lives and relationships among four families.
There are 10 hour-long episodes to binge, and they take an increasingly supernatural twist — linking back to the same town, decades earlier. Stick with it, and you'll be well-rewarded for your patience.
The series is a cult favorite among Netflix subscribers, and it was created by award-winning showrunners Baran bo Odar and Jantje Friese.
Black Mirror: Created by Charlie Brooker, Black Mirror is another cult favorite Netflix series that's continually played with our ideas about the future of humanity and technology in all kinds of weird and twisty ways.
Season 6 has proven especially buzzy on Netflix — and even poked a bit of fun at the streamer, with one episode in which a woman has a streaming show made about her life. "I've always felt that Black Mirror should feature stories that are entirely distinct from one another, and keep surprising people — and myself — or else what's the point?" Brooker said in a Netflix promotional interview for the show.
"It should be a series that can't be easily defined, and can keep reinventing itself."
Cyberpunk: Edgerunners: According to the official Netflix logline, Cyberpunk: Edgerunners tells a standalone, 10-episode story about a street kid trying to survive in Night City.
Night City is a futuristic metropolis where everyone is obsessed with technology and body modifications. The kid, meanwhile, stays alive by becoming a mercenary outlaw known as an "edgerunner." CD PROJEKT RED, which produced this Netflix series, is also behind the Cyberpunk 2077 video game (as well as The Witcher, which has its own Netflix series as well).
3 Body Problem: This final Netflix sci-fi series doesn't hit the streamer until January 2024, but you should definitely tap the bell to set a reminder for it inside the Netflix app right now.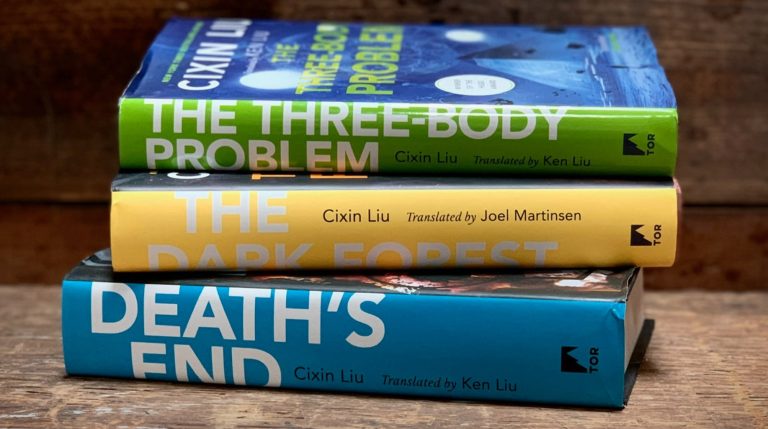 Adapted from one of the greatest sci-fi novels of all time, here's what the 3 Body Problem is all about: The show, led by the former Game of Thrones showrunners, tells a story that's set during China's Cultural Revolution. A secretive project involving the military sends out a signal to try and make contact with aliens, and that effort ends up being a success.
The signal is picked up by an alien race that's imploding, and it decides to invade Earth — which sets off all sorts of squabbles and creates divisions between those who, for example, want to fight the invaders and those who want to help.
Can't-miss Netflix sci-fi movies to check out
Next, we'll dive into some feature films worth checking out. If you're more interested in a one-and-done proposition, or maybe you're not looking for a whole new season of TV to get into at the moment, these are also some great sci-fi movie titles that are available to stream on Netflix. All of which, of course, are Netflix originals.
They Cloned Tyrone: I was pretty much sold on this sci-fi comedy thanks to the presence of Jamie Foxx, who plays a sassy pimp named Slick Charles and delivers lines like "Excuse me, kind sir — if you could point me to the elevator that leads down to the freaky laboratory, I'll be out (of) your atmosphere."
The story revolves around a drug dealer named Fontaine, played by John Boyega, who encounters a bizarre mystery in his urban neighborhood and goes on a mission to bring it to light. As the title suggests, the mystery looks to involve a lab engaged in cloning.
Fontaine's associates include Foxx's Slick Charles, the aforementioned pimp who's described as cunning and always a few steps ahead of the cops, as well as a sex worker named Yo-Yo (played by Teyonah Parris), and together they set out to get to the bottom of the mystery — how it works, and how to stop it.
Rim of the World: Here's the official Netflix description of this movie. "Summer camp at Rim of the World has barely begun when four misfit teenagers — Alex, Zhenzhen, Dariush, and Gabriel — find they've got bigger problems to face than learning how to canoe and climb ropes when aliens suddenly invade the planet.
"Alone in a campground once teeming with people, the kids are unexpectedly entrusted with a key that carries the secret to stopping the invasion. Without any adults or electronics to help guide the way, it's clear what they must do: band together, conquer their fears, and save the world."
The Adam Project: Here's the basic plot of the movie: A time-traveling pilot teams up with his younger self, as well as his late father, in order to save the future. In the process, he also ends up coming to terms with his past.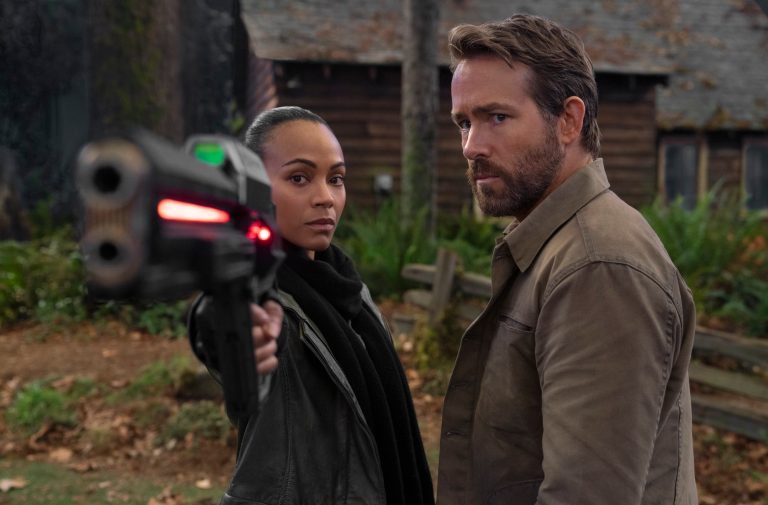 Ryan Reynolds plays the older version of the character ("Big Adam"). "What hooked me in was the idea of, what if you could make your peace with your own history?" director Shawn Levy explains, in an interview about the movie included with Netflix's press material. "What if you could, as an adult, go back and make peace with your younger self, and make your peace with the parents we failed to understand when we were growing up? What if you could go back and reconnect with your parents with the benefit of a lifetime of wisdom and perspective?
"Because more often than not, when we think back to our parents, there are stories we tell ourselves. Either they were perfect or they were the villain in my backstory. But generally, neither is true."
I Am Mother: In this Netflix movie from director Grant Sputore, a robot known as "Mother" (voiced by Rose Byrne) raises a human teenager after an extinction-level event has supposedly wiped out human life outside of the "mother" and daughter's closed-off subterranean compound.
Hilary Swank, meanwhile, plays a human who eventually makes her way inside the compound, throwing the teenager's whole understanding of her world into question.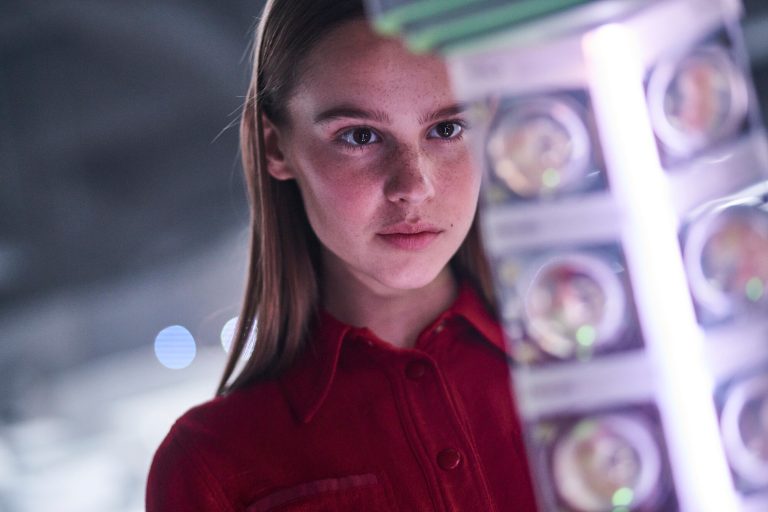 In an interview with me several years ago, Swank said she thought this Netflix movie offered an interesting take on the, at times, troubling interplay between humanity and technology. It's also interesting to go back and read her comments from several years ago now, with the world now fully in the era of ChatGPT and generative AI.
"I think AI is going to become much more prevalent as we move into the future," Swank told me. "This is not going to be something that's far off.
"As Grant says a lot, the interesting thing about AI is we don't program them. They're built, and then their experiences program themselves. So it's not unlike a human being and how we experience the world. They just happen to be infinitely smarter than us and their learning curve is shorter. And their ability to move on to the next thing and learn from the mistake they just made is so great."