A few months ago, we heard a rumor that Marvel and Disney want to improve the MCU's quality after hearing all the Phase 4 criticism. The changes include possible delays and cancelations of movies and Disney Plus TV shows. Soon after that, Marvel started changing the MCU Phase 5 release schedule, with The Marvels being an example. A massive leak now claims that the Multiverse Saga might end with MCU's Phase 7 instead of Phase 6. And it could happen in 2028 rather than in 2026.
The leak also provides a tentative slate for all MCU Phase 5, 6, and 7 movies and TV shows Marvel is working on. Before you proceed, know that big spoilers might follow.
Marvel's MCU release delays
The mods of the popular MarvelStudiosSpoilers subreddit published a post that indicates "delays galore" are coming to Marvel's MCU movies and TV shows. While no MCU leak can be verified when it drops online, the mods have posted accurate information from their sources in the past. That includes the full Quantumania script and a massive subtitle leak that preceded the film's release.
Fast-forward to mid-March, and they say trusted sources have revealed that 2028 is now when the Multiverse Saga will end. That's when Secret Wars should hit theaters instead of the current May 2nd, 2026, premiere date. Marvel already delayed Avengers 6, which originally had a late 2025 release date.
The Redditors' sources said that if Marvel splits Secret Wars into two parts, at least the second movie will drop in 2028.
The mods also provided a new schedule for MCU Phases 5, 6, and 7, which we'll cover below. But the dates you're about to see come from unverified sources claiming that Marvel is looking to improve the quality of its movies and shows:
They want longer gaps, quality over quantity, but due to how they tell stories, there can't be too many big gaps, but the aim is to try not having main universe shows overlapping with movies, about a month (give or take) between shows and even some specials will be treated as movies in terms of overlap, and they're actively working to help fix the VFX artists problem, hiring more to spread the work load more kindly and filming earlier when possible to extend deadlines, basically, they want to make a better environment for cast and crew as well as fans.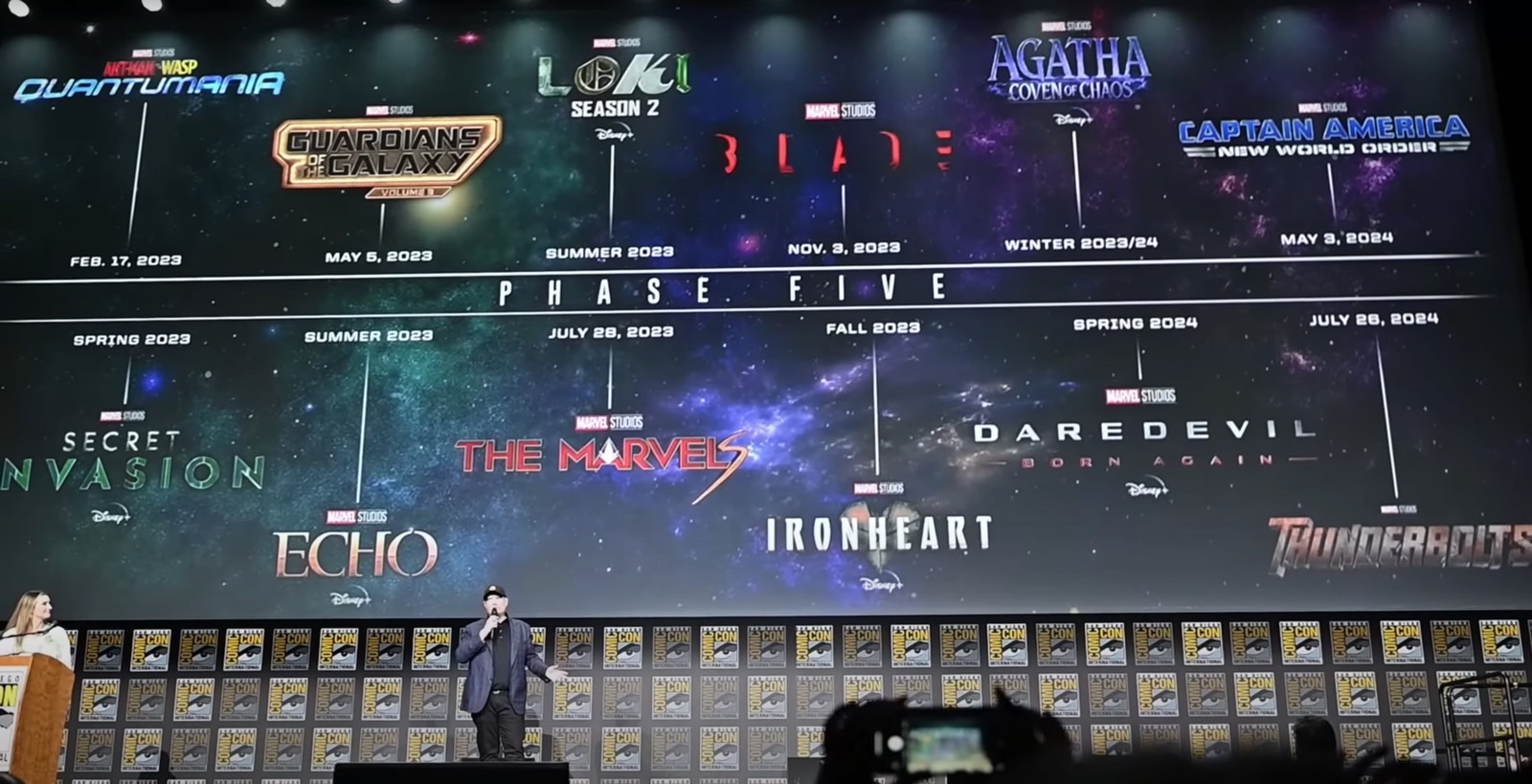 MCU Phase 5 release schedule
We haven't altered the leaked release schedules for MCU Phases 5 through 7 below. But we did add the current official release dates for the films in bold to put things in perspective.
Ant-Man and the Wasp: Quantumainia (Released)
Guardians of the Galaxy Vol. 3 – 5th May 2023 (Unchanged)
Secret Invasion – May 17th- June 21st, 2023 -Delayed from March to give audiences a bigger break (currently Spring 2023)
Loki Season 2 – July 26th-August 30th, 2023 – Source later stated that Loki has been delayed to start in late August. This could very well have a knock on effect and delay other shows by a month or 2 (currently Summer 2023)
Echo – October 2023 – Swapped with Ironheart's original slot and brought up from early 2024 (currently Summer 2023)
Mephisto – Halloween Season 2023 (Special) – Will be shot with Agatha (Unannounced)
The Marvels – November 10th, 2023 (Unchanged since the recent delay)
Sentry – Holidays 2023 (Special) – Will be shot with Thunderbolts, specials at Holiday time won't always be Holiday-themed (Unannounced)
Ironheart – Early 2024- Brought up to give Daredevil and Wonder Man time to not overlap with other projects (currently Fall 2023)
Daredevil: Born Again – Spring 2024 – Brought up to not overlap with Thunderbolts (Slightly changed)
Captain America: New World Order – May 3rd, 2024 (Unchanged)
I Am Groot – Mid 2024 (Shorts) (Unannounced)
Thunderbolts – July 26th, 2024 (Unchanged)
Deadpool 3 – September 6th, 2024 – Brought up because it'll be ready before Blade (currently November 8th, 2024)
Wonder Man – Fall 2024- Delayed to not overlap with Deadpool, brought up from past delayed date to not overlap with Blade (Unannounced)
Man-Thing – Halloween 2024 (Special) (Unannounced)
MCU Phase 6 release schedule
While we know the MCU Phase 5's titles, Phase 6 is more mysterious. We only have three official titles so far, including Fantastic Four, Kang Dynasty, and Secret Wars.
The Reddit leak provides new release dates for these movies and offers other film and TV show titles and release dates as follows. Again, we have not altered the details in the list or the Redditors' comments. But we've noted in bold below whether a project has an official release date and whether Marvel announced the title:
Blade – November 8th, 2024 – After multiple delays, this is its firm slot (Unannounced)
Silver Surfer – Holiday 2024 (Special) (Unannounced)
Agatha: Coven of Chaos – Late 2024/Early 2025- Delayed to prioritize other shows (Unannounced)
Fantastic Four – February 14th, 2025 (Unchanged)
Vision Quest – Spring 2025 (Unannounced)
Armor Wars – May 2nd, 2025 (Film) – Brought up after being changed to a film to fill an empty slot since it'll be ready (Film is confirmed, but release date is unannounced)
What If…? Season 2 – Mid-2025 – Giant delay but only place it'll fit (This is a Guess) (Unannounced)
Young Avengers – July 25th, 2025 (Film) (Unannounced)
Midnight Angels – Fall 2025 (Show) (Unannounced)
Ghost Rider – Halloween 2025 (Special) (Unannounced)
Zombies – October 2025 – Delayed to give Wonder Man room (Unannounced)
Shang-Chi 2 – November 7th, 2025 (Unnanounced)
Nova – Holiday 2025 (Special) (Guess as it's before Kang Dynasty) (Unannounced)
Spider-Man 4 – December 19th, 2025 (Film) – Delayed to not overlap with Thunderbolts and due to schedules won't be ready for this spot the year earlier (Unannounced)
Strange Academy – Late 2025/Early 2026 (Show) (Unannounced)
Doctor Strange 3 – 13th February 2026 (Film) – Brought up to be before Kang Dynasty (Unnanounced)
Ms. Marvel – Spring 2026 (Show) (Guess since it's before Kang Dynasty) (Unannounced)
Avengers: The Kang Dynasty – 1st May 2026 (Film) – Delayed to have set up before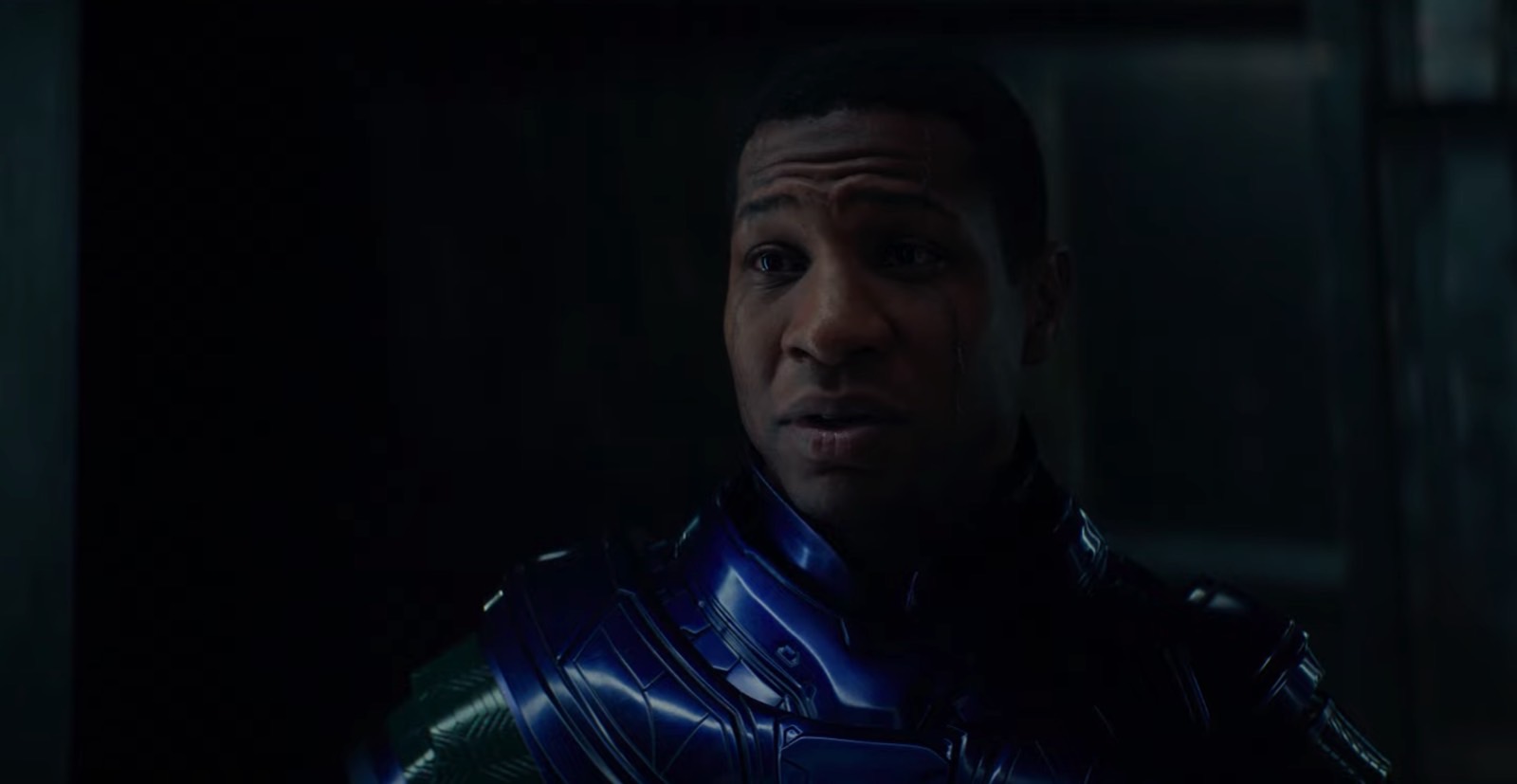 MCU Phase 7 release schedule
Marvel only announced MCU Phase 5 and 6 titles at Comic-Con and D23 Expo last year. But if this leak is accurate, the Multiverse Saga will also get a Phase 7, which will feature several exciting projects, including two Avengers movies:
Moon Knight Season 2 – Mid-2026 (Unannounced)
Midnight Suns – July 24th, 2026 (Film) (Unannounced)
She-Hulk Season 2 – Fall 2026 (Guess as it's before WWH) (Unannounced)
Untitled Halloween Special – Halloween 2026 (Special) (Guess, it's not locked in but they really want to continue Halloween specials, I'd guess (HEAVY GRAIN OF SALT) it could be Black Knight because of Midnight Suns and Eternals) (Unannounced)
World War Hulk – November 6th, 2026 (Film) – Changed from a show to accommodate budget and will have rights back by then (Unannounced)
Untitled Holiday Special – Holiday 2026 (Guess but no idea what it could be, but guess because they wanna do holiday specials but not as much as Halloween, if there's no good ideas I doubt it'll happen) (Unannounced)
What If…? Season 3 – Early 2027 – If the third season even happens, it'll probably end up here (Unannounced)
Eternals 2 – February 12th, 2027 (Film) (Unannounced)
Illuminati – Spring 2027 (Show) (Unannounced)
Avengers: Secret Wars – May 7th, 2027 (Possibly 2028) – Delayed for set up as well as production delays (currently May 2nd, 2026)
Avengers: Forever – July 30th, 2027 (Film) (Secret Wars could be split into 2 parts but it's 50/50 now, if it does happen it'll be no projects between the two, and Forever will be more focused on being a last hurrah for Infinity Saga characters and more accurate to the 2015 Secret Wars by being character driven not "I KNOW THAT CHARACTER!" driven, not that that's all Secret Wars will be, but again don't be shocked if this one doesn't happen) [Mod note: We have also heard this titled Avengers: Eternity Wars and if Secret Wars is split up we believe this move could culminate on the 20th anniversary of the MCU] (Unannounced)
Again, there's no way to verify any of this, so we'll have to wait for Kevin Feige & Co. to provide official updates on any MCU Phase 5, 6, and 7 delays.