Participants sit down in a white chair, facing a giant screen. Ominously, the presenter asks if they're ready, at which point footage of the participant's significant other is shown on the screen — with the significant other in various stages of undress and getting hot and heavy with other attractive singles. This is the moment of truth in Deep Fake Love, Netflix's cruel new reality show in which participants are shown breaking down, crying, cursing, shaking, jumping up, and pacing in response to visual evidence of their partner cheating.
And then, the twist:
It might actually not be their partner onscreen at all.
As you can probably guess from the title of this Spanish-language Netflix release, Deep Fake Love is yet another trashy Netflix reality show, albeit one that introduces deep fake technology into the equation. Though, at first, the show seriously — and I mean seriously — freaks out the participants with supposed evidence that their partner is cheating. The reveals actually lead to some pretty uncomfortable moments, to the point that I feel like a lot of people will feel icky watching this Black Mirror-style reality competition series that tries as hard as it can to horrify and shock the participants.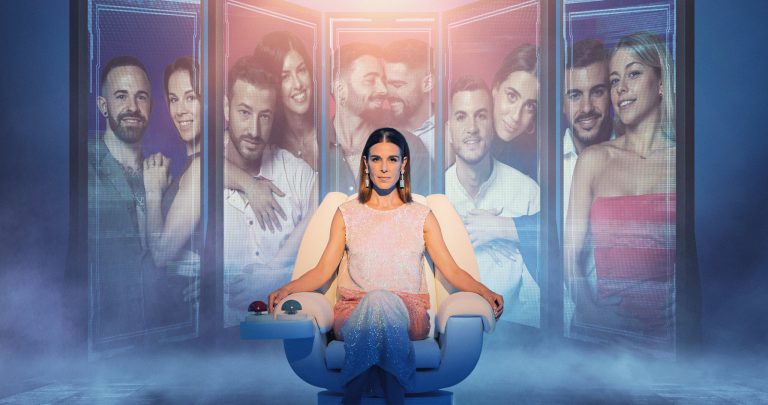 Needless to say, the deepfake videos of the partners supposedly cheating are very convincing. Per Netflix:
"Deep Fake Love is an innovative format in which five couples face deepfake technology, an artificial intelligence technique that modifies images, forcing them to differentiate what is real and what is not. In Netflix's new reality show, produced by Cuarzo Producciones (Banijay Iberia), five couples will test their relationships and their trust, with a prize of 100,000 euros at stake."
As for that prize money mentioned at the end, it's awarded to the winning couple that makes the fewest errors in guessing whether the footage of their partner that they've seen throughout the show is real or fact. "Realidad o ficcion" — that's the name of this game.
About the only good thing I can think to say about Netflix reality shows like Deep Fake Love is that the streamer has gotten very good at shocking, surprising, and addicting fans of this TV genre — viewers who've traded, in other words, the yawner of The Bachelor/Bachelorette franchise for Netflix shows like this one and others, including Love is Blind. But make no mistake:
In my opinion, Deep Fake Love goes way too far, the premise is unnecessarily cruel, and accusations that the show puts its participants through AI-based psychological torture are pretty spot-on. No one needs prize money this badly.