The technical complications that turned Netflix's planned livestream of the Love is Blind Season 4 reunion episode into a debacle over the weekend pretty much broke the internet in spectacular fashion, sending fans of the show racing to social media to rage at the streaming giant and post an endless flood of memes about Netflix's huge miss. And don't get me wrong: It certainly wasn't a good look for the company, with no less than co-CEO Ted Sarandos weighing in about what happened during Netflix's latest quarterly earnings call earlier this week.
That said, I also think there's another way to look at the situation surrounding this massive reality franchise for Netflix — especially in the context of what's going on with the reigning behemoth in this genre. That's right, I'm looking at you, Bachelor Nation.
It seems to me that the ire directed at Netflix over its fumbling of the live reunion episode this past weekend also speaks to the size and degree of the fandom around this show. People were mad, in other words, because they're invested in it. The same goes for the Change.org petition that fans are signing, in support of the show replacing hosts Nick and Vanessa Lachey.
Love is Blind vs The Bachelor
By the way, I'm not the only one who thinks it's interesting to draw comparisons between these two absolutely massive properties (one of which, as an outsider and non-fan of either show, feels like it's on the ascent, while the other one is — treading water at best, and on a bit of a decline at worst). Just now, for example, I searched for "Love is Blind Season 4" on YouTube, and what do I see as the top result?
A video from a Bachelor fan account, which describes itself as "Breaking down everything Bachelor," essentially laughing that the Love is Blind reunion episode was "A DISASTER."
Would a Bachelor fan account feel the need to make a video like that if the show was still riding high — in the midst of, say, Hannah Brown's season?
Consider this: According to The Wrap, an audience of 3.4 million tuned in to watch Bachelor Zach offer his final rose at the end of March, during the show's Season 27 finale.
It's not apples-to-oranges, but compare that to Love is Blind's latest season, which is currently the #3 show on Netflix worldwide (for the 7-day period that ended on April 16). According to Netflix's weekly chart data, Season 4 racked up more than 41 million hours viewed around the globe this week. Moreover, the new season has been a Top 10 Netflix show worldwide every week for the past four weeks, since the March debut.
Anecdotally, it very much feels like that kind of performance is the result of Love is Blind tapping into something that's perhaps missing from The Bachelor. "When the show comes out," Love is Blind fan Katie Snyder told me, "it feels like EVERYONE on my IG feed is watching it, and I have to watch as soon as it airs so I don't miss anything and/or see spoilers online. I love to see everyone's different takes on who their favorite couple is and who we are all rooting for.
"When (Love is Blind) first aired during COVID, it was so refreshing to see a modern and non-superficial way of dating. As a single gal and overly cynical millennial, the concept of getting to know someone without knowing what they look like is so intriguing. When we saw Lauren and Cameron's success in Season 1, I think we have all been chasing that high ever since! This season's gem was definitely Tiffany and Brett. It was so fun to watch really successful, smart, attractive people in their 30s find their happily ever after. That's what keeps me watching, even through the crazy drama that surrounds it."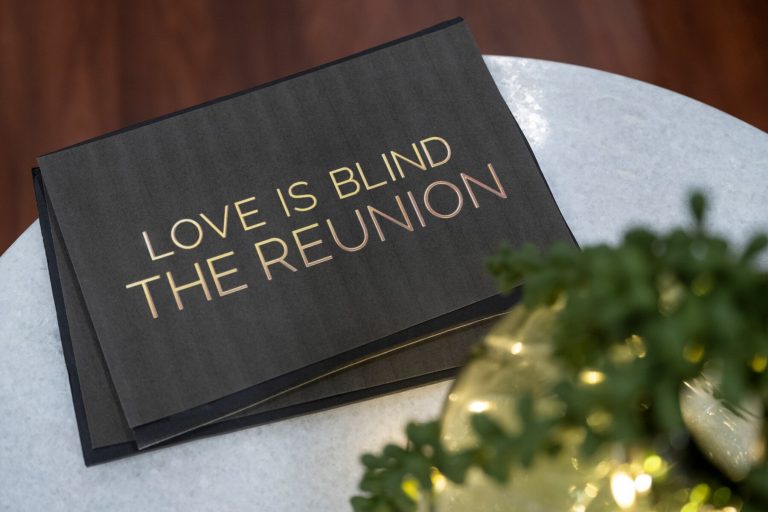 A streaming hit and a broadcast relic
To those of you reading these words who have a fan of The Bachelor franchise in your household — in any of its permutations, including the namesake Bachelor/Bachelorette series as well as the Bachelor in Paradise spinoff — chances are that what that fan spends most of their time looking at when the show is airing is not, in fact, the TV screen.
It's, rather, their smartphone. Head buried in that soft blue glow, on account of the weekly group chats that convene, converse, discuss, gossip, and often demand so much of the participants' attention that the hit ABC show, you could argue, kind of takes a back seat. And why not? It's not like Bachelor/Bachelorette fans are truly shocked or surprised anymore, notwithstanding all those promises, every single season, about this one being "the most dramatic" ever.
The fact of the matter is that all the tea has always already been spilled, and all the secrets have careened around the Internet and the Twitterverse, long before that final rose has been offered and accepted. So why bother watching at all? I put that question to a longtime Bachelor fan, Katherine Newsom:
It's true, she acknowledges, that other platforms like Netflix have created successful dating shows that offer more diverse casting and interesting formats, while the Bachelor franchise comparatively hasn't strayed far at all from its decades-old formula. "I keep coming back to the franchise for three reasons," Newsom said. "Connection, second-hand drama, and hope.
"I have several group chats that wouldn't exist without it. One is especially precious to me because it's the only place my personal and work friends are all in one place. I also work in a predominantly female field, and there's no faster way to bond with someone than over a reality fandom. I am fortunate enough that I don't have a lot of chaos in my life, so the franchise scratches the gossip itch in a low-stakes way. Lastly, I hold onto hope that the franchise will take notes from other shows … and reinvent itself into something that I look forward to tuning into again, not a chore I'm forcing friends and myself into."
To her last point, it definitely seems like Netflix has found a winner, when they can largely confine participants of their show to small pods and draw out some interesting exchanges, surprises, and connections. Whereas The Bachelor participants have free reign of a wide, open space in some beautiful locale — and it's still the same old drama, season after season.
Another longtime Bachelor viewer, Allie Mounce, told me that she mostly watches the show now in order to be able to fully enjoy the Bachelor podcasts that she listens to. Like the podcast Game of Roses, which is "a totally unhinged and obsessive podcast that treats the show like a professional sport with its own vocabulary, analysis, and endless inside jokes.
"I think if it weren't for that podcast and a few others like Bachelor Party, I probably would have given up the show completely by now." Also, she adds: "The production took a nosedive after producer Elan Gale left to make FBOY Island and has never really recovered since. It used to be a lot more tongue-in-cheek and fun, and has lost the silliness that made the drinking game-ready predictable format fun to watch."
One final note
The performance of both of these franchises will be so interesting to watch over the next couple of years, for reasons that include everything from the primacy of streaming (while The Bachelor remains one of the few truly appointment-viewing titles left on linear TV) to how The Bachelor will navigate perhaps its biggest challenge: Making enough changes around the margins to feel fresh, while also preserving the core of what its fanbase still wants to see.
Overall, Snyder told me, Love is Blind offers "a nice escape from reality, to live vicariously through the contestants and see their success both on and off the screen." When's the last time you heard something like that from a Bachelor fan?
Adds Mounce about The Bachelor: "I'm hopeful they can still turn it around before Love is Blind and the Netflix family of reality shows totally steals their lunch money. Even though I've stuck with this objectively terrible show for over a decade, even my patience is getting thin at this point. I hope that the recent firing of the very problematic original creator means a bigger shakeup is coming, and that they can evolve the show into something more current and creative."