If you purchase an independently reviewed product or service through a link on our website, we may receive an affiliate commission.
While we all wish we had the best cookware on the market, that just isn't the case. Mostly because of how much room a fine set of cookware and bakeware takes up, we don't all have the storage options to accommodate it. Having different sizes of pots and pans is what most people have, but many of them come in a set with lids also. Those lids aren't easy to store and if you keep them on top of the pots or pans, it makes them harder to stack and store as well. If you're looking to save some space when it comes to your cookware, think about getting universal lids. These can fit uniformly for various pots and pans, limiting the amount of items you actually need to keep. If you're constantly upset about how much room your pots and pans take up in your cupboards, we've got some suggestions for you. Take a look at our picks for the best universal lids and clear out the clutter.
Best Lid for Larger Pots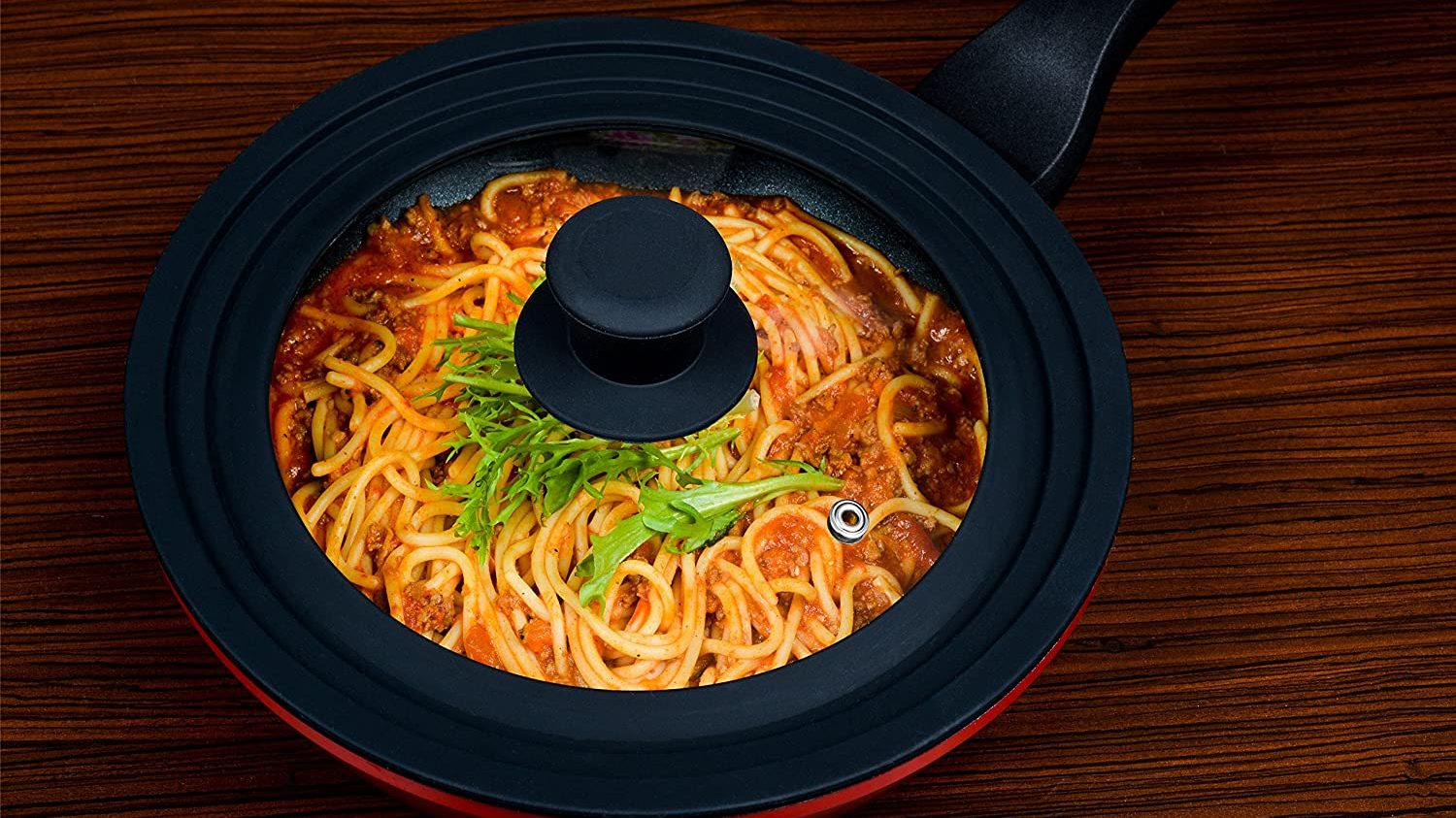 Stop wasting your time looking for the right lid when you have the J&C Life Silicone Lids for Pans, Pots & Skillets. This was specifically designed to fit your cookware that measures 11″, 12″, or 12.5″ in diameter. This will also work well with an instant pot, adding to its versatility. Instead of dozens of different lids, you can just keep this with your pots and pans. It is made from high-quality materials and with special attention to detail, so it will last a long time. The strong and durable glass is surrounded by durable silicone that can be heated to 220°C. The glass is clear, so you can check on your food without having to lift it up and it has a ventilation hole to let excess steam escape. The handle is a soft and stable grip to grab. You can even put this in the dishwasher to clean it.
J&C LIFE Universal Lid for Pots & Pans Tempered Glass Frying Pan Lid, Fits 11, 12, 12.5 inch Sk…
Price:
$17.99
Available from Amazon, BGR may receive a commission
Best Silver Lid
Looking for a lid that matches your cookware can be tricky, but a lot of it is silver and so is the Modern Innovations Universal Lid for Pots, Pans and Skillets. Covering a quality amount of space, this can be used with pots between 7″ and 12″ wide. This is only 2″ tall, so it is easy to store. No more will you have to rummage through your cupboards for a lid. This is made from 18/8 stainless steel for the outer ring and durable glass, making it great for even cast iron skillets. It can withstand temperatures up to 425°F. This cover can be washed in the dishwasher and features a steam vent.
Stainless Steel Universal Lid for Pots, Pans and Skillets - Fits 7 In to 12 In Pots and Pans -…
List Price:
$26.99
Price:
$19.99
You Save:
$7.00 (26%)
Available from Amazon, BGR may receive a commission
Best Lid for Smaller Pots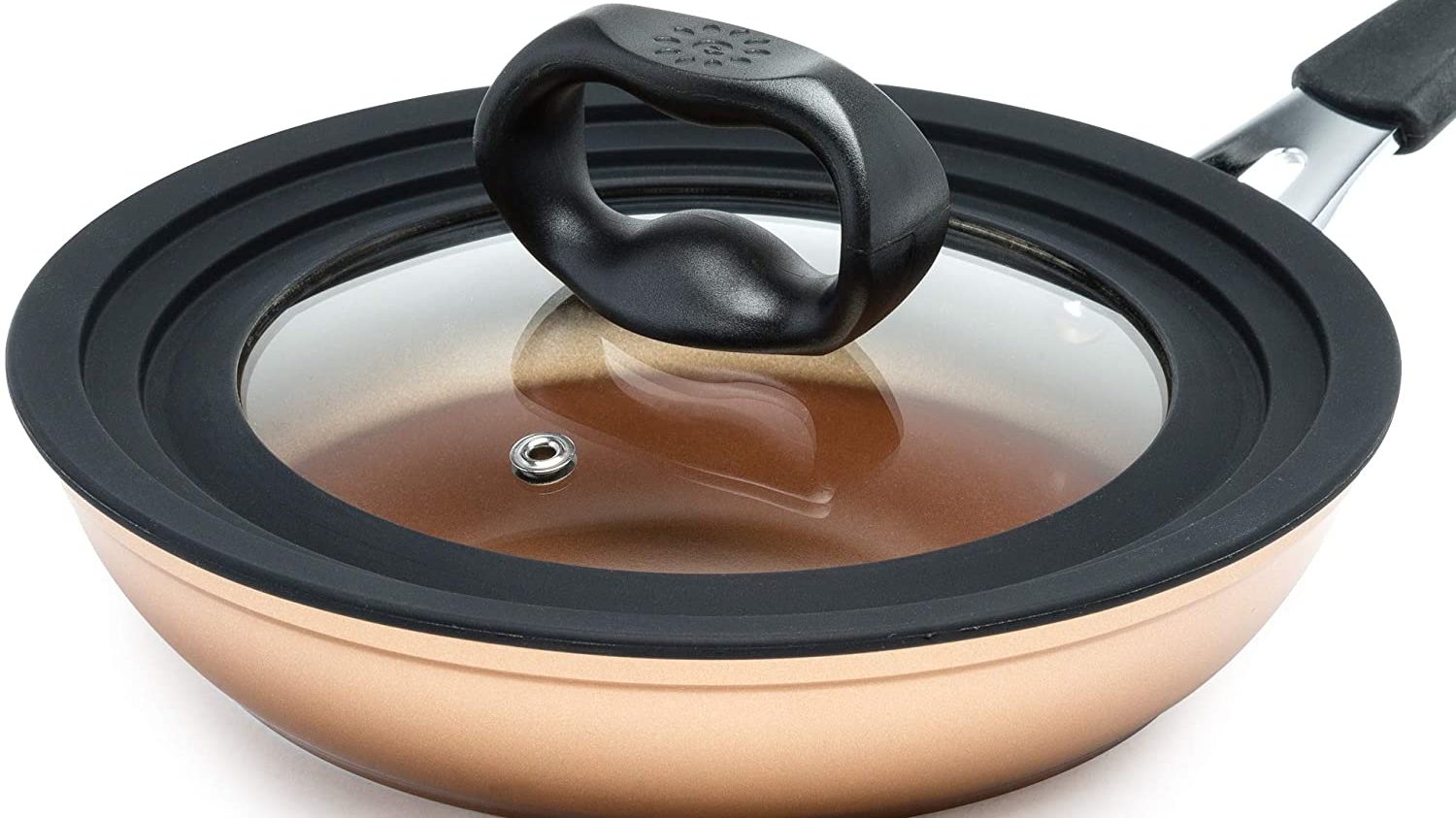 Getting your eggs over hard requires a little bit of cover for a smaller pan, like the Ecolution EKUL-1629 Universal Pots, Pans, and Skillets Replacement Lid. This is designed to fit pans between six inches and eight inches wide, as it works with frying pans, woks, skillets, stock pots, cast iron skillets, and more. The transparent lid is made from tempered glass that's vented to remove excess moisture. The silicone edges cling to your cookware preventing accidental spillage. Clean up is a breeze, as you can wash it in the dishwasher.
Ecolution Vented Tempered Glass, Heat Resistant Silicone Rim fits 6 inch to 8 inch Cookware, Di…
Price:
$14.79
Available from Amazon, BGR may receive a commission
Best Lid for Instant Pots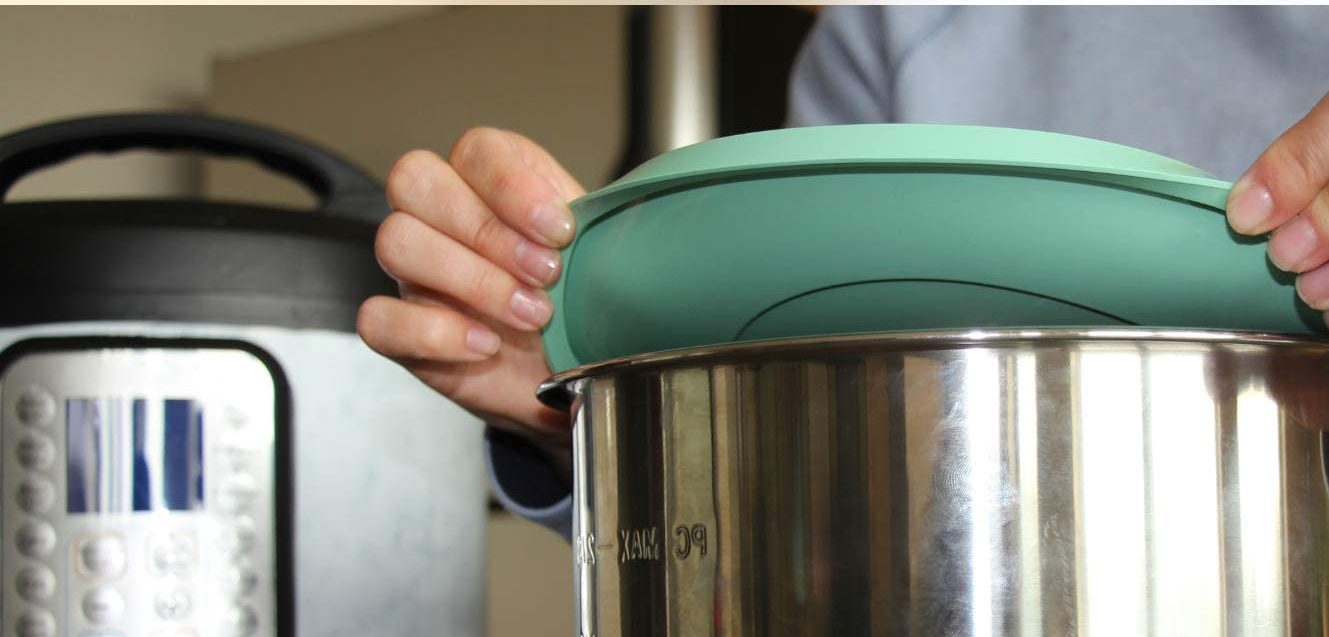 Cooking in an instant pot has become a really convenient way to make food. Being able to keep your food warm in the pot is made easier when you get an InstaExtras Silicone Lid for Instant Pots. Rather than putting the pressurized lid in the refrigerator, you can slide this on to keep your leftovers fresh. This fits a six-quart instant pot, but you can also get one for an eight-quart pot. This contains no plastic, PPBs, phthalates, lead, cadmium, or mercury. It can withstand temperatures between -40° and 500°F. It provides an airtight seal so there isn't any spillage. This is backed by a money-back guarantee.
Silicone Lid Fits Instant Pot - 6 Quart Inner Pot Cover for IP Duo-60, Nova, Plus, Max, Lux, Ge…
List Price:
$18.99
Price:
$13.99
You Save:
$5.00 (26%)
Available from Amazon, BGR may receive a commission
Best Lid to Handle
One problem with lids is that they can get hot when they are being used. However, the Cleverona Clever Lid doesn't. This features an elevated lid handle that stays cool to the touch for easy and safe use. It has a top of the line design and can fit pots and pans that are between 9.5″ and 11″ in diameter. You can wash this by hand or in the dishwasher for easy cleanup. It's surrounded by safety-approved silicone and has tempered glass for easy visibility.
Cleverona Clever Lid, Universal Pot and Pan Lid, Large fits 9.5, 10 and 11 inch Pans, Dark Grey…
Price:
Available from Amazon, BGR may receive a commission