If you purchase an independently reviewed product or service through a link on our website, we may receive an affiliate commission.
There are plenty of homes that have limited closet space. There are a lot of older buildings in the world and some of them just did not expect people to have the amount of clothes they have nowadays. In larger cities, landlords try to sell units that don't have closets for almost as much as ones that do. But if you find a good deal and want to lock up the apartment or house, there are other ways to store your clothes. With portable closets, you can make room for a closet yourself. Rather than trying to build a wardrobe or something yourself out of scraps of wood you can find (this is something people have done before), you can use a portable closet. If you've never considered getting a portable closet before, we've done the homework for you. We've highlighted some of the best portable and freestanding closets on the market to try and find you that ever elusive place to store your clothes.
Best Closet for Hanging Clothes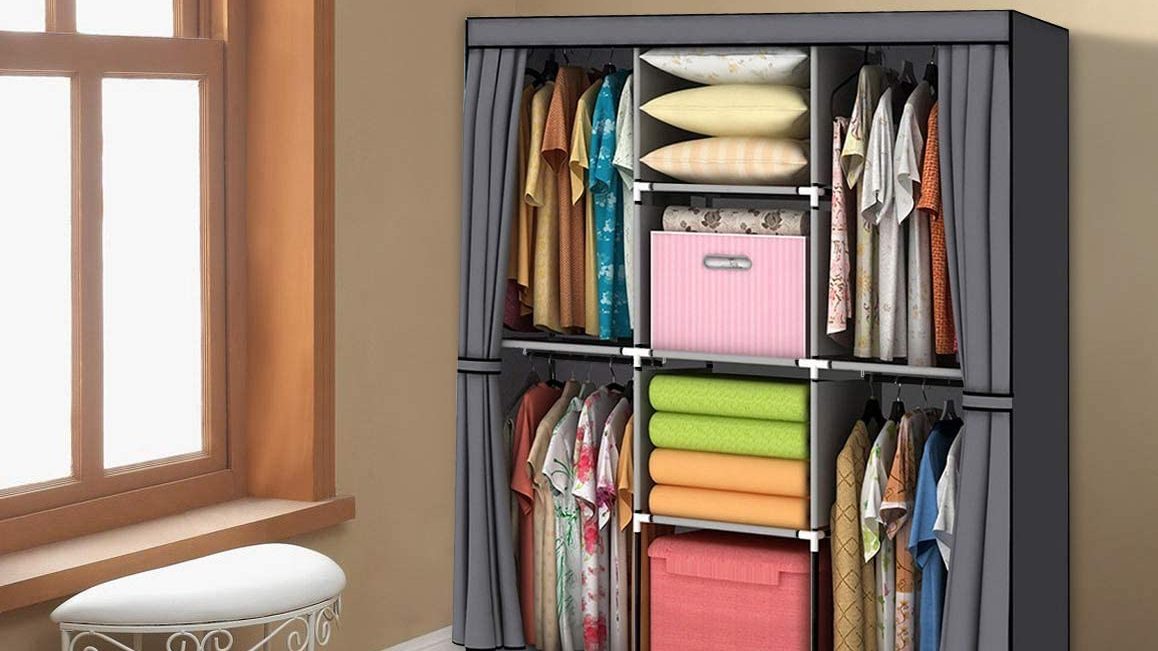 Providing you plenty of room to hang clothes, the YOUUD Wardrobe Storage Closet has multiple rods. This is a space-saving organizer that measures 52″ x 18″ x 67″, making it easier to organize in a smaller setting. It features a non-woven fabric cover and a high quality steel tube along with PP plastic connectors. The cover is zippered, so you don't have to show the world what you have in your closet. This is portable, but will meet your long term storage needs. There aren't any tools required to assemble it, as things will snap and connect into place. There are four movable clothing rods that will allow you to adjust to your clothes. There are eight shelves that make storing easier. The entire unit is water-resistant, so you'll be protecting your valuables.
YOUUD Wardrobe Storage Closet Clothes Portable Wardrobe Storage Closet Portable Closet Organize…
List Price:
$51.99
Price:
$47.99
You Save:
$4.00 (8%)
Available from Amazon, BGR may receive a commission
Best Open Portable Closet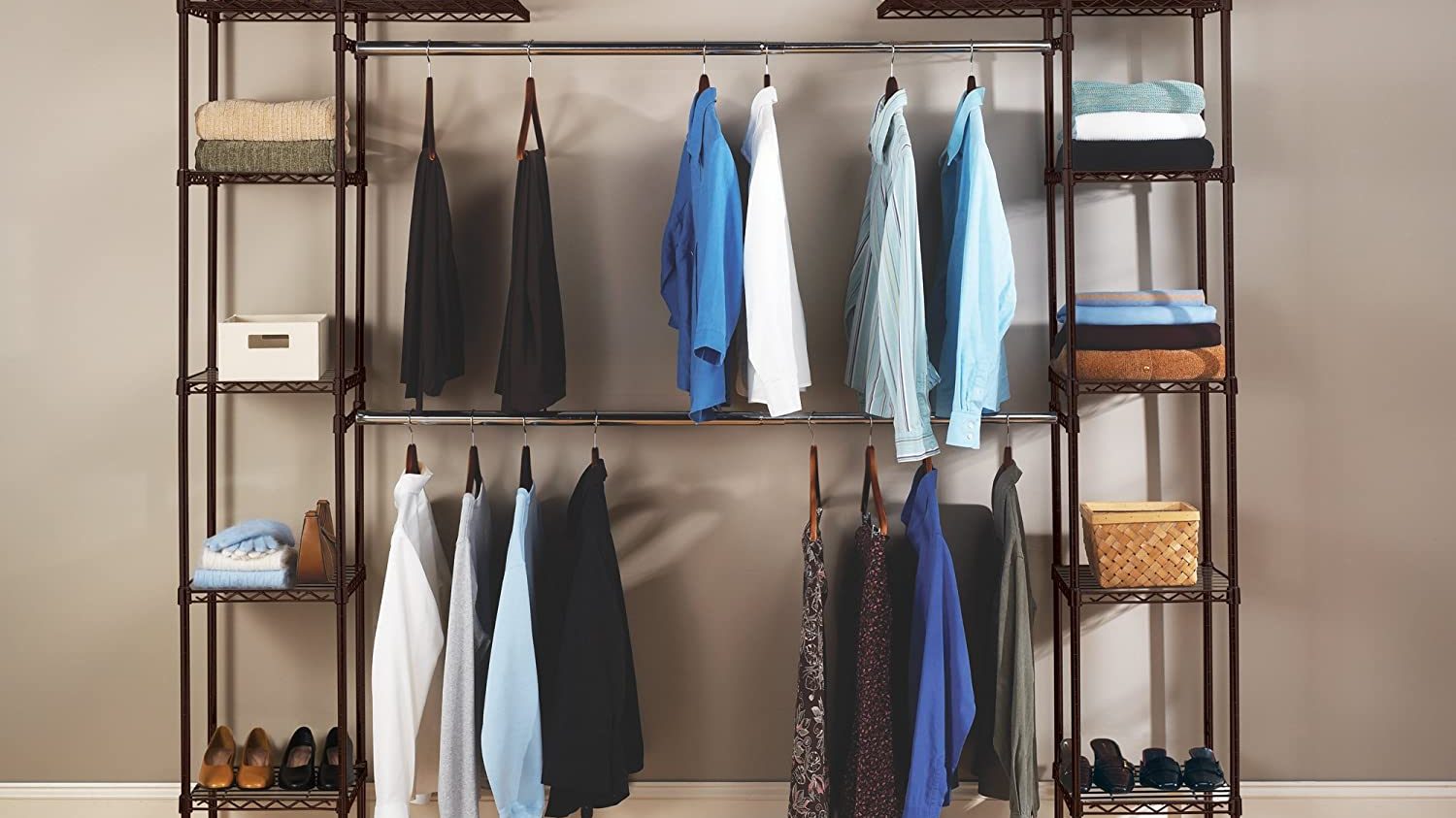 With an extendable design, you'll be hard-pressed to find a portable closet wider and more open than the Seville Classics Expandable Double-Rod Clothes Rack Closet Organizer System. You can expand this from five feet to seven feet, depending on what you are hanging or storing. It adjusts between 58″ and 83″ for a perfect fit to your space. There are five shelves per tower for your folded clothes or shoes. It is made up of steel construction for a heavy-duty, high-capacity use. You can choose between four colors: satin bronze, black/light brown, plated steel, and espresso. It's customizable to your needs and it's very simple to put together. The instructions on how to build it are included.
Seville Classics Expandable Double-Rod Clothes Rack Closet Organizer System, 58" to 83" W x 14"…
Price:
$169.63
Available from Amazon, BGR may receive a commission
Best Closet for Shelves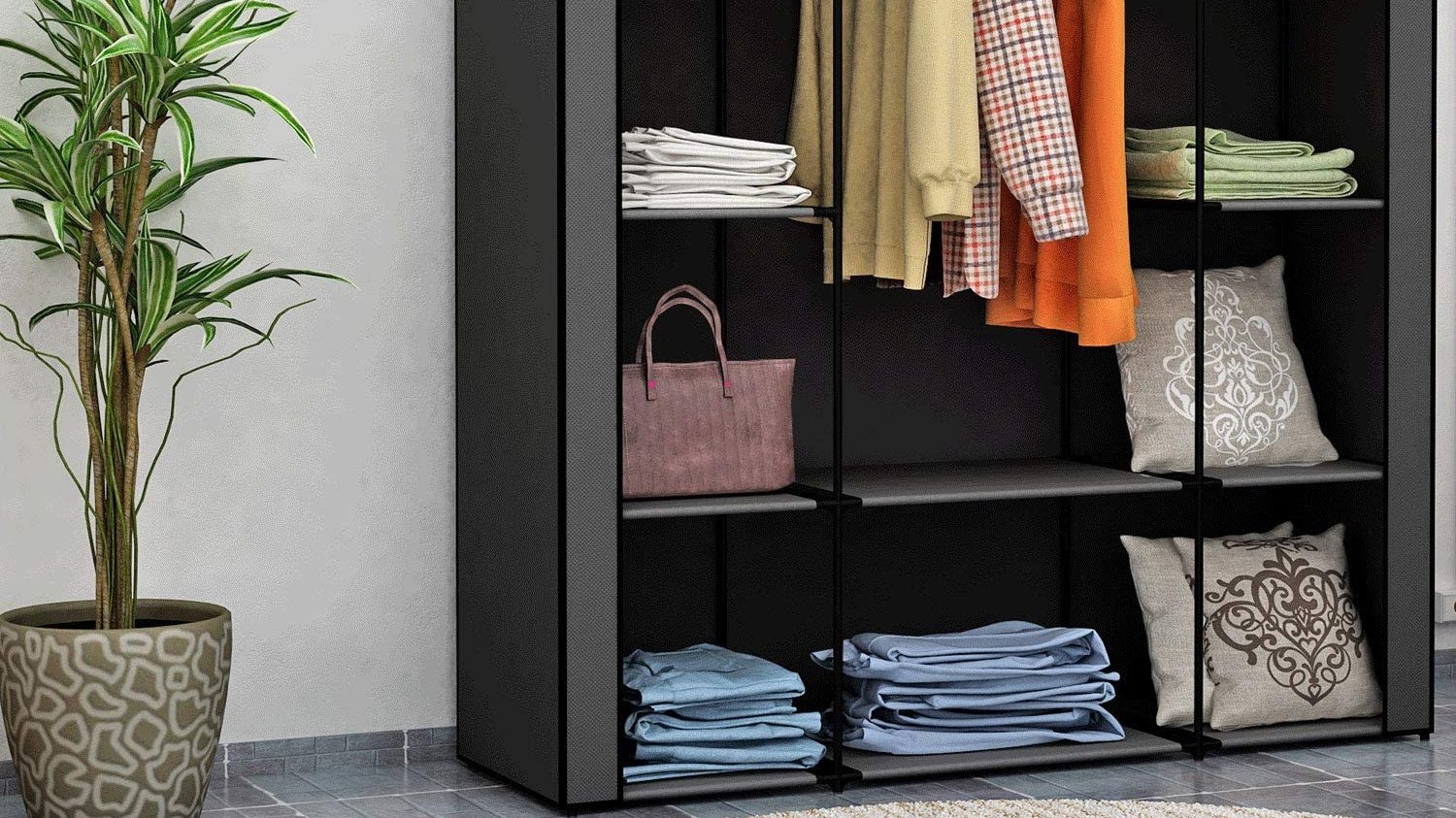 If you need shelves, then check out the Homebi Clothes Closet Portable Wardrobe. This is made from 80g of non-woven fabric, as the portable closet has a sturdy structure. It is constructed with powder-coated metal tubes with water-resistant fabric tiers. The plastic connectors help keep it all together and the diameter of the metal tubes is strengthened. This has 10 shelves for a variety of storage demands, allowing you to organize your shoes, bags, hats, sweaters, T-shirts, and so much more. This is protected by a dust-proof fabric cover that zippers down. There are no tools required to set it up and it's great for smaller rooms.
Homebi Clothes Closet Portable Wardrobe Durable Clothes Storage Organizer Non-Woven Fabric Clot…
Price:
Available from Amazon, BGR may receive a commission
Best Tall Closet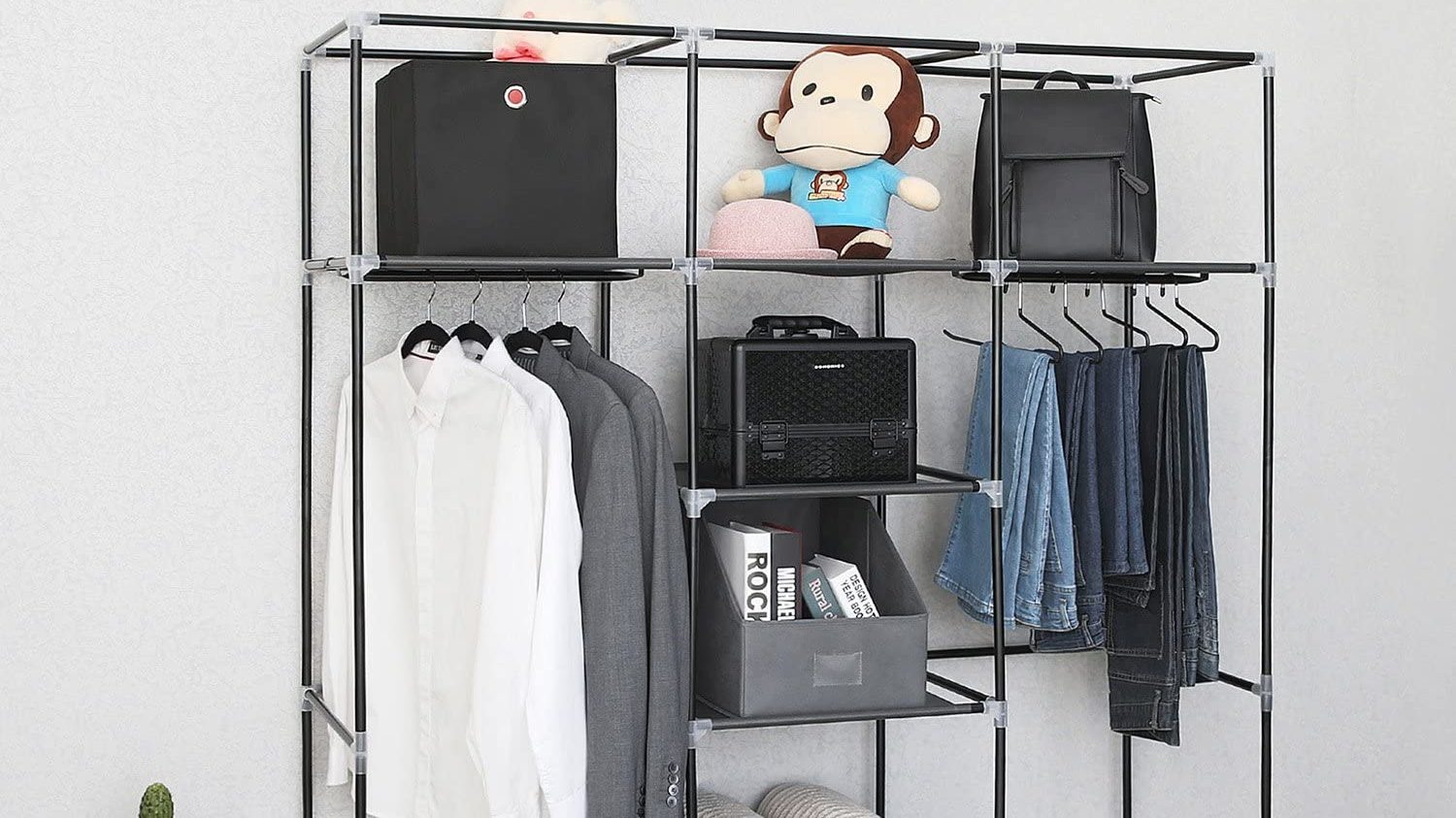 Giving you a little bit more height to hang, the SONGMICS Portable Clothes Closet Non-Woven Fabric Wardrobe Double Rod Storage Organizer is a solid option. Made from a selected non-woven fabric cover, water-proof fabric tiers, high quality steel tubes, and PP plastic connectors, this is built to last. It is 69″ high, making it suitable to be organized as a walk-in closet. There are nine storage shelves to offer you extra space both for longer outfits and folded clothes. It's convenient to use and assemble.
SONGMICS Portable Clothes Closet, Non-Woven Fabric Wardrobe with 2 Hanging Rods, 9 Storage Shel…
Price:
$67.99
Available from Amazon, BGR may receive a commission
Best Budget Closet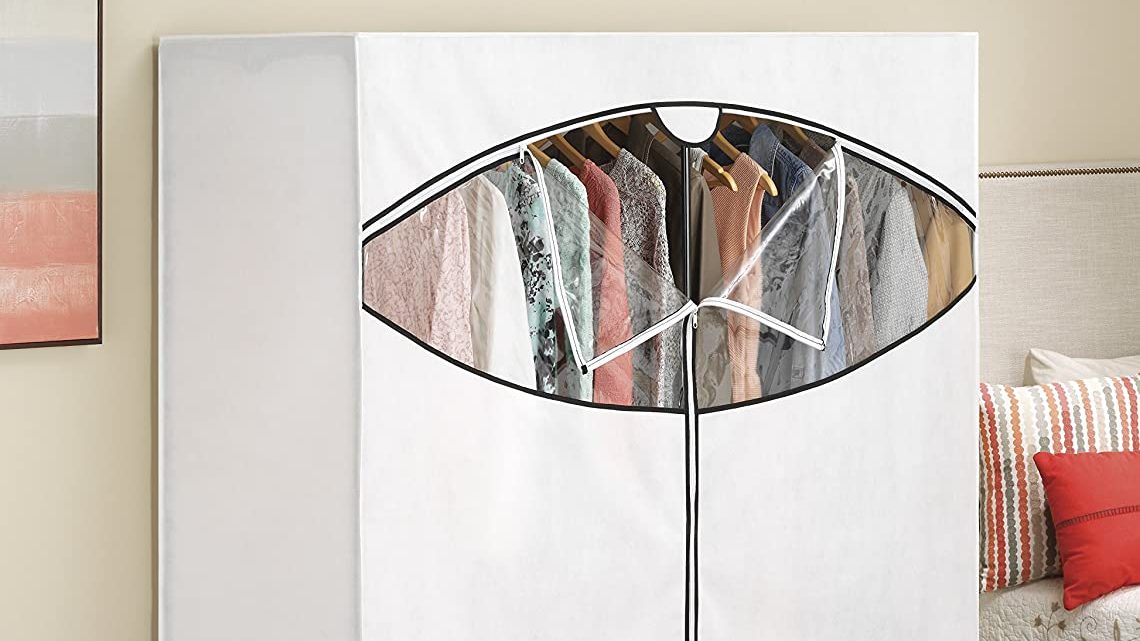 Boasting solid bang for your buck, the Whitmor Extra Wide Clothes Closet is a cost-effective choice for your home. This freestanding closet is a garment rack that can hold up to 50 pounds of clothing. The zippered cover keeps clothes protected from dust, mites, moths, and moisture. It is made from durable steel for a long-lasting build. You can store everyday things or just seasonal clothing, as it will fit in many rooms in your home. It is 19.5″ x 60″ x 64″ and you don't need any tools to assemble it.
Whitmor Extra-Wide Clothes Closet, 60" with, White Cover
Price:
Available from Amazon, BGR may receive a commission