If you purchase an independently reviewed product or service through a link on our website, we may receive an affiliate commission.
Some people can fall asleep just about anywhere. If you're one of those lucky individuals who can curl up and nod off in a chair, bed, couch, car, or a plane, there are plenty of us who are jealous of you. When it comes to decorating your home, napability is something that is definitely considered for those people. That's what makes a futon such a quality purchase. A futon can turn from a couch into a bed in a hurry, providing versatility when choosing furniture. This is also great for those who might not have a spare bedroom and who frequently have guests. Comfort is the name of the game when it comes to futons, so why would you want something that's rigid and hard? We've done the legwork for you in your search for the futon for your living room. Below, check out our picks for the best futons around and then curl up and fall asleep, if you can.
Best Color Variety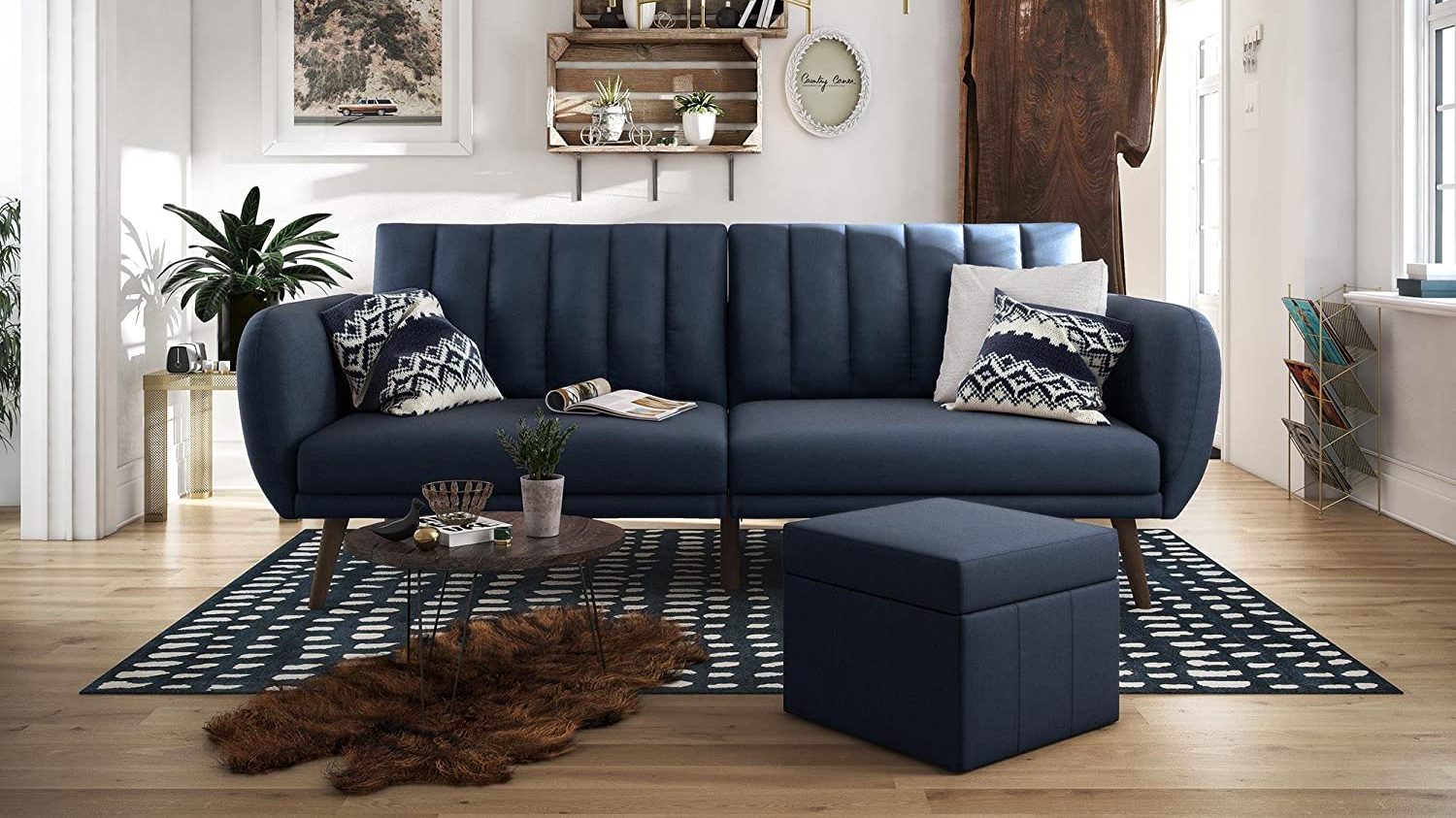 While there are plenty of colors that you'll think of right away when it comes to couches, there are some that you wouldn't think of that do actually work. You'll have plenty of choices if you look at the Novogratz Brittany Sofa Futon. This features stylish linen upholstery that cleans easily with just a wipe. The color selection is varied, as you can pick from gray, green, mustard, navy blue, light blue, dark gray, orange, or pink. The ribbed and tufted cushions on the back of the sofa are comfortable to sit or sleep on. It can hold up to 600 pounds, as the wood frame construction is stable and durable. The wooden legs are slanted and colored with oak. The futon's dimensions are 81.5″ x 34.5″ x 31.5″ and it has a foam filling with comfortable polyester.
Novogratz Brittany Sofa Futon - Premium Upholstery and Wooden Legs - Navy Blue
Price:
$318.55
Available from Amazon, BGR may receive a commission
Best Full Size Futon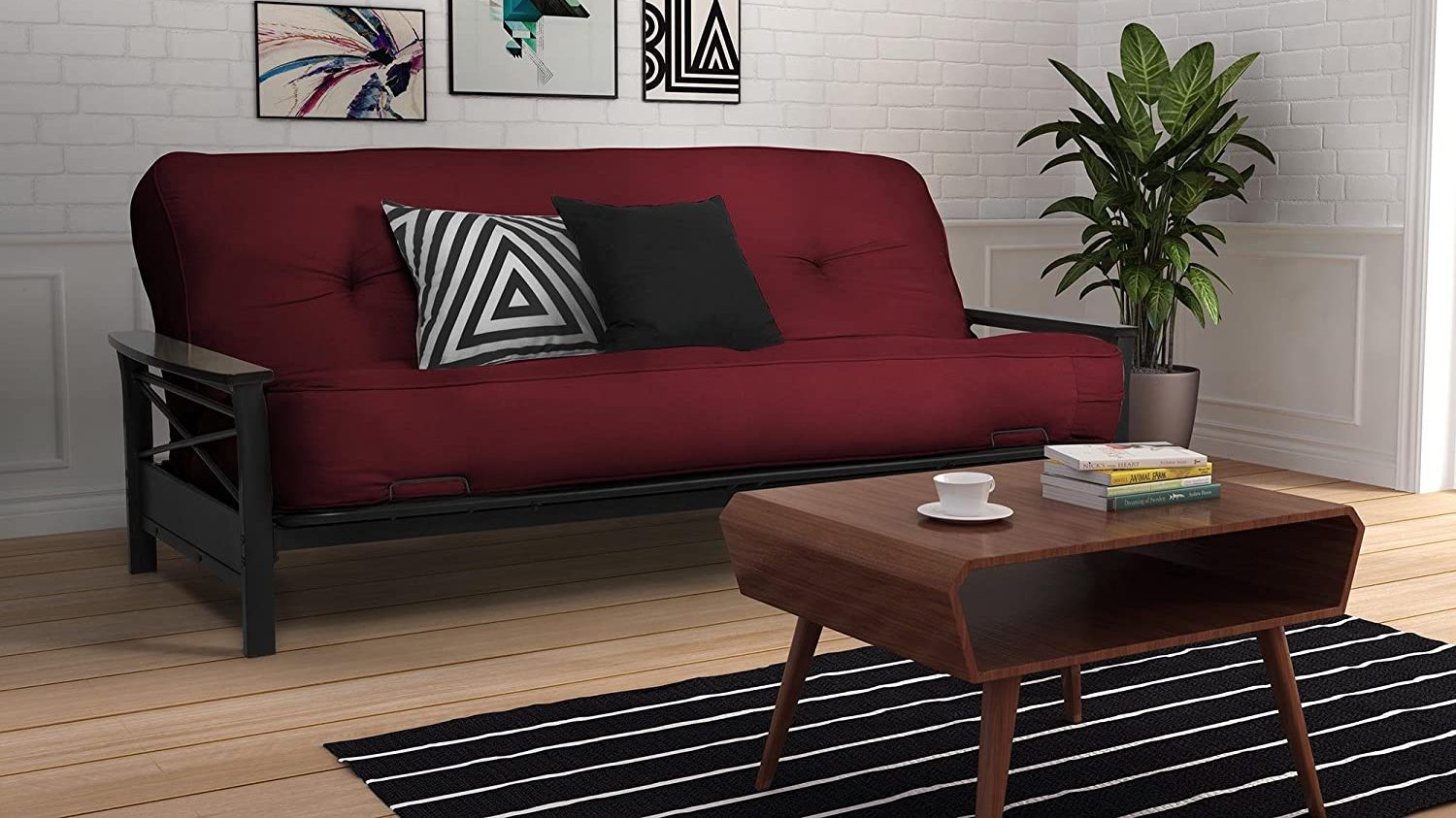 Ultimately providing you with the room of a full size bed, the DHP 8-Inch Independently Encased Coil Futon Mattress is a nice place to sleep. This has foam and polyester layering between the cover and the coils for supreme comfort. The 6″ coil futon mattress has a lavish tufted microfiber cover. There are six different colors you can choose from: merlot, tan, cobalt, charcoal, brown, or black. This will fit any standard full size futon frame and it weighs 71 pounds. The foam inside the mattress is made without any PBDEs, TDCPP, or TCEP flame retardants, ozone depleters, mercury, lead, or heavy metals. It measures 75″ x 54″ x 8″.
DHP 8 Inch Independently Encased Coil Futon Mattress, Red Microfiber
Price:
$309.00
Available from Amazon, BGR may receive a commission
Best Smaller Futon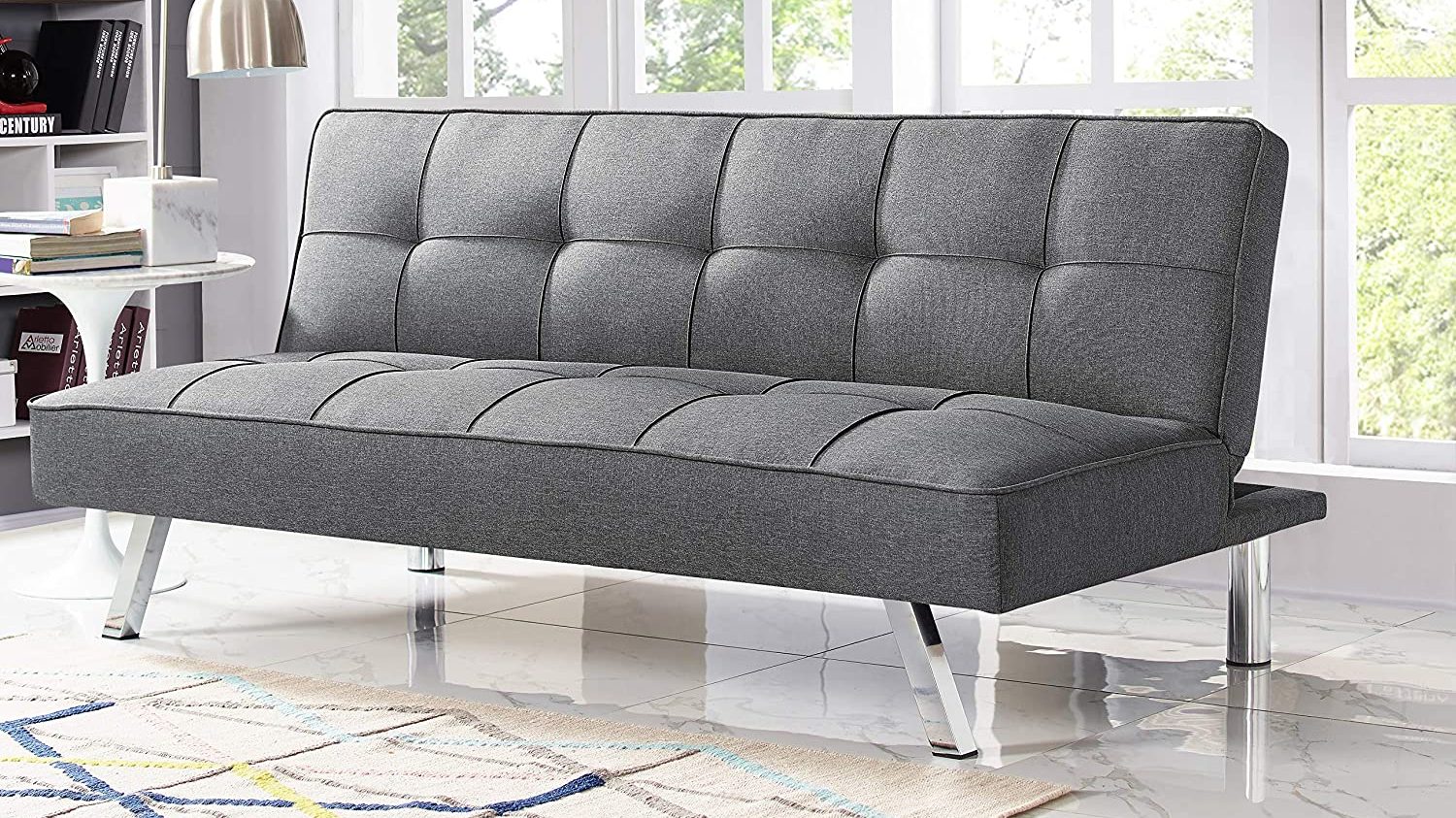 Compared to the previous two choices, the Serta RNE-3S-CC-SET Rane Collection Convertible Sofa is a bit smaller, perfect for narrower areas. The simple yet unique design is contemporary and lends a relaxed and sophisticated look to your room. It is upholstered with quality fabric with a modern design. This easily converts from a sofa to a futon, as you'll be snoozing in no time. This sofa comes in with measurements of 66.1″ x 33.1″ x 29.5″, while the futon is 37.6″ in width and 15″ in height. This features click-clack technology, making set up simple and fast. It comes in charcoal, black, java, and navy blue. It features Finger Guard Safety to keep your fingers protected when you're converting it.
Serta Rane Convertible Sofa Bed, 66.1" W x 33.1" D x 29.5" H, Charcoal
List Price:
$199.00
Price:
$175.00
You Save:
$24.00 (12%)
Available from Amazon, BGR may receive a commission
Best Japanese Traditional Futon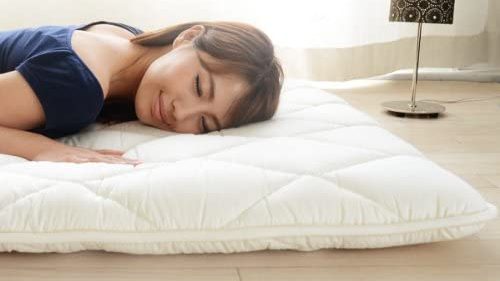 In case you weren't aware, a Japanese futon is a mattress that you lay on the ground. Coming in multiple sizes, the EMOOR Japanese Traditional Futon Mattress Classe is an excellent choice. This is EMOOR's best-selling futon series and it is made from high quality materials. This is about 2.5″ thick, giving you some much-needed cushion for relaxation. The outer fabric is 100% cotton for a comfortable rest. The twin size mattress measures 83″ x 39″ and you should cover it for a more clean experience (sold separately).
EMOOR Japanese Traditional Futon Mattress Classe (39 x 83 x 2.5 in.), Twin-Long Size, Made in J…
Price:
$279.00
Available from Amazon, BGR may receive a commission
Best Memory Foam Futon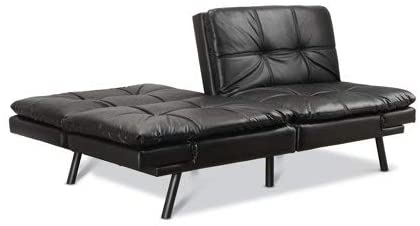 Sleeping on a memory foam mattress can really support all of your joints and limbs. With the Mainstay Memory Foam Futon, you'll feel that support whether you're sitting or laying. This has a split seat back, so you can either put down one or both sections when you're converting it into a futon. If you put just one down, it offers more seating area. It features a wood frame and a memory foam cushion with recycled foam stuffing. The suede fabric cover goes well over the 71.65″ x 33.46″ x 32.48″ dimensions. The plastic legs are durable, so this will last a long time.
Mainstay Memory Foam Futon,Black PU (Black PU) (Black Leather)
Price:
Available from Amazon, BGR may receive a commission