If you purchase an independently reviewed product or service through a link on our website, we may receive an affiliate commission. Learn more.
If you love getting paid iPhone and iPad apps for free — and we know you do — definitely check out Wednesday's roundup, where you'll find a number of sales that haven't yet ended. Of course, there are also eight fresh apps on sale in today's list, and you'll find them all laid out below.
These are paid iPhone and iPad apps that have been made available for free for a limited time by their developers. There is no way to tell how long they will be free. These sales could end an hour from now or a week from now — obviously, the only thing we can guarantee is that they were free at the time this post was written. If you click on a link and see a price listed next to an app instead of the word "get," it is no longer free. The sale has ended. If you download the app, you will be charged.
Data Widget
Normally $1.99.
Apple Watch is supported now!

The first iOS data widget, a single swipe is all!

It takes a creative design named double progress, which brings time and data in one simple diagram. You can see all at a glance .

Compatible with all carrier networks!

Real-time monitoring,history.

Green App: no consumption data, no GPS, no ads
System Info
Normally $1.99.
The App that you must have!
Selfism
Normally $0.99.
Invest in yourself by building new habits and increasing your self-worth each day.

Similar to an investment account, your worth will be adjusted with each completed or missed day and additionally with each developed habit.
To develop a habit you must complete it for 66 days out of the last 70, and in time, with patience and persistence, you will feel like a million.

• Add an motivational picture and write down why you want to develop a habit, and you'll be reminded in case you "forget".

• Track the metrics for each habit to keep yourself motivated and always aiming higher.

• To get you started each day, you'll be greeted by an inspirational quote.

• Earn additional value by performing randomly suggested daily ventures, that are guaranteed to make a difference in your day or that of others.

• Share your progress in style or invite a partner to keep track of your progress on selected habits and motivate each other with rewards.

Are you ready to invest in yourself?
Bean's Quest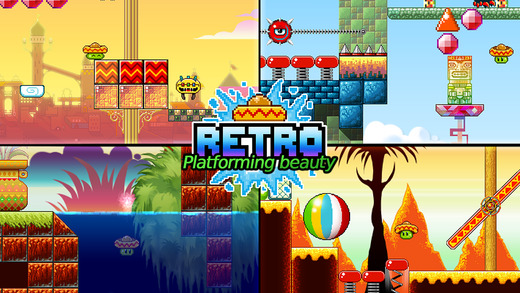 Normally $2.99.
"An iOS platformer that actually works." ~ Penny Arcade

"…offering a huge amount of replay value and an overall stellar presentation." ~ Touch Arcade

Enjoy platforming perfection on the go! Five worlds to explore with three achievements per stage! Bean's Quest is a gorgeous 2D platformer with a twist!

~~ FEATURES ~~
% Supports the new iPhone 6 and iPhone 6 Plus!
% Universal app plays on both iPhone and iPad!
% iCloud support. Your progress will remain in-sync between multiple devices!
% Five unique worlds to conquer!
% Over 150 challenges to complete.
% Game Center Leaderboards integrated.
% Incredible soundtrack with over 10 original pieces of music!

~~ STORY ~~

Emilio has been cursed and his girlfriend kidnapped! Transformed by dark magic into a jumping bean, you must bounce your way to victory through 50 levels spread over 5 worlds. Can you rescue your one true love and find your missing pet axolotls?

Bean's Quest brings back retro platforming to your iPhone or iPad with super intuitive controls; touch left or touch right – it's so simple!

~~ CRITICAL RESPONSE ~~

"An iOS platformer that actually works." ~ Penny Arcade
"…offering a huge amount of replay value and an overall stellar presentation." ~ Touch Arcade
"One of the best games on the iOS platform, hands-down." ~ iPhoneAlley
"The graphics are perfectly vibrant, and have just enough of that 16-bit era pixely-ness to them without going overboard. The original soundtrack by Flashygoodness is an excellent pairing, and the controls work great…" ~ TouchArcade
"The graphics are fun, colorful, and a treat to look at." ~ AppAdvice

Awarded MMGN's App of the Week.

~~ GORGEOUS ART ~~

Beautiful 16-bit stylised artwork fills every stage with a fluid 60 frames per second. Older hardware is also supported. Shimmering diamonds, sparkling special effects and subtle parallax culminate in a mesmerising view!

~~ MUSIC ~~

Each world has a unique soundtrack by acclaimed composer Flashygoodness.

~~ PHYSICS MAYHEM ~~

Push blocks, spin seesaws, roll boulders, crush enemies and dodge spike-balls! Classic platforming blended with physics puzzles and adorable creatures.

~~ DIAMONDS FOREVER! ~~

Every stage is jam packed with jewels to collect. A guy's gotta surprise his girl when he rescues her, right?

~~ RESCUE THOSE AXOLOTLS! ~~

The evil wizard who cursed you also kidnapped your pet axolotls – brutal! There's one hidden in every stage, track them down if you can!

~~ ACHIEVE PERFECT JUMP! ~~

Every stage has a perfect jump count. Make it to the end fast enough and you'll earn the perfect jump badge!
Strand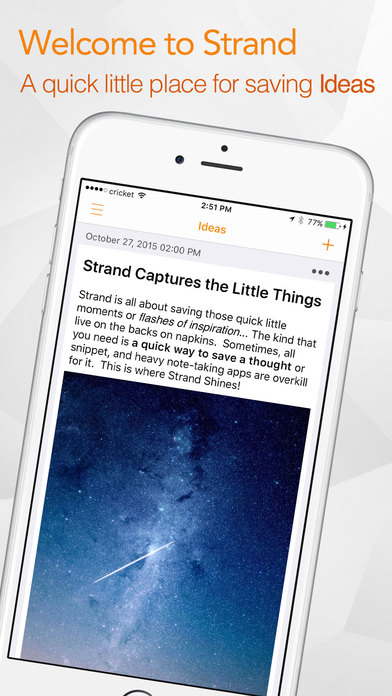 Normally $2.99.
Strand is the perfect way to save your thoughts, snippets, and ideas.

Everything great starts out small. Sometimes, you just need a place to jot down a quick thought or piece of information, and this is what Strand does best. Unlike other note-taking apps, which are too heavy with features, Strand is the perfect starting place where you can quickly and easily type anything you need or want to remember later. Add photos, and bring your ideas to life in an app that is easy to easy, clean, and elegant.

You could use Strand for things like:

• Microblogging or keeping a small journal
• Jotting down your next big idea
• Storing little information you may need later.
• Typing thoughts or reminders to yourself
• And much, much more.

With Strand, your data is saved to the cloud, and available on all your iOS devices. Be sure to give Strand a try today!
Weatherproof Dress
Normally $0.99.
Many have been waiting on this app safely. It shows you not only the weather but also what you can wear. Any weather the app has the appropriate clothing. Whether in the deep winter, hot summer or on a rainy day. The app knows what you can attract.
The weather forecasts range from the current condition over the course of the day to the 7 day forecast.
The clothing preview can be adapted in skin and hair color.
Life
Normally $0.99.
Life is a powerful to-do list & game app that rewards you for completing tasks. Your progression in the game is directly dependent upon things that you do in real life.

Actionable reminders
Since so many of the reminders we set on our phone are about things that we have to 'do on our phone', Life allows you to set actionable reminders. Got a reminder notification to 'Pay the phone bill'? just slide to go to the website. 'Call mom for cheese cake recipe'? just slide the notification to call. Works with Calling, messaging, Email and URL links.

Unified powerful list
All tasks and reminders are unified in one single main list which can be as big as possible but the data you need is still instantly reachable with an innovative sort and scroll slider that takes you to the tasks you need.

Sublists
Independent lists can also be created which appear as a single entry in the main list and can be sorted along all other tasks.

Archive
A lot of to-do apps in the appstore clutter your list with completed tasks that you are not sure you want to delete. With a single pull up of the list, archive all your your completed tasks be it sublists, actionable tasks, reminders or just plain list items. When you need them back simply swipe them back into your main list.

Game
All the hard work you do through the day completing tasks on your list are rewarded as points which are used in the game. Use points to strategise attacks on alien infested continents of earth while managing defenses, resources, economy and your fighters as aliens attack back. The more things you get done in real life, the faster you get rid of the alien invasion.
Pointillisted
Normally $0.99.
Be an electronic Georges Seurat!

The Pointillisted app generates pointillist artwork using images from the Photo Library, including those shared in iCloud, similar to the photo mosaic generating app Patched.

Generated images can be customized by size and type of point (rectangle, circle, triangle, and hexagon), size adjusted to color, and variance in location. Single colors can be isolated in an image. Save artwork to the Photo Library and share through standard services: copying to the pasteboard, posting to social media sites, and sending via email or SMS.

To turn pointillist artwork into a sticky note mosaic, download the sister app, Posted.
---
Our deals and product reviews are picked by BGR's expert editors and team.

Follow @BGRDeals on Twitter to keep up with the latest and greatest deals we find around the web. Prices subject to change without notice and any coupons mentioned above may be available in limited supply.