If you purchase an independently reviewed product or service through a link on our website, we may receive an affiliate commission. Learn more.
We got tons of great feedback following our list of the best paid iPhone and iPad apps on sale for free on Monday, and a handful of those apps are still free downloads today. Definitely go back and check them out if you missed yesterday's post. Of course, we also have a fresh new batch of freebies for you to take a look at today.
These are paid iPhone and iPad apps that have been made available for free for a limited time by their developers. There is no way to tell how long they will be free. These sales could end an hour from now or a week from now — obviously, the only thing we can guarantee is that they were free at the time this post was written. If you click on a link and see a price listed next to an app instead of the word "get," it is no longer free. The sale has ended. If you download the app, you will be charged.
System Activity Monitor
Normally $0.99.
Take a deep dive into your iPhone/iPad to see whats going on inside. System Activity Monitor App, is an iOS activity monitor that provides a unique Dashboard view for for all of iOS devices. It is the best activity monitor of its kind for iOS devices.

The app monitors iOS activity like MEMORY USAGE, BATTERY LIFE, Used Space, and device information. GREAT visuals like Dashboard view, LED indicator, 3D BAR charts, battery charging animation, LED flashing charger, battery health check, provides you a rich visual views of your iOS device internals, like you have never seen before.

$$ Over a million satisfied users of our apps $$

## Few of our user TESTIMONIALS ##
$ Way cool
This is a terrific system tracker.
– Macquest

$ Definitely get this App.!
Love the cool dashboard. Tells you what's going on in the Apple brain in your iPad or iPhone. This App rules.
– Battyguy

$ Simple App !
Great tool! Helps to keep your standby time ridiculously long and device running smoothly.
– Spader1969.

$ I have tried many products like this one and so far I keep coming back to this one.
– Markeith3000

$ System Max
The best and easiest app out there for really knowing what's happening in this little box.
– by Dkievit

The System Activity Monitor, is the most comprehensive all in one health check app. on the App store, that monitors memory usage, battery performance, device information like IP address and hardware address, and used space on the iOS device.

You can use this app to accurately monitor your battery life, monitor memory in use, and used and free space. By appropriately charging the battery using this app to full charge, you can get a good battery life.

KEY FEATURES:

1. Battery tips are shown to help save battery life while using the iPhone.

2. Tap battery to see the battery capacity for your favorite apps.

3. Shows the used and free space on your iPhone/iPod.

4. Shows the IP address acquired, and hardware address of your device.

5. Displays a long list of device information, like physical specs, hardware info, and many more.

These are the different views on the App.

Memory view:

Shows the used and free iPhone memory available as used by other apps. This is shown in an excellent speedometer animation view. Double tap home button, and see other apps in use. Close out the other apps, and see the memory being reclaimed in this app, when the speedometer shows the free memory available increase.

This has an LED indicator with BLUE, GREEN, YELLOW and RED colors indicating the severity of memory being used.

Double tap the speedometer, to see a 3D bar view of the different break up of the memory used. Like, Free, Wired, Active and Inactive memory of your iOS device.
Battery view:

This view shows the battery available for discharge, how much time to recharge to make it full, and when it is charged to FULL, displays an indication, as "FULLY CHARGED", as opposed to quick charge. It has glow panels on the top to let you know, how much battery is available. LIGHT GREEN, GREEN, and RED indicators on battery available.

Tap the battery on the fill, to show the detailed break up of battery availability for 3G talk time, browsing, videos, games etc.

Animated battery charging with current flashes inside the battery.

Space used view:

This is shown as a pie-chart that presents the used and free space available on your iOS device.

Info view:

Now it shows a lot more device information, like system information, camera information, display, hardware and physical characteristics. It shows whether you device is connected to Wi-Fi or cellular and its IP address.
Download System Activity Monitor
Password Keyboard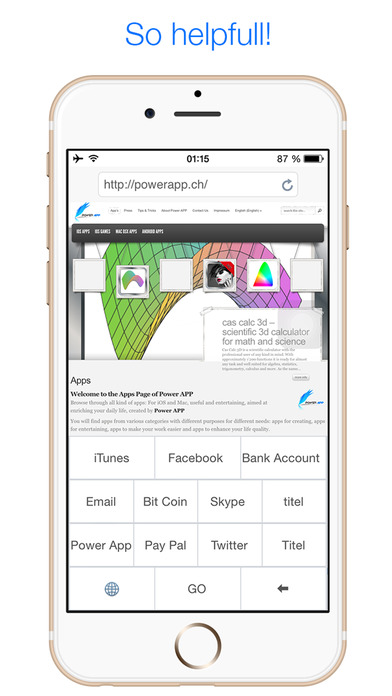 Normally $0.99.
Custom keyboard with quick access to passwords and user names.
Password Keyboard® lets you design your own custom keyboard for direct access to all user names and keywords you need.

Password Keyboard® is for all those who manage several accounts for social networks, auction sites, PayPal, eBay or any other password protected account. Instead of typing user name and password, you can do it all with a single tap on the specific key.

The benefit in using Password Keyboard® is that your data is better protected than having a site remember your settings. When a page remembers your settings, everybody using your iPhone has access to these sites. Be it PayPal, eBay, e-banking, Password Keyboard® adds an additional step for security without complicating things.
This means that other people can use your iPhone, but they do not have access to your login data, either a passcode or a finger print is needed for authentication.

Protect your login data as good as you can, serious harm can happen if you aren't careful.
Never tell any person your passcode, PIN number, password or any information that is meant to protect you!

With Password Keyboard® you can do that, without having to go through the whole process of typing user name and password.

Be sure, be safe, but do not complicate things. That's what Password Keyword is for!

Grab Password Keyboard® today for simple but safe management of all your accounts.
Musemage
Normally $3.99.
***Best new app in China, Singapore, Japan and 15 other countries/regions.

***Awarded App Store Photography & Video recommended App in the United States, Canada, India, and Brazil.

***Top 10 Photo & Video categories app in: Germany, Spain, Italy, the Netherlands, and Russia.

Please note: Full features are only supported by iPhone 5s, iPhone 6, and iPhone 6 plus, iPhone 6s, iPhone 6s Plus, iPad mini2, iPad Air, iPod 6 or newer devices, with iOS 8.0 or later.

With just a simple download, Musemage opens up your mobile device's camera like no their app can do. Musemage's most unique feature is that it enables you to use different filters, and effects all in real-time processing while shooting , without waiting, in full HD video and full-resolution photos!

Musemage's newest version now adds a "video post-editing" function meanwhile it works for 4K videos too!

Try it now, and witnessed the awesome features of Musemage!

【7 Professional Shooting Modes】
Video Mode: Experience multiple shooting features opening simultaneously.
Time-lapse: Different time-lapse speed and various real-time filters and effects as you want.
Photo Mode: Various camera lens and filters all in real-time to help you get a good shot.
Blue Screen: Replace any background into funny picture, or video of your choice.
Manual Mode: Manually adjust focus, white balance, shutter, ISO function.
Stop-Motion: Shoot frame-by-frame, and control the frame rate, easily shoot wonderful videos.
Magic Color: Feel free to change the color of any object, useful in any situation.

【Superior User Experience in Video Editing】
Clip: Cut out any wanted moments with your videos.
Joint: Multiple video clips can be merge into one.
Post-processed Beautify: Smoothen your skin and make it glow.
Music: Add background music from your iTunes Store or included music.
Filters: Apply camera lens filter or color filter in your video
Label: Add your personal label and watermark to shine the video.
*****P.S. Musemage supports 4K videos in all after-processing features.
【Abundant Real-time Functions in shooting】
Exclusive image stabilization
Five-axis image stabilization, digital video image stabilization technology brought to the mobile phone. Hand-held shooting on bumpy conditions are guaranteed rock solid frame.

Real-Time Beauty
Full HD video real-beautifying, repair wrinkles and blemishes, hair, eyes and other details. Instantly have a smooth face.

Noise at night
Easily shoot at night with Musemage's HDR function at night and reduce noise effect.

Real-time HDR
Automatically control the brightness of the picture detail, restore normal exposure, shadows and highlight detail 3 EV or more. Changing the exposure and tone mapping, rendering more realistic and brighter scenes.

33 camera lens filter and special effects filters
5 Lens Filters (bokeh, tilt-shift, vignette, etc.)
6 Distortion Filters (perspective correction, fisheye, etc.)
7 Art Filters (paintings, drawings, gouache, etc.)
5 Weather Filters (reflection, defog, snow, etc.)
5 Equipment Filters (spotlight, wide-screen, thermal, etc.)
5 Monster Filters (ghost, terminator, werewolf, etc.)

44 color filters in real-time
6 Adventure filters
7 Film filters
6 Black and white filters
6 Lomo filters
5 Documentary filters
4 Light leakage filters
10 Movie filters
CubicToDo
Normally $1.99.
With CubicToDo, you will be able to manage the ToDo in the sense, such as fiddling with three-dimensional cube.

Have fun!

Function
-You can return to the previous page by swiping left.
-You can easily add and pull down lists and items.
-You can edit the list and press and hold the item.

Recommended for applications such
-Project management and work
-Inventory list of travel
-Restaurant list that I want to go
-Shopping list
-List of books you want to read and want to watch movies
-List of things you want to do before you die
-Quotations list
-Grocery Shopping list
-Wish list
-Check list
-It is recommended to people to feel that it is a bit difficult with Clear and Toodledo, OmniFocus, task +, Any.Do To-do list, the Wunderlist.
Translate 2 for Safari
Normally $4.99.
Translate 2 for Safari – Translate & Speak Web
(TranslateSafari 2 – Translate & Speak Extension for Safari)

The app is a Safari extension that translates and speaks aloud the entire web page of Safari app.
A must have app to translate and speak aloud web pages of Safari.

Useful Features
● Translate the entire web page of Safari app
– Support both Bing Translator (40+ languages) and Google Translate (60+ languages) translation services
– Show both original web page and translation
– Display the original text for each translated sentence

● Speak aloud the entire web page of Safari app
– Speak 30+ languages
– Read all unread web pages automatically
– Swipe to control skipping sentences
– Highlight word by word for each speaking sentence
– Speak aloud the clicked web page
– Add favorite web pages with "Starred" to speak aloud later
– With funny bear and human face animations while speaking
– Support useful speaking repeat, pause, speed and pitch options

● Optimize speak functions (Pro)
– Background operation support: keep reading aloud web pages in the background while using another app
– Lock screen support: play, pause, skip a sentence, adjust playback volume and see the sentences list on the lock screen
– Headphone support: play, pause, adjust playback volume and detect headphone plugged and unplugged
Features
● A Safari extension that translates the entire web page
The app provides a Safari extension that translates the entire web page of Safari app.

● Supports both Bing Translator and Google Translate translation services
The app supports both Bing Translator (40+ languages) and Google Translate (60+ languages) translation services.
The service requires the internet connection while translating.

● Display the original text for each translated sentence
The app could display the original text while taping the translated sentence.
Show both original web page and translation. Switch between the translation and original web page (Google Translate, iPad).

● A Safari extension that speaks aloud the entire web page sentence by sentence
The app integrates the system text-to-speech engine, speaks aloud sentence by sentence without internet connecting.
Speak 30+ languages:
Arabic (Saudi Arabia), Chinese (China), Chinese (Cantonese), Chinese (Taiwan), Czech (Czech Republic), Danish (Denmark), Dutch (Belgium), Dutch (Netherlands), English (Australia), English (Ireland), English (South Africa), English (United Kingdom), English (United States), Finnish (Finland), French (Canada), French (France), German (Germany), Greek (Greece), Hebrew (Israel), Hindi (India), Hungarian (Hungary), Indonesian (Indonesia), Italian (Italy), Japanese (Japan), Korean (South Korea), Norwegian (Norway), Polish (Poland), Portuguese (Brazil), Portuguese (Portugal), Romanian (Romania), Russian (Russia), Slovak (Slovakia), Spanish (Mexico), Spanish (Spain), Swedish (Sweden), Thai (Thailand) and Turkish (Turkey).
The app supports one system language, you can make in-app purchases to buy extra languages.

● Add favorite web pages with "Starred"
Add favorite web pages with "Starred" to speak aloud later.
You can swipe to mark a starred item as read or unread, and flag or unflag a starred item.

● Read all unread web pages automatically
The app can read all unread starred web pages automatically.

● Swipe to control skipping sentences
You can skip a sentence or all below sentences while in Speak mode.

● Speak aloud the clicked web page
If you click the link on web page while in Speak mode, the app will read the clicked web page automatically.

● Support useful speaking options
Repeat times of the whole article, repeat times of each sentence, speaking pause seconds between sentences, speaking speed, speaking pitch and font size options.

● Speaking face animation

● Highlight words while speaking
The app will highlight word by word for each speaking sentence.
Download Translate 2 for Safari
Willio
Normally $2.99.
New: uneven shares and multiple currencies support!

Willio lets you split bills between friends and keep track of who owes what.

+ Keep track of who owes what +
Create an event, and add the participants from your contacts. Then add a payment each time someone pays for the group. If the payment should not be split equally among the participants, you can specify specific shares or amounts.

+ Use multiple currencies +
Choose a currency for your event. If you have to do some payments in other currencies, just pick the one you want when adding the payment. Willio will get the exchange rate for you. If you are offline, you can set the exchange rate manually.

+ Keep it balanced +
See at a glance who should pay next, to keep the debts balanced. Willio sorts the participants by who owes the most.

+ Don't break the bank +
You have a budget and don't want to spend too much during your weekend? Willio shows the amount you spent so far.

+ Send a report via email +
Send an email listing who owes what to all the participants. The email report describes how the debts can be solved. Also the payments description is attached as a spreadsheet file.

If you have any question or suggestion about Willio, please send an email to support@clairereynaud.net.

Attributions: beautiful pictures by Luigi Morante, Jonathan Kos-Read, Kohlmann Sascha, John Steven Fernandez and Symic, on Flickr.
Trixibrix
Normally $0.99.
Amazing combination of brick breaking and side scrolling gameplay with simple and super responsive controls.

Best in class ball physics and beautiful smooth graphics with true motion blur.

Challenge your friends on the great leader board powered by Game Center.

Enjoy the beautifully crafted endless level and incredible long lasting fun.
Personal Money Manager
Normally $0.99.
Personal Money Manager is an integrated expense tracker designed to help you track your expenses, income, bills-due and account balances. It offers support for budgeting, and allows analysis of your expenses and income, including charts and graphs.

Income and expenses:
– one balance for all transactions
– financial statement review on a display
– revenues and expenses management
– comfortable adding of new events
– filter of transactions according to dates
– every month review of statistics

Exchange rate:
– main world currency
– some results at the same time
– fast access to selected currency
– the newest information

Notes:
– provide with opportunity of keeping financial notes
– easy-to-use
– system of reminders
Download Personal Money Manager
air radio tune
Normally $0.99.
Air radio tune provides a quick and easy way to listen to thousands of streaming Internet radio stations and free music on your iPhone,iPad and iPod. Listen the most important of the large collection of music, news, sports and speaking stations worldwide. Over 30,000 radio stations in great quality, of any genre and style. Create playlists of favorites to your liking and direction.
Watch video on facebook.com/airradiotune and vk.com/airradiotune.

– Access to more than 30,000 radio stations on your iPhone, iPad or iPod Touch.
– Multitasking supports background audio playback so you can listen while doing other things.
– Search for an artist and name of the station.
– Update stations from internet.
– Organize a list of your favorite stations.
– Supports broadband streams.
– Scanning stations with the established interval.
– Set buffering timer.
– Add, edit and delete your own stations.
– Album and artist information displayed when available.
– Time-shifting with live streams:rewind and fast forward back to "live".
– MP3 "on demand" file streaming with time-shifting features.
– Support for MP3, AAC, and AAC+ v1 (also called HE AAC), and HE AACv2 audio streams.
– Add custom URLs – pls, m3u, mp3 and AAC direct link.
– Automatic handling of interruptions due to incoming phone calls or audio from other apps.
– Music visualizer: see the animations react to the music.
– Information about the free RAM and free storage.
– AirPlay support – stream the music wirelessly to other AirPlay compatible devices.
– Setting of memory for audio packets.
– Defines the amount of audio playback time.
– Local radio stations from China, USA, UK, Russia, Italy, France, Germany, Spain, Ukraine, Portugal, Netherlands, Sweden, Austria, Armenia, Belgium, Switzerland, Poland, Belarus, Czech Republic and Denmark.