If you purchase an independently reviewed product or service through a link on our website, we may receive an affiliate commission. Learn more.
If you thought yesterday's post on paid iPhone and iPad apps was a good one… well… you'd be correct. It was an awesome roundup, and some of those apps are still available as free downloads right now. We've got 10 fresh apps for you to check out on Tuesday though, and remember these sales could end at any time.
This post covers paid iPhone and iPad apps that have been made available for free for a limited time by their developers. BGR is not affiliated with any developers. There is no way to tell how long they will be free. These sales could end an hour from now or a week from now — obviously, the only thing we can guarantee is that they were free at the time this post was written. If you click on a link and see a price listed next to an app instead of the word "get," it is no longer free. The sale has ended. If you download the app anyway, you will be charged by Apple.
Network Utility Pro
Normally $0.99.
********
App and Widget were updated for iOS 10!
Add to your notification center every available Network Info and Data Usage*.
********

With Network Utility you can quickly find all informations about your network. Information such as internal and external IP, network name, MAC address, gateway address, subnet mask and DNS addresses.
In addition, with a single tap you can PING a domain, query a Whois server or use NSLookup function to discover every info about it.

You can copy any information of the network that you are connected, simply tap on it!
You can also copy result of Whois or NSLookup and paste it everywhere on your iOS device.

An amazing real time graph help you to visualize PING response times, and Network Utility v4 has also real time stats.

Network Utility 4.1 brings to you an advanced Data Usage monitor tool! Configure it, and see how much space you have left.

The Geo IP tool allows you to to quickly geolocate a domain or IP in a matter of seconds.

You can use the Dig tool for querying Domain Name System (DNS) servers.

——————————————————————————–

DATA USAGE PLANS
Daily
Weekly
Monthly
30 days
28 days (**NEW**)

AVAILABLE NETWORK INFO
Internet
– ISP
– IP
– IPv6
– REACHABILITY STATUS
– DNS
– TOTAL SENT DATA
– TOTAL RECEIVED DATA

Wi-Fi
– SSID
– BSSID
– IP
– GATEWAY
– MASK
– MAC ADDRESS
– SENT DATA
– RECEIVED DATA

Cellular
– CARRIER
– RADIO ACCESS TECHNOLOGY
– VoIP SUPPORT
– SENT DATA
– RECEIVED DATA

——————————————————————————–

PING OPTIONS
– IPv4/IPv6
– COUNT
– WAIT
– TIMEOUT
– PACKET SIZE
Nacho Mail
Normally $2.99.
Nacho Mail is a smart email client that identifies your important messages and helps you manage your To-Do list along with your emails in a single app. 90% of action-items originate in email, now you have a tool to manage actions and emails at work. Of course, Nacho Mail also contains embedded chat, allowing users to chat, manage their calendar, manage contacts and their action items, all in one great mobile app.

Works with Exchange Active Sync, Gmail, Google Apps For Business, Amazon for Work and all IMAP email services. Nacho Mail includes Enterprise Nacho Mail can be deployed through your enterprise MDM vendor.

Nacho Mail provides integrated calendar, chat,contacts, email and action items for users in a simple interface. The goal of Nacho Mail is to make it easier to be productive.
Aero Fish
Normally $0.99.
Aero Fish is an addicting arcade game, there are 3 playable characters all providing a different gameplay experience.

The characters you have to choose from are Yellow (basic), Orange (a little crazy) and Red (All out mayhem).

Test yourself against the challenging course of obstacles which come your way. Avoid the rocks and shoot the enemies to attain a high score.

No flappy nonsense here, this is straight up mayhem! You think you have what it takes? then why not test yourself with this amazingly, addicting endless go90 game!

But beware………this game may become too addicting and take over your day to day life. Worth the risk? We certainly think so!

Challenge your friends through GameCenter and social media to see who is the top player. Do you have what it takes to be number one on our leaderboard? Who knows there maybe a special prize for the person who can stay there the longest.
Data Widget
Normally $1.99.
Apple Watch is supported now!

The first iOS data widget, a single swipe is all!

It takes a creative design named double progress, which brings time and data in one simple diagram. You can see all at a glance .

Compatible with all carrier networks!

Real-time monitoring,history.

Green App: no consumption data, no GPS, no ads
iDisplay
Normally $19.99.
Turn your iPad or iPhone into an additional touch-screen display for your Mac or Windows computer or mirror your desktop.
All usual desktop apps, such as Excel, Word, PowerPoint or Photoshop, are available with desktop features on iPad and iPhone, touch-enabled.
Works with both, Lightning and 30-pin cable connection or Wifi on macOS (with almost 0 latency).

Double your personal productivity by extending your computer screen. Perfect tool for multitaskers, iDisplay lets you use your iPad and iPhone as an interactive touch-screen wireless display to give you more screen real estate. Works with up to 60fps.

Recommended by Kim Komando, tech guru of USA Today.
"iDisplay app turns your iPad or iPhone into secondary screen – too good to be true. That's… brilliant. I mean, I can think of about a billion uses for this." MobileCrunch
"Yet another reason to buy an iPad: iDisplay" MobileWhack

Why choose iDisplay over hardware display?

Your iPad, iPad Pro, iPhone and iPod touch can be your secondary display.
Works with both Mac and Windows computers.
iDisplay lets you interact with your additional display: move objects, draw, control playback.
Pan and zoom your desktop right on iOS device.
Easily switch between portrait and landscape screen orientations: simply rotate your device and it will adjust automatically.
Normal and double resolution modes for Retina displays.
Customize display settings for each device you use as your secondary display, iDisplay will remember your preferences.
Work with Excel, Word, Power Point and other apps and have all desktop features available on your iPad or iPhone.

On macOS you can choose one of the following iDisplay modes:
Use iDisplay as a regular secondary display: gives you more screen space for everything you have to keep your eye on.
Mirror image from main display on your iPad / iPhone: comes in handy when you need to share your desktop with your audience. Keep in mind that iDisplay allows to connect multiple devices to one Mac! Yes, lots of them! Many colleges use iDisplay.

On Windows, iDisplay can be used as a regular secondary display.

COMPATIBILITY:

macOS
iDisplay Desktop application needs to be installed on your Mac.
iDisplay Desktop is free and can be downloaded anytime at getidisplay.com
iDisplay is compatible with Macs with Intel CPUs running on Mac OS X 10.9 and later. macOS Sierra supported!

Windows
iDisplay Desktop application needs to be installed on your PC.
iDisplay Desktop is free and can be downloaded anytime at getidisplay.com
iDisplay is compatible with Windows XP (32­bit only), Windows Vista (32­ and 64­bit), Windows 7 (32­ and 64­bit), Windows 8 and Windows 10.

For Windows Vista and Windows 7 "Aero" theme may be disabled when connected to iDisplay and will be re­enabled upon disconnection).

NETWORK CONNECTIVITY
Your computer and iOS device must be connected by cable or to the same Wi­Fi network.
VOX
Normally $3.99.
#1 Music Player for iPhone and Mac!
SoundCloud®, Spotify and personal music collection – listen to the music in the best quality from the different sources.

TOP 1 PAID application on the App Store in 2016.

Key features:

– LOOP for VOX™.
• Your personal and absolutely Unlimited music cloud storage. We don't compress any music! Sync, stream and cache your entire sound library between Mac and iPhone in full audio quality.

– Listen to your music now! We support all popular formats.
• Lossless: FLAC, APE, WAV, ALAC, etc. and Lossy: MP3, WMA, OGG, etc. Exclusive Hi-Res format support for crisp clean sound. Powered by BASS™ audio engine.

– All-in-one Music Player from all of your favorite music sources:
• iTunes Playlists;
• Personal FLAC Collection;
• Play stream from SoundCloud®, Spotify;
• Online Radio with 30'000+ Radio Stations;
… and even more :-).

– Unique Design. We're taking iOS design & experience on a completely new level.
• Gesture-based interface;
• Gapless playback support;
• Stream music via AirPlay;
• Exclusive sound Equalizer;
• Offline Mode for music playlist;
• CarPlay support
• Force Touch support
• Share you music with friends (for SoundCloud®)
Dead Venture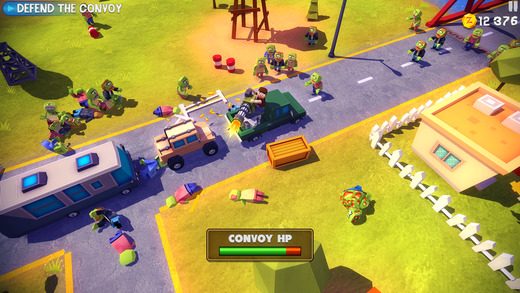 Normally $0.99.
Battle legions of undead, help other survivors in 8 chapters of story mode!

The world is infected, the human race almost wiped out. Zombies roam the streets everywhere. A handful of survivors fight their way to safe haven, a military base on a far island.

There is no cure, no help only you and your mounted gun!

– Play the story mode with 8 chapters!
– Smash zombies, beat bosses, earn cash!
– Upgrade your car and guns and be more effective!
– Help survivors with their tasks!
– Test your skills and compete your friends in Time Trial and endless Survival mode!
– Replay the story mode and try to finish in less days

Load your gun, start your engine and get ready to have a lot of fun!
Radio 2
Normally $0.99.
Introducing "Radio 2" – your personal radio receiver!

It's become easier and more pleasant to listen to the radio with "Radio 2", as well as to search for new radio stations and discover new genres. You always have at hand not only the best stations which are comfortably allocated to genres and categories, but all the immense quantity of Internet radio which you can set in a couple of touches.

A team of curators constantly renews the catalogue of the stations of your region, hunts for some new, dynamically developing stations in new genres and directions which, probably, you're going to listen to tomorrow.
Find My Bike
Normally $0.99.
Have you often forgotten where you left your Bike?
Then "Find My Bike" is the perfect app for you!

App overview:

-Save parking position by means of GPS
-Make additional corrections via Drag&Drop
-Share parking position with other Find My Bike users
-Calculate and display route between your current position and parking position (optional: Maps, Google Maps, Navigation)
-Compass Feature
-Save photo
-Possibility to set a timer for an elapsing parking ticket
-Add memos to be able to assure parking level including parking position or other parking information in a multistory bike-park.

Special features:

Share functionality
If you share your bike/bicycle with other people and you would like to inform your partner of the whereabouts of your bike/bicycle you can do this very easily with the Share function directly from the app.

Save photo
You can take a picture of your parking position and save it. This way you can find your bike/bicycle even more easily.

Advanced route guides
If you would like to have a route calculated to your bike/bicycle you will be constantly updated in real-time on the distance and the approximate arrival time.

Compass Feature
With the help of the compass function, you can find your bike/bicycle quickly and easily. The map will directly show you what direction you are looking in.

Spot-Me feature
By clicking on the Spot-Me button you never lose track on the map and you will always know exactly where you are.

Offline function
When you have set your parking position once, it is saved on the device and you can then completely close the app. Upon reopening the app, the saved parking position will be displayed again.
noScroll
Normally $0.99.
Gone are the days of asking friends and family not to swipe through when showing pics from your last trip!

Pass your device to friends and family to show them only the photos you've selected.

noScroll gives you control and convenience when showing your photos in person – you can skip over all those in-between shots and focus on the highlights!

Keep your photos secure with touchID or a passcode.
---
Our deals and product reviews are picked by BGR's expert editors and team.

Follow @BGRDeals on Twitter to keep up with the latest and greatest deals we find around the web. Prices subject to change without notice and any coupons mentioned above may be available in limited supply.