If you purchase an independently reviewed product or service through a link on our website, we may receive an affiliate commission.
Perfecting French cuisine is extremely difficult, unless you have many years of training, have spent time in France, and are committed to learning the way of finer foods. So, if you're not looking to make that big of a commitment, you probably won't become a world-renowned French chef. But that doesn't have to stop you from enjoying French food. One of the finest and most versatile culinary creations to come from France is the crepe. Crepes can be eaten at any time of day and filled with both sweet and savory ingredients. If you frequently have a hankering for the thin delights, consider getting a crepe maker for your home. While you can attempt to create a crepe in a rounded pan at home, that doesn't guarantee that they will be as evenly heated as in a professional maker. Crepes are a great dish to create with your family because of the endless possibilities. If you don't know where to start when it comes to crepe makers, we've done the legwork for you. Read below for our picks for the best crepe makers you can find and start your journey to becoming either a satisfied eater or a French chef.
Most Powerful Crepe Maker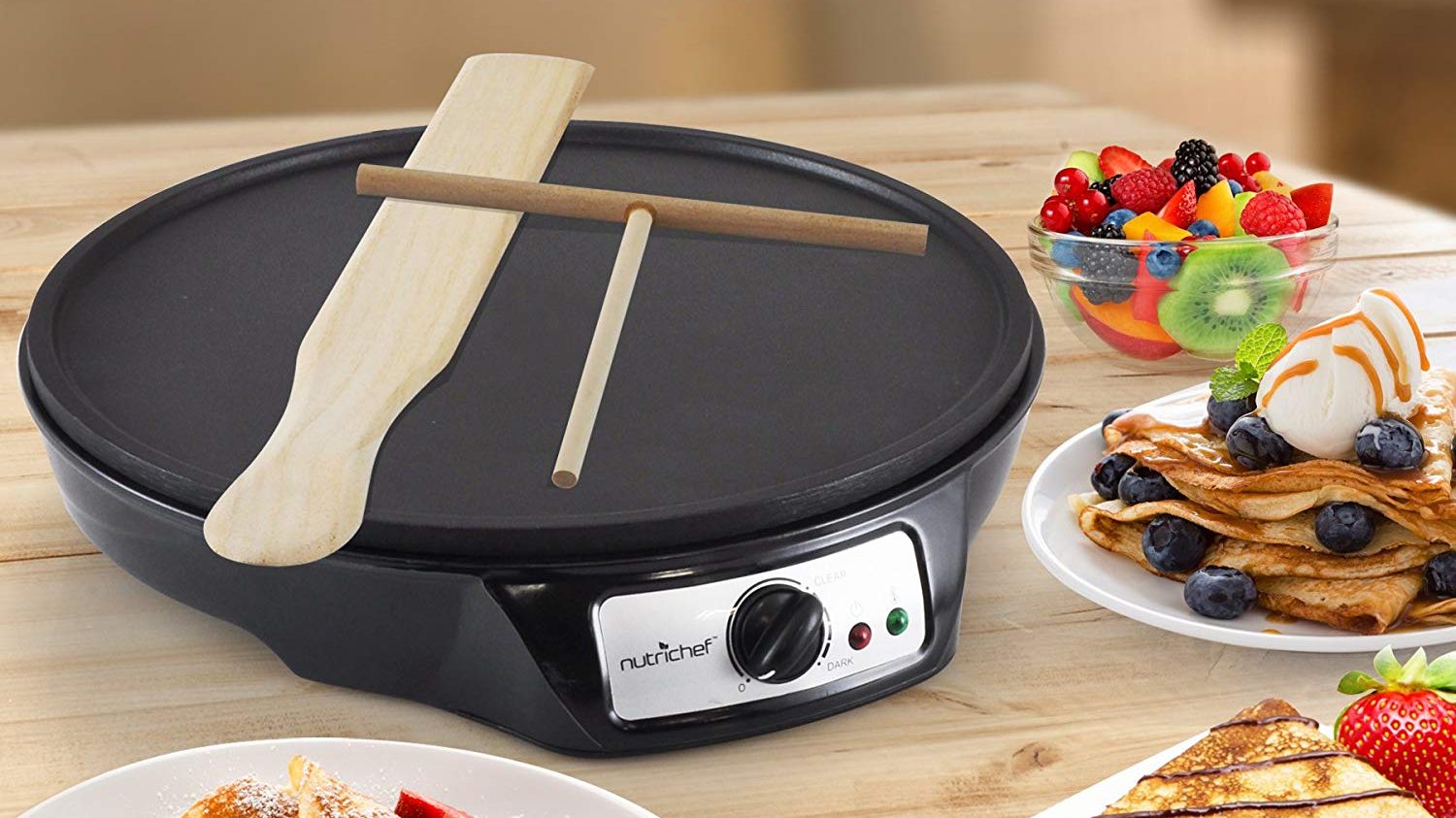 While you may not think about power when it comes to a delicate, pancake-like meal, you're going to want something that heats up fast. The NutriChef 12-Inch Electric Crepe Maker is powerful but heats your crepe safely. You can make both crepes and blintzes on this griddle, while it's also perfect for making eggs, bacon, or pancakes. The high powered heating element boasts 1200 Watts of power and is small enough to be carried from place to place. It also comes with a 2.5′ power cord, so you don't have to put it directly next to an outlet. This also features an adjustable, rotary dial, temperature control gauge to cook your food to your liking. The LED indicator light will let you know when the maker is the temperature that you've set it. In order to get the batter for your crepe the right consistency, there is a wooden spatula and a wooden batter spreader that makes the preparation much easier. There is a 12-inch cooking space that is non-stick, allowing you to take your food off without scraping it. You won't experience any mess while flipping your crepe either.
Electric Griddle Crepe Maker Cooktop - Nonstick 12 Inch Aluminum Hot Plate with LED Indicator L…
List Price:
$32.99
Price:
$25.99
You Save:
$7.00 (21%)
Available from Amazon, BGR may receive a commission
Best Crepe Maker for New Chefs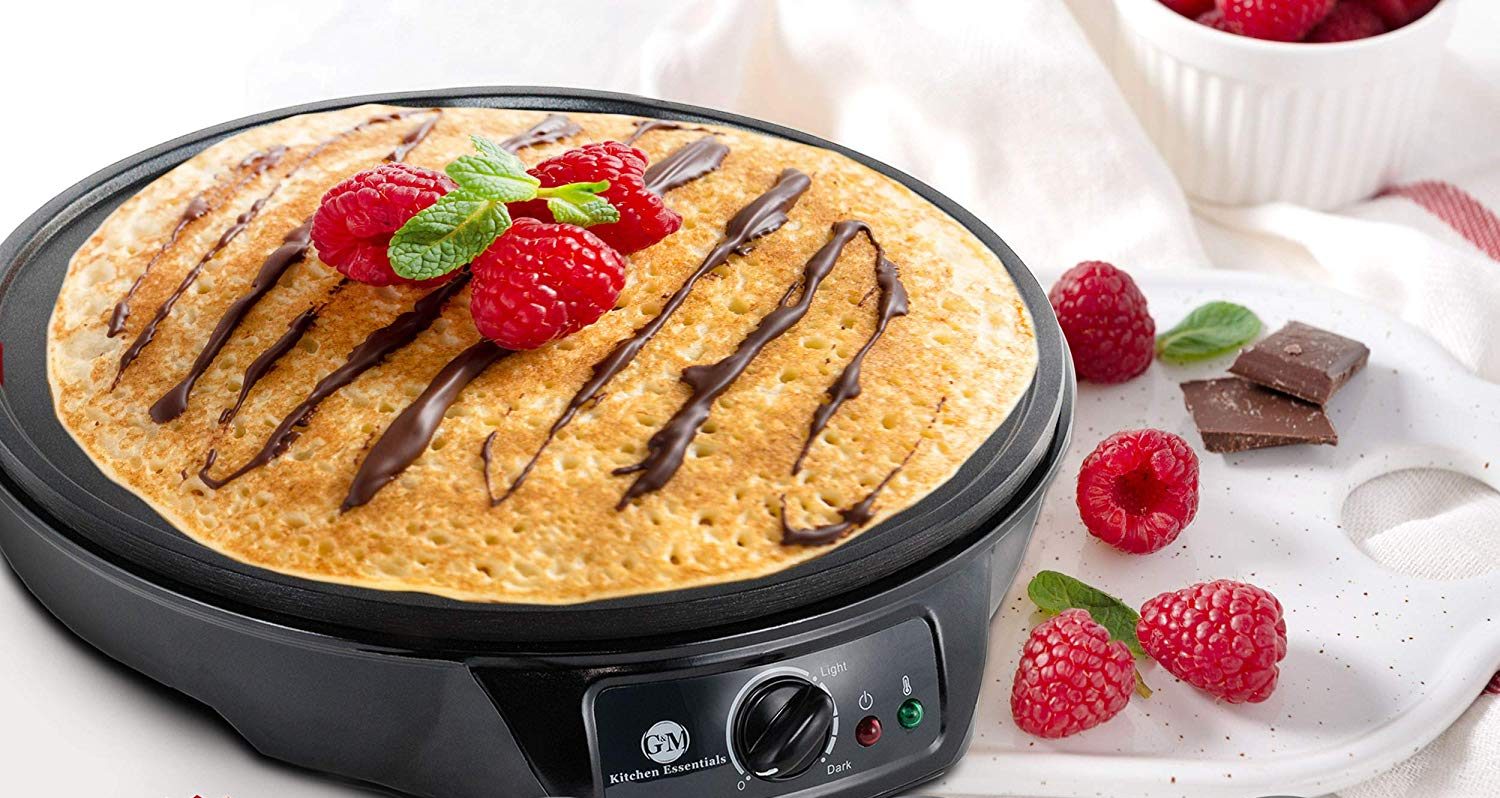 Are you craving crepes but don't really know any good recipes? Then you should consider picking up the G&M Kitchen Essentials Crepe Maker Machine. You'll be making perfect 12″ crepes every time you use it. It has a non-stick aluminum surface that provides an easy space to flip crepes on. You'll have precise temperature control, thanks to the indicator light that alerts you when the crepe maker is warming up. Once it shuts off, you'll know it has reached the desired temperature. This has 1000 Watts of heating ability. You can make crepes, blintzes, jianbing, roti, and dosa on this or use it as a griddle to cook other breakfast foods and meats. But the real reason why we love this crepe maker is that it comes with a book of crepe recipes. You'll be able to peruse 100 different recipes, so you're never stuck making the same crepe. It also comes with a wooden spatula and spreader to evenly distribute the batter for a uniform texture. The machine only weighs 3.75 pounds, so you can store it wherever it fits in your kitchen and then carry it out to use it.
Crepe Maker Machine (Lifetime Warranty), Pancake Griddle – Nonstick 12" Electric Griddle – Panc…
List Price:
$49.99
Price:
$39.99
You Save:
$10.00 (20%)
Available from Amazon, BGR may receive a commission
Best Crepe Maker for Temperature Settings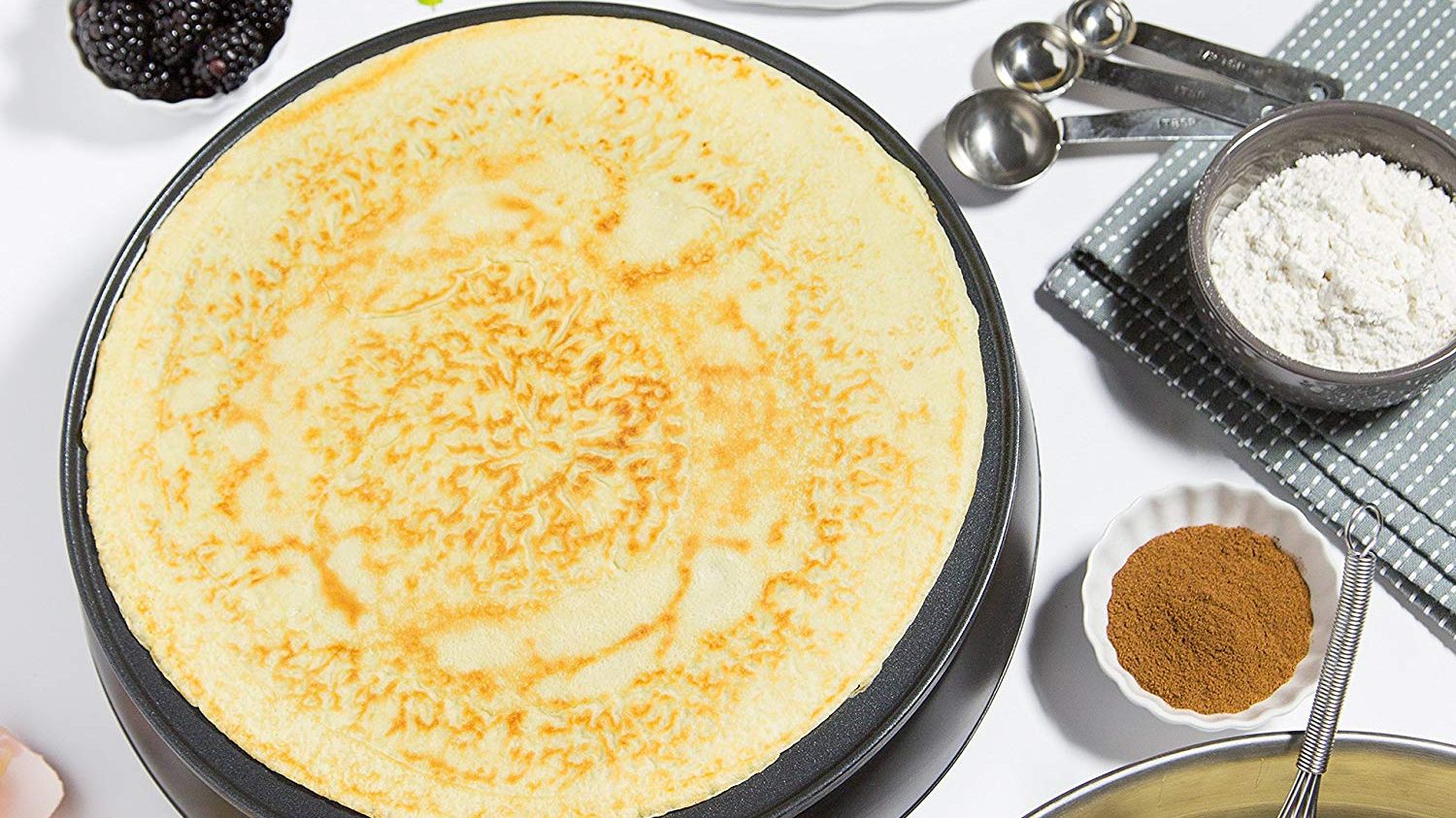 Giving you the flexibility to heat it to multiple different temperatures, the CucinaPro Crepe Maker is more than a crepe maker. You can set this to five different temperature settings, so you can make crepes, pancakes, eggs, bacon, sausage, and other breakfast favorites. Blintzes and crepes will obviously need to be made on lower temperatures, as they are more delicate while the others can be made on higher temperatures. This 12-inch crepe maker and griddle is extremely easy to clean, as you only need to wipe it down. The on/off red light lets you know when the maker is ready to use. The rubber feet on the bottom of the maker keep it stable and in place while you're using it. It also comes with a batter spreader and recipes for basic crepe batter, fresh mushroom crepes, and blueberry blintzes. This is an easy machine to use and is great for your family.
12" Griddle & Crepe Maker, Non-Stick Electric Crepe Pan with Batter Spreader and Recipe Guide -…
List Price:
$44.95
Price:
$34.95
You Save:
$10.00 (22%)
Available from Amazon, BGR may receive a commission